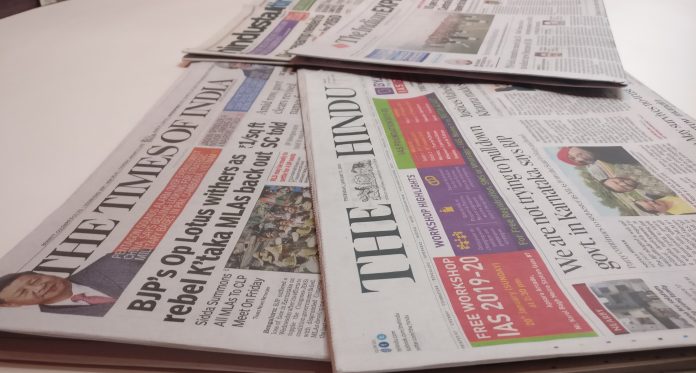 Text Size:
Front Page
It is difficult to read the front pages today. Blame it on the news. In the absence of any major important event or issue or statement, the media picks many stories for Page 1. Banner headlines are missing and when there are more than a dozen reports (The Times of India) seeking attention, the eye doesn't know where to begin. This is equally true of the other leading papers.
Nevertheless, TOI carries a lot of weight, this morning: 34 pages in all, due to 10+ pages Gazette of India notifications.
The mess in Karnataka looks about undone suggest TOI's headline: "BJP's Op Lotus withers as rebel K'taka MLAs back out."
BJP tells The Hindu, "We are not trying to pull down govt. in Karnataka." Hindustan Times goes with small column report, with a difference. "Govt breathes easy as 'missing' Cong MLA back in K'taka" is about the missing MLA while fears of poaching abounded.
TOI and The Indian Express disagree on the number of times BJP has failed to form government in the state — TOI says, "This is BJP's second failed attempt in the past seven months", while Express in its lead 'Govt & Politics' section says BJP "seems set to fail for the third time in seven months".
In other headlines, HT leads with, "Old questions haunt new collegium over SC picks" on the appointment of Justices Dinesh Maheshwari and Sanjiv Khanna as Supreme Court judges just six days after their names were recommended by the new SC collegium.
"The Collegium's decision led to a row because it overturned decisions taken by it in December," explains Express.
TOI says the Centre is "Acting with great speed" and the collegium's decision "controversial". "Many had protested the sidelining of Justice (Pradeep) Nandrajog, who like Justice Sanjiv Khanna, belongs to Delhi HC," it states.
The Express page 1 pointer, "After Brexit blow, May faces no–trust motion", and lead story on page 16, is updated in The Hindu's page 1: "Theresa May survives no trust vote by a narrow margin."
In-depth analysis of "low prices for farm produce" over the last five years  reveals, "The real reason for crop prices …being more prone to falling seems to be liquidity and sentiment," writes Harish Damodaran in "Farmers bear the burden of deflation" (Express, page 18). Demonestisation, "daily limits on cash transactions", fears of being tracked after GST are responsible "for this lack of sentiment" in the 'mandis' and among traders.
Opinion: Brexit and more
Brexit finds editorial comment in HT, Hindu and Economic Times, but there is more rewarding reading by today's lead writers.
Soli Sorabjee minces no words in "Not by words alone" (Express): "Slogans, however critical or censorious of government, are not anti-national and per se do not amount to sedition." This is relevant for cases of sedition against Kanhaiya Kumar and others in Delhi and Assam.
Northeast expert Sanjoy Hazarika writes "Listen to them, the People" on the 'furore' (ET) over the Citizenship Bill in Assam. His advice: "withdraw the sedition case" against Hiren Gohain and others, "put the Bill on hold and offer talks" to all stakeholders.
Human rights activist Harish Mander's "Manipur shows the way" (Hindu) details the state's "remarkable law against lynching". He writes that it has "broken new ground" by "holding public officials criminally accountable if they fail to prevent hate crimes".
Meanwhile, fake news: in the US, fake copies of The Washington Post were circulated which claimed President Donald Trump had abruptly resigned (photo attached). There is considerable social media comment on the matter which Postseeks to quell in its Tweet:
There are fake print editions of The Washington Post being distributed around downtown DC, and we are aware of a website attempting to mimic The Post's. They are not Post products, and we are looking into this.

— Washington Post PR (@WashPostPR) January 16, 2019
Prime Time
On a day when developing news took a long time to develop and deliver anything substantive, news channels searched for topics that would generate lively debates.
Republic TV found it in Jagdish Tytler. Most of Wednesday, the news channel reported on how the Congressman was felicitated, honoured by the party. Tytler has been accused of alleged involvement in the 1984 Delhi Sikh riots.
More than a passing glance at the coverage would have revealed all: Tytler was present at an event where Sheila Dikshit officially took over as Delhi Congress chief. A photograph on page 4 of today's Express shows senior party leaders seated alongside her — Tytler is not in the front row.
By Republic's logic, all the Congressmen and women present were honoured. But let's not quibble.
At prime time, anchor Arnab Goswami returned to the topic: why did Congress 'honour' Jagdish Tytler?
Political analyst Syed Asad Abbas had some advice for the Congress president: "Rahul Gandhi had admitted that some Congress leaders were involved, so those leaders must be convicted. He must sack Sajjan Kumar."
Asif Bhamla, political commentator and president, Bhamla Foundation, took the blame game to BJP: "For the past five years, a BJP government has been in power, why did they not bring justice to the riot victims?"
Why, indeed.
On India Today, it was destination Karnataka. Anchor Padmaja Joshi asked the question many of us wanted to: what, precisely, is happening in Karnataka? Would there be a change in the state government, soon?
The discussion did little to enlighten viewers as party spokespersons repeated party lines. Congress spokesperson Nivedith Alva claimed the BJP was worried by the JDS-Congress coalition government and was trying to create trouble for it.
BJP leader Malvika Avinash responded with spirit: she was "amazed" that Congress preached about bringing down governments, given its past record. She reminded him that BJP was still the single largest party in Karnataka.
Since the BSP-SP alliance in UP, news channels have begun to question BJP's victory in the forthcoming Lok Sabha elections.
On Aaj Tak, anchor Anjana Om Kashyap asked whether BJP could win if all the opposition parties came together.
Congress spokesperson Priyanka Chaturvedi dwelt on BJP's problems and opportunistic alliances. Despite ideological differences with the Peoples Democratic Party (PDP), they formed the government in Jammu and Kashmir — and see what happened there, she said.
"Why does BJP forget they are in alliance with Shiv Sena which takes potshot on the BJP day and night," she added.
To which BJP spokesperson Sambit Patra posed a counter question: "Why is the Congress spokesperson silent on BSP and SP while these parties are taking potshots at Congress?"
When political commentator Manojeet Mandal interrupted him, Patra rebuked to him in Bengali: "Danga noi karo baba, aap baase jao, sit like a nice kid. (Please don't fight, please calm down)."
Tweets of the day
मुझे स्वाइन फ्लू हुआ है, जिसका उपचार चल रहा है। ईश्वर की कृपा, आप सभी के प्रेम और शुभकामनाओं से शीघ्र ही स्वस्थ हो जाऊंगा।

— Amit Shah (@AmitShah) January 16, 2019
I'm upset to hear Arun Jaitley Ji is not well. We fight him on a daily basis for his ideas. However, I and the Congress party send him our love and best wishes for a speedy recovery. We are with you and your family 100% during this difficult period Mr Jaitley.

— Rahul Gandhi (@RahulGandhi) January 16, 2019
This article has been updated to correct the number of pages in Thursday's Times of India.
Check out My543, our comprehensive report card of all Lok Sabha MPs.