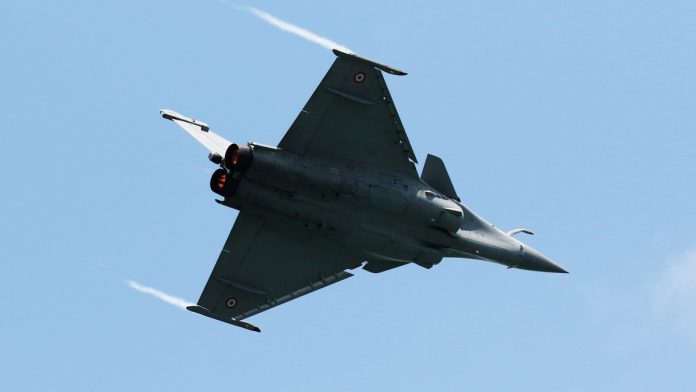 Text Size:
Front Page
While the fire in a Delhi hotel, killing 17 people, is making headlines, Rafale has once again taken flight with the tabling of CAG's report in Parliament and N. Ram's latest `exclusive', in The Hindu, the third in a week.
Except, is it an exclusive?
Ram's "Rafale deal not on 'better terms' than UPA-era offer," provides documentary proof that three members of the "Indian Negotiating Team (INT) came to a well-substantiated and clear conclusion" that the final deal for 36 jets "was not on 'better terms'" than the UPA government's deal for 126 aircraft.
The dissenting note, accessed by Ram and reproduced on inside pages, points out flaws, from higher pricing to a lengthy delivery schedule.
Journalists Hartosh Singh Bal (Caravan) and Manu Pubby (Economic Times), in separate tweets, claim to have already written about this note last December: `Rafale Deal: Ten objections raised within the Indian negotiating team' (Caravan) and `Rafale deal: majority overruled concerns over benchmark cost' (ET)
today's rafale 'exclusive' in the hindu is a little short on details. to read the details in full you can go here to a story published 45 days before the 'exclusive' https://t.co/xCMqHxGiv0

— Hartosh Singh Bal (@HartoshSinghBal) February 13, 2019
Three #Rafale negotiating team members recorded concerns over pricing, cost of India-specific enhancements, non-consideration of a discounted offer by the competitor and key objections on benchmark price.

Were overruled.

ET, September 2018.https://t.co/TSbyKtAuVz

— Manu Pubby (@manupubby) February 13, 2019
ET, November 2018:

When former Defence Ministry finance head first came on record to say "Rafale letter of comfort gives little comfort, no guarantee future (French) govt will honour it"

— Manu Pubby (@manupubby) February 13, 2019
The major and discernible difference is that Ram has reproduced the note whereas the other two quoted from it.
Delhi fire
The Delhi hotel fire is today's lead in all Delhi editions of newspapers – and makes it to the international media too.
"Karol Bagh hotel blaze kills 17 as rules flouted" writes Hindustan Times's, The Times of India says it's "one of the deadliest fire tragedies in the capital in recent years." The Indian Express calls it "among the biggest fire tragedies in New Delhi since the 1997 Upahar cinema fire that claimed 59 lives."
New York Times, in an early report makes a crucial point, Indian newspapers bury. In "Towering Flames and Blocked Exits Leave 17 Dead at New Delhi Hotel," it writes that "as panicked guests searched for a way out, they found, to their terror, that the emergency exits were locked".
UK's Guardian finds that "fire safety measures and evacuation procedures have failed to curb violations in the rapidly expanding Indian capital."
Newspapers here highlight the injured and dead "including an IRS officer and the chef who tried to escape from the blaze by jumping off the five-storey building…a woman from Myanmar… jumped to escape the fire" (HT), how smoke "spread swiftly through AC ducts" (TOI) and "travelled upward and quickly turned the establishment into a death trap" (IE).
'Punishment'
"Furious SC makes ex-CBI chief 'sit in a corner till court rises'" (TOI) is another headline story on page 1 after Central Bureau of Investigation (CBI)'s M. Nageswara Rao was "sentenced to confinement" within the apex court till the judges arrived to hear the case. Rao and his lawyer "were not allowed to go out even during lunch time."
Rao and CBI's legal advisor S. Bhasuran cut sorry figures in the Express too: In "Sentenced, Rao takes corner seat and energy bar," it writes that they "stood silently, heads bowed…All eyes followed them as they took the two corner seats next to the main entrance."
Opinion
TOI alone comments on "Death Traps" like the Delhi hotel fire, that "shows urban planning in poor light."
Three papers consider the IT sector: TOI, Express write on summons to Twitter's Jack Dorsey by the IT parliamentary committee, Business Standard considers the IT draft guidelines rules of December 2018.
TOI in "Wrong Signals" says summons to a top business leader like Dorsey "dent" India's ease of doing business "efforts." The "frivolous complaints" by a right-leaning group on content removal "send all the wrong signals about India."
TOI thinks Modi's "excellent work in wooing foreign investment…could be nullified by an excess of nationalist frenzy and regulatory zeal," in such dealings.
IE's editorial with the delightful headline "Jack in the Box" argues that the parliamentary committee "appears more concerned with optics… This kind of posturing is ill judged."
It adds: If the committee wants "to enforce some accountability," it "would do better to take a leaf out the government's book vis a vis WhatsApp" where "persistent pressure" led to "self regulation" "without making an issue of summoning Mark Zuckerberg."
BS is worried by draft guidelines for IT Intermediaries Rules in "Effective Regulation." "(This) tightens the web of surveillance and censorship, bringing private parties into the Act…. This implies a loss of privacy and anonymity for social media users." It also uses "very broad, undefined terms" for content that is to be removed.
To ask intermediaries to "trace" content creators within 24 hours, impossible without "breaking encryption," and to set up technology to identify content, could lead to "private sector censorship," it writes.
Prime Time
The fire in a Delhi hotel was tragic enough to attract Mirror Now and News X but other major English news channels stuck to the Rafale deal.
After Rahul Gandhi's morning press conference accusing Prime Minister Narendra Modi of acting as Anil Ambani's "middleman" in the deal, news channels like CNN News18 asked if "Rahul goes too far?"
On CNN News18, anchor Maha Siddiqui and Congress's Aadil Singh Boparai interrupted each other with Siddiqui wondering if the MoU mentioned in the e-mail quoted by Gandhi, referred to Rafale or other military acquisitions. This irritated Bharatiya Janata Party (BJP)'s Naresh Taneja: "Why are you giving him so much time? Keep quiet," he admonished Boparai.
Asked if his party would "accept" the CAG report on Rafale, Trinamool Congress's Monojit Mondal said CAG did not deal with the Ambani angle: "It has no jurisdiction on the partner in the deal," he explained.
India Today's Shiv Aroor also discussed the Rafale deal.
Congress spokesperson Pawan Khera said, "Corruption is a major issue in this Narendra Modi led government. Even before the Rafale deal took place, Narendra Modi's office started the parallel negotiations."
BJP spokesperson Tuhin Sinha commented, "When you start losing the argument, you start shifting the goalpost everyday. Congress is now resorting to fakery and manipulation of the worst kind."
On Aaj Tak anchor Anjana Om Kashyap played a video of a Samajwadi Party (SP) worker being beaten up by a police officer in Uttar Pradesh during the party's protests against its president Akhilesh Yadav being prevented from visiting Prayagraj and Allahabad University.
SP spokesperson Anurag Bhadauria said, "BJP is full of hooligans. There are so many criminal cases lodged against Uttar Pradesh Chief Minister Yogi Adityanath, why the police fail to take action against him?"
BJP spokesperson Shahnawaz Hussain countered, "It was an unlawful gathering of Samajwadi Party leaders. They were not students. The person who hits the policeman was not a student but a party leader."
Tweets of the day
This is the rebuttal by Anil Ambani's company to RagaBaba's Lies! Wonder why RaGaBaba has chosen compulsive lying as the virtue in which he should nurture his 'Entitlement Feeling' 😡 The Crazy Mindset of then #ClownPrince gets more & more established with each passing day pic.twitter.com/ldi3jsJFiU

— Babul Supriyo (@SuPriyoBabul) February 12, 2019
समाजवादी पार्टी के अध्यक्ष व उत्तर प्रदेश के पूर्व मुख्यमंत्री श्री अखिलेश यादव को आज इलाहाबाद नहीं जाने देने कि लिये उन्हें लखनऊ एयरपोर्ट पर ही रोक लेने की घटना अति-निन्दनीय व बीजेपी सरकार की तानाशाही व लोकतंत्र की हत्या की प्रतीक।

— Mayawati (@Mayawati) February 12, 2019
Check out My543, our comprehensive report card of all Lok Sabha MPs.