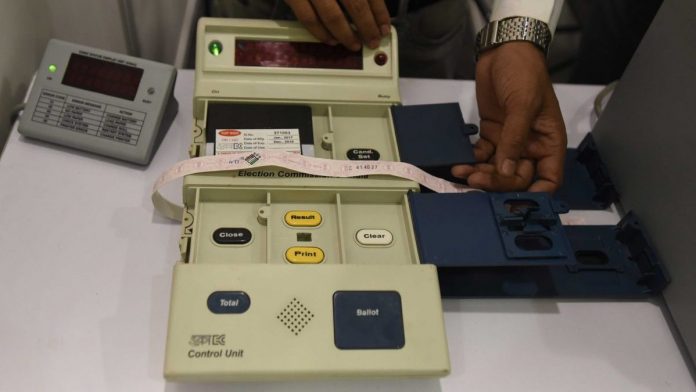 Text Size:
Consistent tallying alone would go a long way in putting to rest the oft-repeated allegation against EVMs.
The Election Commission of India last week categorically rejected a US-based cyber expert's claims of poll rigging and Electronic Voting Machine tampering—and rightly so. But India's poll regulator could have gone the extra mile in dispelling the misconceptions of some people in the world's largest democracy.
The best way to address concerns about the fairness of elections, I feel, could be through mandatory tallying of voter-verified paper audit trail (VVPAT) slips in at least 10 per cent randomly selected polling stations of a constituency.
VVPAT machines produce a printout ('slip') of the votes cast in an EVM—this slip can be used to tally the votes cast and resolve any dispute regarding the poll process.
Consistent tallying alone would go a long way in putting to rest the oft-repeated allegation that political parties win elections by hacking EVMs.
---
Also read: As EVMs are debated, this is how the ballot box was made for India's first 1952 election
---
Fresh controversy
A week ago, at an 'international press conference' in London, Syed Shuja, who calls himself a cyber expert, made headlines with the dubious claim that he and several others had hacked EVMs in the 2014 general election in India. While no one bought his over-the-top claims—including the conference's organiser Free Press Association—the event reignited the debate over EVMs and what can be done to bring more transparency in our voting process.
Flip-flop on VVPATs
On the eve of National Voters' Day, Chief election commissioner (CEC) Sunil Arora said that India would not dump EVMs and go back to the days of ballot papers. His statement certainly went a long way in dispelling the doubts about the efficacy of the machines, but more transparency wouldn't hurt—especially in an electoral system that has gained credibility world over.
In fact, the EC has often spoken in favour of VVPAT tallying, but unfortunately failed to implement it in toto.
On 5 June 2017, the day he demitted office as Chief Election Commissioner, Nasim Zaidi signed the file that continued the decision of the full commission— which also comprised then-Election Commissioners Achal Kumar Jyoti and Om Prakash Rawat who later became CECs—to provide mandatory tallying of VVPAT slips with EVM 'in up to five per cent polling booths in every constituency'.
The rule was to be applied to all Lok Sabha and State Assembly polls held after 5 June 2017. The commission also decided to amend the relevant rules to enforce its decision, but never followed through.
Senior functionaries of the EC claim there are 'logistical challenges', including training of the polling staff, which are coming in the way of the VVPAT tallying. But is this explanation enough, one may ask.
---
Also read: EVMs being used as a football in a motivated slugfest: CEC Sunil Arora
---
Questions of transparency
Why have VVPAT machines if tallying isn't mandatory?
After all, didn't the EC at its day-long meeting with leaders of political parties on 12 May 2017 assure the participants that VVPAT slips would be counted to ensure more transparency in the electoral process?
Political parties had made the first formal demand over introduction of VVPAT machines at a meeting with the EC on 4 October 2010. The next step for the EC should have been mandatory tallying of VVPAT slips.
In the 2014 Lok Sabha elections, VVPAT machines were used in eight Lok Sabha constituencies, but tallying was not an option then. Over the next five years, couldn't the EC have ensured adequate training of the polling staff to provide tallying of slips in the 2019 Lok Sabha elections?
The stand taken by the EC on this issue in the Supreme Court is equally baffling. When the top court was hearing a petition filed by senior Congress leaders Kamal Nath (now Chief Minister of Madhya Pradesh) and Sachin Pilot (now Deputy Chief Minister of Rajasthan) last year, the poll regulator told the Supreme Court that similar pleas on tallying of VVPAT slips had been raised earlier and hence this one should be dismissed. And strangely, the Supreme Court obliged.
---
Also read: EVM hacking allegations: Politically malicious or should they be investigated?
---
Way ahead
India's Election Commission, which has a stellar record in holding impartial elections, has become a target of malicious political attacks in the run up to the 2019 battle. While allegations of EVM tampering are clearly unfounded, a step like tallying VVPAT slips can once and for all put a lid to even an iota of doubt in the mind of the voter.
Check out My543, our comprehensive report card of all Lok Sabha MPs.