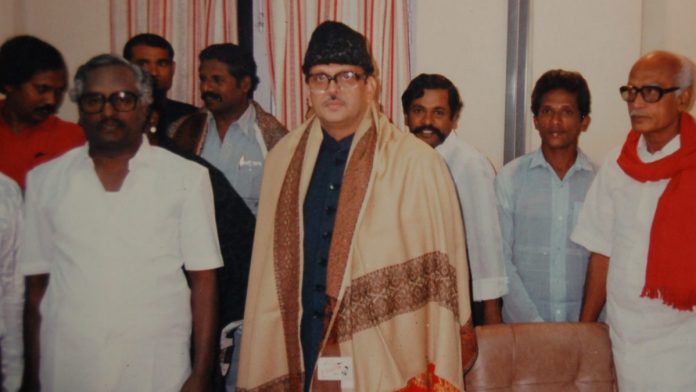 Text Size:
The opposition needs an icon like V.P. Singh who can bring Dalits, OBCs and other oppressed groups together before 2019 elections.
India's 2019 national elections may turn out to be the latest battle between the forces of Mandal and Kamandal – a sequel of sorts of the original fight between politics of social justice vs communalism of the 1980s and 1990s. But the leader who initiated this battle three decades ago was former Prime Minister V.P. Singh (25 June 1931- 27 November 2008).
The enduring legacy of V.P. Singh's contribution to shaping contemporary Indian politics must be remembered, once again. The battle against communal forces would be incomplete without reviving his rich legacy, which was built by combining the ideals of Mahatma Gandhi, Babasaheb Ambedkar and Ram Manohar Lohia. Its ingredients were: equality, social justice, socialism, secularism, and transparency.
As a true Gandhian, V.P. Singh – the last Raja of Manda (in Allahabad) and an upper caste man – stood up against feudalism and gave up large tracts of his fertile land to the landless poor in the1950s during the Bhoodan movement.
---
Also read: Following the Karpoori Thakur model, OBC sub-categorisation could be icing on BJP's cake
---
Extending the vision of Ambedkar and Lohia, V.P. Singh challenged the "monopoly of a few" – a term used by Ambedkar in his last address to the Constituent Assembly – several times. First, as a minister in former Prime Minister Rajiv Gandhi's government, Singh did it by challenging corporate hegemony and targeting political corruption. Second, as Prime Minister, by conferring the Bharat Ratna to Ambedkar and then implementing the Mandal Commission, V.P. Singh gave expression to the aspirations of India's lower castes and posed one of the biggest challenges to the caste system. Third, Singh's commitment to social justice and secular ethos of India was such that he ruined his kidneys while sitting on a hunger strike against communal violence.
Explaining the Mandal policy, Singh had once remarked: "Through Mandal, I knew we were going to bring in changes in the basic nature of power… I knew I was not giving jobs, Mandal is not an employment scheme, but I was seeking to place people in the instrument of power through the use of government power."
This made V.P. Singh the biggest villain of status quo. The nexus between upper caste hegemony, communal forces and corporate hegemony could not forgive him for stealing their power. They worked to ensure that he would be portrayed in the mainstream discourse as a villain who boosted vote-bank politics. Singh was aware of this, as he once observed: "You can see that my every action before Mandal was great, excellent, and everything I did after amounted to the greatest disservice to India."
But the political inheritors of the social justice movement have failed to protect the legacy of the Messiah of Mandal. They failed to include extremely backward castes who have comparatively less numerical strength. The BJP and RSS took advantage of this opportunity and politically manoeuvred those castes and social groups into its fold, which ultimately led to its mammoth electoral victories in 2014 Lok Sabha elections and 2017 UP elections.
---
Also read:  What did OBC Narendra Modi do for the OBCs?
---
Today, the BJP's opposition desperately needs to have their own strong counter-narrative. They need an icon who can bring the Dalits, OBCs and other oppressed groups together in the fight against the communal-corporate nexus. V.P. Singh's legacy as a heroic icon of social change and justice should be revived. After all, V.P. Singh had countered the BJP's claim of providing a stable government when he said that "its brand of stability was harmful to the unity and cohesiveness of the country".
Following in V.P. Singh's footsteps requires the forces of social justice to not limit themselves to quota politics/identity issues, but also highlight larger issues like labour and peasant rights, political transparency and land rights.
Like Gandhi and Lohia, V.P. Singh's legacy will be a constant moral reminder to the upper castes that they must be a part of the movement of change in the power structure of society.
In an address to the Harvard University audience in 1995, VP Singh said: "Even funeral ceremonies wear the stamp of caste. We are sitting on top of a volcano. Albeit outside it looks cool, but inside there is fire."
He then added: "[t]he downfall of the caste system is imminent… because many Indian political parties have sworn the cause of social justice".
---
Also read: Rafale deal is Bofors many times over, what it lacks is a V.P. Singh
---
V.P. Singh is the 'Dark Knight' that India deserved and needs right now. His contribution must not be allowed to slip away.
"Up til now I was solid stuff
My dimensions were clear
My place determined
Suddenly I began to melt
And began to flow I dripped and dripped and dripped downward
Do not fill your palms with me
Do not try to raise me
I will slip through your fingers."
The author is LLM candidate at Harvard Law School. His Twitter handle is @anuragbhaskar_
For ThePrint's smart analysis of how the rest of the media is doing its job, no holds barred, go to PluggedIn