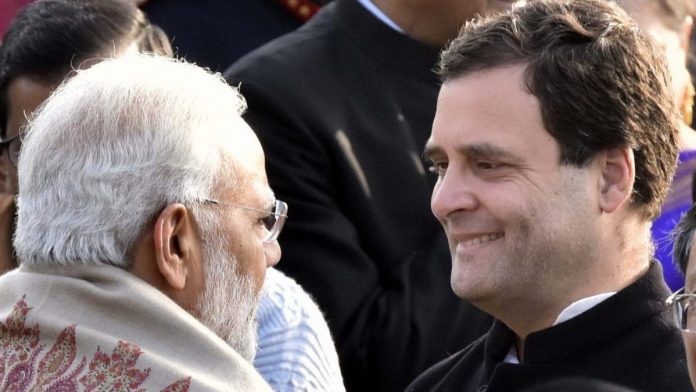 Text Size:
The leaders of the two national parties would be lost, nay bereft, without each other.
Prime Minister Narendra Modi and Congress president Rahul Gandhi may have reasonable grounds for divorce/separation – irreconcilable differences, foremost – but for the next five months, at least, they will remain tied in an unholy alliance. Opposites attract, after all. So 'Modi/Rahul' match is on.
Rahul Gandhi's every second word at his Tuesday press conference in Parliament was 'Modi ji' as he accused the PM of crony capitalism and denying loan waivers to farmers: 'Won't let PM sleep until he waives loans: Rahul Gandhi'(NDTV India). To which, BJP's Ram Madhav, at a rival press conference, heaped praise on Modi: he is 'incorruptible' (Times Now).
Congress leader Sajjan Kumar's conviction in a 1984 Sikh riot case was 'a big setback' for Rahul (CNN News 18). It stands to reason that any reversal for Rahul is Modi's gain: Akali Dal's Harsimrat Kaur Badal was grateful to the PM, in fact, for the Delhi High Court judgment: "We have to thank Prime Minister Narendra Modi for this" (The Newshour, Times Now).
If Times Now said, 'Big win for Modi govt', Republic added, 'Setback for Rahul'. That was last Friday after the Supreme Court's Rafale verdict gave the government a clean chit on the defence deal.
Since the BJP's recent assembly losses, news channels have questioned Modi's jaadu. In the words of Congressman Mani Shankar Aiyar: 'I don't see any evidence of Modi's magic' (Quoted on Republic). Conversely, they have been all praise for the Congress president – Rahul 'jolts' BJP trended across channels.
Each day brings fresh examples of this hyphenated relationship. TV's bold headlines, prime time debates and the fine print, they're chirping 'NaMo-RaGa', the 'chowkidar' and the 'chor', the 'chaiwala' and 'pappu', the 'naamdaar' and the 'kaamdaar'. As Frank Sinatra sang in an entirely different context, Modi and Rahul 'go together like a horse and carriage'.
Interestingly, the two leaders differ in their approach to the media. The PM ignores the media, in general, preferring to speak directly to the public in his speeches or monthly 'Mann ki Baat' televised radio broadcast – you can hear one next Sunday. He rarely gives interviews: the last two TV interviews were almost a year ago in January 2018 to Zee News and Times Now. As for press conferences, what's that?
Rahul Gandhi, after an embarrassing interview to Arnab Goswami – then at Times Now – in January 2014, and more recently to ABP last December before the Gujarat assembly polls, has also avoided one-on-one TV interactions.
---
Also read: The real 2019 fight isn't between Rahul Gandhi and Narendra Modi
---
However, he does hold frequent press conferences: on 11 December, after the assembly election results, he held one and took questions from journalists – which we would have heard if the organisers of these PCs thought the questions mattered as much as the answers. They may like to take a lesson from the American press conferences, where the journalist is identified and given a microphone so that everyone can hear the question.
Rahul has a weakness for think-chats abroad, often at universities – Berkeley in the US, National University of Singapore – where he answers questions, although these are not only from the media.
These interactions have started to stand him in good stead: on 11 December, he spoke graciously and was applauded for it. He is no longer the media's favourite flogging horse as he appears more self-assured. Perhaps, the old Cadbury TV commercial with Amitabh Bachchan now really applies to him – Pappu pass ho gaya!
One thing the two have in common? The index finger. Modi and Rahul Gandhi both wag that along with their tongues in order to emphasise a point or allegations against the other.
The leaders of the two national parties would be lost, nay bereft, without each other. Think what would happen to their election speeches if they couldn't call each other names? As we go into the final phase of the 2019 election campaign, expect more of the 'Narendra & Rahul' show on TV: it is the top-rated media pairing, beating out Priyanka & Jonas or Deepika & Ranveer.
Think of the fun someone like comedian Stephen Colbert could have with these two (The Late Show with Stephen Colbert). Unfortunately, other than the comic cartoon routines, on India Today and across other news channels, political satire is absent from TV.
---
Also read: Here's why the BJP is obsessed with Rahul Gandhi, even though he poses no threat to Modi
---
But there is hope: two shows on News 24 (Hasya Sammelan) and News India 18 (Lapete Mein Netaji) poke fun at politicians, raising many a laugh at their expense. On Lapete…,this Monday, one of the humorists told the BJP: you pushed him around so much, he has learnt how to walk/you took his name so frequently, he has won – it sounded far superior in Hindi. Can we have some more?
Lastly, you could feel Times Now's chest expand more than the PM's as it broke 'exclusive' news: Priyanka Gandhi was about to enter politics next year – as an author. She is writing a book, reportedly, to be released a month before the general elections. Now, all we need is a leak from the publishers…
Get the PrintEssential to make sense of the day's key developments