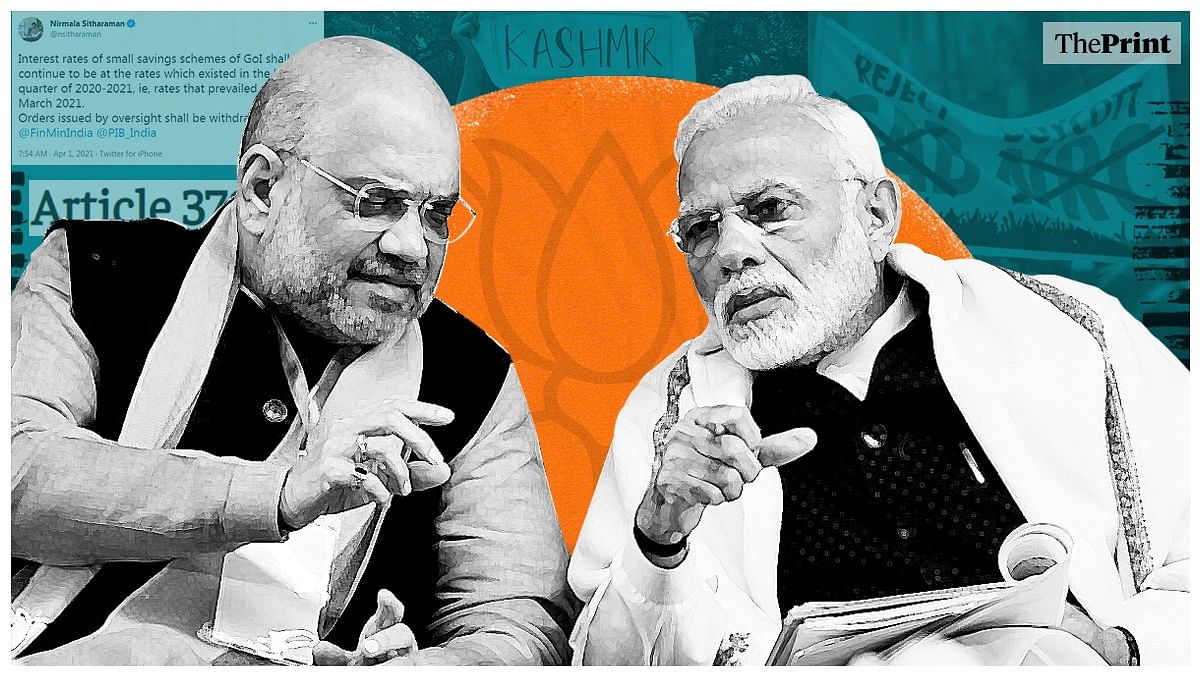 Allegations of corruption against the Congress in the Rafale deal between 2007 and 2012 have given the ruling Bharatiya Janata Party fresh ammunition against its rival, which it seems to have lapped up. But attacking the Congress on corruption now is a ludicrous waste of time.
The fact is nobody cares about Congress and nobody quite cares about corruption. Certainly not corruption that allegedly took place a decade ago. It's time the BJP stopped raking up Congress' past, which at this point is irrelevant and out-of-context.
We must acknowledge, however, that there is a method to everything the BJP does. And obviously, by bringing up past instances with which it can drag the Congress down, the ruling party is trying to blunt any Opposition attack that comes its way and deflect any criticism it may be facing.  In this case, Sambit Patra's vociferous attack against the Congress over Rafale comes a day after the Supreme Court quite unequivocally chastised the BJP government in Uttar Pradesh for its poor handling of the Lakhimpur Kheri violence probe.
Overall, continuing to attack the Congress for its past is like flogging a proverbial dead horse, and the BJP would do well to find more topical issues to take on its rivals.
---
Also Read: Can 2024 become more challenging for Modi? Yes, but it's all up to Congress
---
The Nehru-Bofors-Rafale trope
For the BJP, raking up the Congress' past has always been a go-to tool. From Jawaharlal Nehru to Rajiv Gandhi, Congress leaders have never done much good. The party has been the master of scams — from Bofors to 2G.
Prime Minister Narendra Modi has often criticised his predecessors Nehru and Indira Gandhi, including on the floor of the House. Remember his speech in Lok Sabha in February last year amid criticism of the Citizenship Amendment Act, during which he came down heavily on both these leaders? Or his vicious attack on Rajiv Gandhi, calling him 'corrupt no. 1' in the run-up to the 2019 Lok Sabha polls?
On Tuesday, BJP spokesperson Sambit Patra said INC (Indian National Congress) stood for 'I need commission'. A clever play of words, except that the voter has already made up its mind about the earlier avatar of the Congress and the United Progressive Alliance, thus booting it out. Why would you need to spend time harping on the same point and digging up older issues?
This has been a common trope for the BJP. In its initial years in the national spotlight under Modi-Amit Shah, it didn't seem very odd to criticise the only other pan-national party, which they had just displaced from power. But seven years down the line, with a completely decimated Congress that is not even trying to fight for itself, it seems bizarre that the BJP would want to latch on to such non-issues.
---
Also Read: Modi-Shah aping divide and rule of Congress. Same fate awaits BJP
---
A thought-out tactic by BJP
The BJP, especially under Narendra Modi and Amit Shah, is way too smart to waste its time on non-issues and with its complete focus on Congress' past, comes a method.
The voter is already disappointed with the Congress, finding very few redeeming qualities in the party, at least at the national level. Attacking its current leadership — especially Rahul Gandhi — is enough for Modi's BJP to ensure the Congress remains electorally inferior. In fact, targeting it for what happened a decade earlier is something that does not even perhaps resonate with many young voters. And, what is also true is that this Congress — or any Congress government that might come to power next — will be very different from what it looked like in the UPA era, with most of its then ministers now past their prime.
Essentially, the BJP just wants to ensure Congress can never raise its head again and remains so bogged down trying to defend its past that it gets little time to focus on its future.
The BJP is also using this opportunity to change the conversation and steer it in a direction that benefits it. In the latest instance, Rafale has meant even the Congress has got busy talking about it and counter-attacking the BJP. This suits Modi-Shah just fine, as they saw in the 2019 Lok Sabha polls how Rafale is a complete non-issue and wouldn't mind bringing it back to the spotlight if it meant the discourse can shift away from farmers, Lakhimpur Kheri, fuel prices and the economy.
What else can the ruling party want but to engage its main opposition in conversations about the latter's past and divert attention from anything that can pose uncomfortable questions to it in the present?
So, while the BJP keeps dwelling on the Congress' past, it's up to the latter to not fall for the trap and keep itself focussed on questioning this government over its inadequacies and bloopers.
Views are personal.
(Edited by Srinjoy Dey)