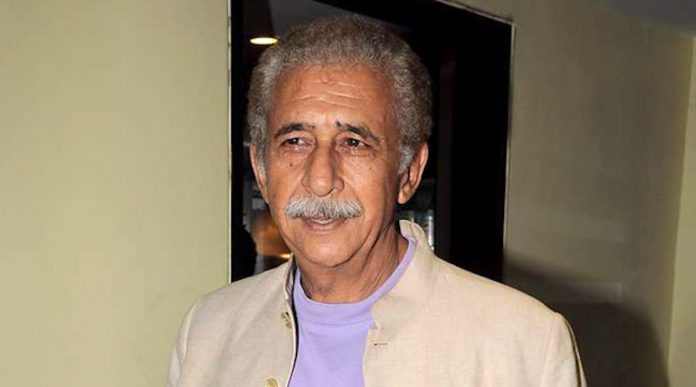 Text Size:
Naseeruddin Shah's comments, as well-meaning as they were, risk playing into the good Muslim vs bad Muslim binary.
When a Bollywood celebrity like Naseeruddin Shah says he fears for the safety of his children and that the death of a cow has more significance than that of a police officer, it is seen by India's Muslim community almost as a validation of their fears. Except, if you listen closely, it isn't validation. It is an insult.
Shah has been cheered and celebrated for (finally) speaking up in a film industry that has largely remained silent, or has been silenced.
"If tomorrow, a mob surrounds them [my children], and asks 'Are you a Hindu or a Muslim?' they will have no answer," Shah said.
Hate to break it you, sir, but the mob won't ask. The mob never asks.
And it doesn't matter to the mob if you are a praciticing Muslim or not. So if you choose only to speak on behalf of the non-practicing Muslims, it otherises an entire community.
Muslims suffer, Muslims struggle, and Muslims are killed in India.
Contrary to what many will have you believe, this isn't a post-2014 phenomenon in India. If you think India was a safe and fiercely secular nation before the 2014 elections, you aren't just in denial, you are ignorant.
What is, however, a post-2014 phenomenon is an overt realisation that as Muslims, we are largely left with two options: We either die speaking up against the atrocities inflicted on the community, or we die keeping silent. Many are beginning to choose the former, however late it might be.
In the interview, an anguished and harrowed Naseeruddin Shah emphatically says, "I feel anxious thinking about my children, because they don't have a religion". He adds that while he had some religious education in his childhood, his wife (Ratna Pathak Shah) received next to none. "We chose to not give any religious education to our children".
---
Also read: What explains the Muslim silence in the face of BJP's aggressive Hindutva?
---
To believe or to not believe-that is not the question
Shah's emphasis on how his family is 'liberal', and how they ensured they do not give a religious upbringing to their children, is rather perplexing. While it may be of importance in some other context, it has little to no relevance here. This repeated need felt by elite Muslims to insist on their lack of piousness and belief while speaking against Muslim killings, is heartbreaking.
"I am not that much of a Muslim, but even I feel scared…" is a sentence you will hear often in debates about intolerance in India. What is that supposed to mean? That Muslims who are believing and practicing Islam somehow have it coming and hence deserve to be lynched? Or does it somehow justify their murder? Or even makes it understandable?
It doesn't. The crime continues to be as abominable and horrific as it would be if non-practicing Muslims are attacked. A five-times praying Salman or Iqbal deserves as much of a shot at a dignified life as the rest of humanity.
Nor should explicit markers of a Muslim's religious identity – the burqa, hijab, skullcap, or public offering of namaz – preclude one from a living a secure life. This shouldn't have to be spelt out, but unfortunately, that's what it has come down to.
Naseeruddin Shah's comments, as well-meaning as they were, risk playing into the hands of the good Muslim vs bad Muslim binary that is in vogue in Indian public debate today.
---
Also read: The good Muslim-bad Muslim binary is as old as Nehru
---
Check out My543, our comprehensive report card of all Lok Sabha MPs.