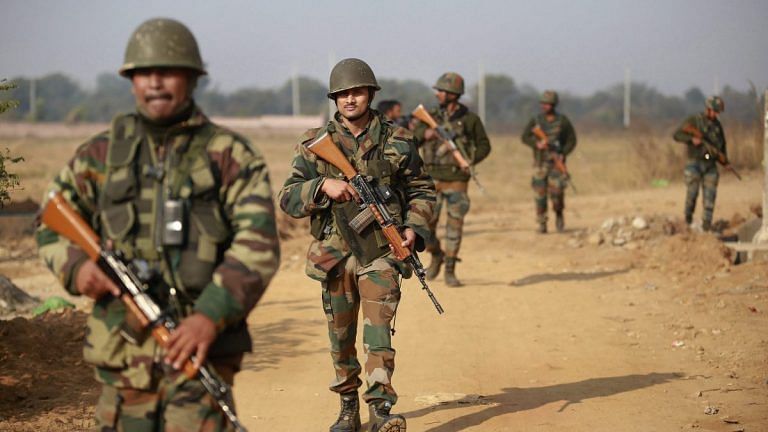 Text Size:
The Indian Army's greeting of 'Jai Hind' best describes the ethos, spirit and secular credentials of the country's armed forces. The greeting does not have a religious or regional connotation. It rightly conveys the deep bond between India and its armed forces, the weapon of the last resort. This does not mean that religion is not important in the life of soldiers. It is a vital motivating and bonding factor.
There are battalions or regiments with 'one class' (personnel of only one religious group) and 'fixed class' (subunits of several religious groups in one unit). The officers are posted to units without considering religious affiliations because their religion is the uniform they wear. Interestingly, most officers have a nickname completely disassociated with religion but linked to some characteristic or oddity of behaviour. Throughout my service in the Army, I was known as 'Zoom'. I still carry this sobriquet.
No religious wedge
In 1968, I was commissioned into a camel pack artillery regiment, which had two batteries of Rajputs and one battery of Ahirs. The officers came from diverse backgrounds, reflective of the inclusive and all-encompassing nature of India – there were 10 Hindus, two Sikhs and Muslims each, one Christian and a Jew. The unit had a regimental mandir where all religious groups worshipped. There was a photo of the Golden Temple, the Kaaba, and a Crucifix in the complex. Religion was our private business and never a matter of discussion. Our bonds were far too strong for any religious wedge to be driven between us.
One night, during the 1971 India-Pakistan War, we provided artillery fire to a raiding party, which had attacked a village fort called Islamgarh in Sindh, Pakistan. The raid was a complete surprise on the Pakistan Army and we overran the fort. In the morning, the Junior Commissioned Officer, who was part of the raiding party, handed me a cloth-bound Quran, which he had retrieved from the village mosque. He felt it might get desecrated and believed it would be safer in my custody. I still have it and will return it to its rightful place at the opportune time.
---
Also read: Modi-Shah's hyper-nationalism is making India insecure when it is actually most secure
---
Mandir, Masjid, Gurdwara parade
There are units with a combination of three religious groups. In one battalion of the Jammu and Kashmir Light Infantry, in my brigade, there were two companies of Dogras, one company of Muslims, and one company of Sikhs. One couldn't have multiple places of worship so the unit had one 'hall of worship' with the western portion allotted to Muslims and the other corners housing Dogra deities and a 'Guru Granth Sahib'.
I once attended an Eid celebration. Officers belonging to all three faiths were present. The Maulvi gave a sermon, which was followed by discourses by a Pandit and a Granthi. All three sermons centred on amity and interfaith unity. This was followed by the Eid namaz, which was attended by the Commanding Officer, a non-Muslim. It was not an act of worship but a purely notional gesture to bolster the morale of his troops. We all ate Eid sewain (sweet vermicelli), a relishing finish to a moving function. Attendance, during a religious function, was compulsory – after all, it was always a Mandir, Masjid, Gurdwara Parade or MMG.
I again saw religious harmony when I was called to the Army Headquarters for an interview for the post of Defence Attaché to our missions abroad. In contention were three countries, Saudi Arabia, Malaysia and Myanmar. I felt elated that I was in the august company of 30-odd 'cat's whisker' contemporaries. The most sought-after assignment for a military officer is a posting abroad. It is a recognition of competence and a just reward for the trials and tribulations one has been through.
I sat apprehensively before the selection committee comprising the top brass of Army HQ. I was grilled for about 30 minutes with questions on all the three countries in contention. During the interview, I saw the presiding officer scribbling a note and passing it to the secretary, who was a Colonel of the Military Secretary's Branch. He moved out and returned after about 10 minutes and passed the note back to the 'Chair'. The subsequent questions centred only on the Gulf. It was only a decade later that I learnt what the note contained. It was a query: 'Is Shah a Sunni or a Shia Muslim?'. The secretary didn't know the answer since the Army does not do such profiling. Fortunately, he had served with my cousin at the Indian Military Academy, Dehradun. He rang him up and got the answer, and I was selected for Saudi Arabia.
---
Also read: Army HQ wants code of conduct for retired personnel, veterans say 'silly' idea
---
Army should only protect India externally
While attending a course at the Defence Services Staff College in Wellington, Tamil Nadu, we had some Iraqi officers in our classes. This was during the 1980 Iraq-Iran conflict. On the day of Eid that year, we invited them home for lunch where I made a cardinal blunder of inquiring whether they were Sunni or Shia. They appeared disconcerted and replied, "We are Iraqis". This was entirely in line with the concept of 'Hubbul Watani' (patriotism or one where country's interests are paramount), which was ingrained in me by my upbringing and experience in uniform. Indians should emulate the inclusive and non-communal nature of the armed forces.
The Indian Army has occasionally been requisitioned to quell communal riots and all communities have reposed full faith and confidence in the fair behaviour and impartiality of the armed force personnel. Unfortunately, this cannot be said about the police forces, which have become totally communalised. Why is there a difference in outlook and response? The police officers become communalised because of prolonged exposure to communal trouble. It is essential that the armed forces are kept insulated from prolonged exposure to internal disorder. It was for the ultimate good that the Army did not get embroiled in resolving the Naxal insurgency. They should also, at the earliest, be relieved from internal security in Jammu and Kashmir.
The paramilitary forces are adequately trained for this onerous task. The Army should be unburdened for its primary task of protecting India from external aggression.
Lt Gen Zameer Uddin Shah PVSM, SM, VSM (retired) is a former Deputy Chief of Army Staff and the former Vice-Chancellor of Aligarh Muslim University. Views are personal.
Subscribe to our channels on YouTube & Telegram
Why news media is in crisis & How you can fix it
India needs free, fair, non-hyphenated and questioning journalism even more as it faces multiple crises.
But the news media is in a crisis of its own. There have been brutal layoffs and pay-cuts. The best of journalism is shrinking, yielding to crude prime-time spectacle.
ThePrint has the finest young reporters, columnists and editors working for it. Sustaining journalism of this quality needs smart and thinking people like you to pay for it. Whether you live in India or overseas, you can do it here.