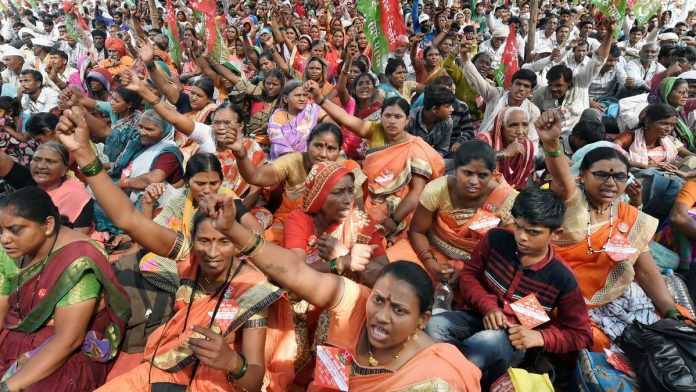 Text Size:
India's farmers, especially in small and marginal categories, need to be up-skilled and relocated to higher paying sectors.
Protests by distressed farm workers are becoming an all too familiar sight these days in India. Pacifying the escalating dissatisfaction among this electorally decisive population will be one of BJP's foremost challenges in the months leading to the 2019 Lok Sabha polls.
The past year witnessed several massive agitations, spread across all the major states with sizeable agrarian populations, including Gujarat, Maharashtra, and Madhya Pradesh.
The degree and gravity of this discontent will be seen on 11 December when the assembly poll results are due, especially since all the big states under public scrutiny have prominent rural-agrarian areas. More significantly, the three incumbents in Madhya Pradesh, Chhattisgarh and Rajasthan had dominated these green belts in the last round of elections. 
The central and state governments cannot be completely accused of inaction – they have taken steps like further increasing minimum support price (MSP) for crops, and introducing a wide range of crop insurance schemes, including the Pradhan Mantri Fasal Bima Yojana.
Concurrently, there is an increased urgency among various government departments to integrate modern agricultural tools – including the use of satellite maps, AI and data analytics to match crops, seeds, and fertilisers to local soil conditions – alongside the introduction of last mile irrigation solutions. These steps are meant to swiftly increase farmland productivity.
Many of these actions seem to originate from the widespread belief that a rapid increase in agricultural productivity, coupled with steps that will protect the farmers from the market and climatic vagaries, would over a sustained period lead to increased farmer prosperity.
However, noteworthily, despite successfully executing most of these steps, one of India's best performing farm states, Madhya Pradesh remains one of the epicentres of these agitations. This has led many to explore this predicament in further detail; and they have rightly identified that regardless of farmland productivity, the root causes are the abysmal income levels, alongside the infinitesimal and diminishing land holdings, of the average farmer.
---
Also read: Farmers' anger against Narendra Modi is no sign of their voting preference
---
It is not far-fetched to compare the state of our farm sector right now to that of the United States in the early 20th century. The US then had 41 per cent of their labour in the agricultural sector (compared to the current 43 per cent in India); with agriculture then being labour intensive and taking place in small farms.
As manufacturing, and later the service sectors picked up, more and more workers migrated from the farms to higher paying factories, and desks. Since the early 20th century, the number of US farms has fallen by 63 per cent, and the average farm size has increased by 67 per cent. Currently, less than 2 per cent of the US population is directly employed in agriculture, with 444 acres being the average farmland holding. Their average farm household income is 51 per cent higher than the average household income.
While the proportion of Indian population employed in farming has seen a gradual decrease, our farmland holding trends are undesirably moving in the contrary direction. Our average farm landholding has halved to 1.15 acres, from the 1970-71 census numbers of 2.28 hectares; and the total number of farms has increased to 145 million, from the 71 million in 1970-71.
Among our agricultural households, almost 85 per cent are categorised as small and marginal farmers, owning less than two hectares of land, with 70 per cent of marginal farmers owning less than 1 hectare.
The net monthly income per marginal farming household from both farming as well as non-farming activities comes to a paltry Rs 5,500. These households, without exception, spend more than they make, owing to indispensable farmland and personal maintenance expenses, sending them into an ever-spiralling debt crisis. The average debt per agricultural household is approximately Rs 47,000.
Evidently, marginal, and increasingly, small-scale farming is becoming economically unsustainable. However, the percentage of our marginal farmers is projected to further increase.
Even if our government succeeds in materialising its ambitious plan to double the farming income within the next five years, the average farmer is bound to remain dissatisfied. Besides barely supporting their basic needs, the increase would hardly suffice to spur them towards any upward socio-economic mobility.
The farmers, especially those in the small and marginal categories, need to be up-skilled and relocated to higher paying sectors. Meanwhile, those who remain in farming would have to be guided to avenues of supplementary income, and might even have to be provided with a supportive basic income, if they are to make their ends meet.
The stopgap solutions that are fast becoming constant fixtures in all election manifestos – loan waivers and unemployment allowances – would have been redundant if some of the earlier publicised schemes – including the one that aimed to skill 500 million Indians, or create mass employment generating manufacturing, infrastructure and services hubs across the nation – had borne more fruit.
---
Also read: Farmers' protest is an opportunity for the opposition, could be worrisome for Modi
---
Anil K. Antony is the Vice President of Navoothan Foundation and Executive Director of Cyber India.
Get the PrintEssential to make sense of the day's key developments