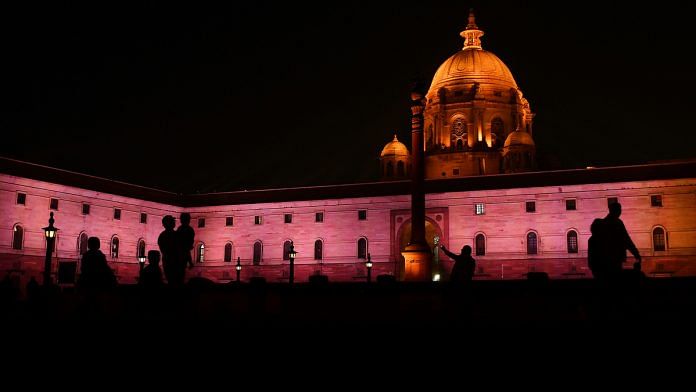 Text Size:
Lord Mountbatten, the last Viceroy of India, flew in Cyril Radcliffe, a lawyer who knew nothing about the country, to draw the boundaries between India and Pakistan. When asked why Radcliffe, Mountbatten said that because Radcliffe didn't know anything or anyone, he was likely to be objective. Anyone who has read the book Dominique Lapierre and Larry Collins'Freedom at Midnight will recall how Radcliffe's ignorance compounded the horrors of Partition that witnessed the greatest migration of the 20th century. The subcontinent has been paying a huge price for that "objectivity" ever since.
The Indian bureaucracy rarely likes to seek expert viewpoint – for there is a deep belief that these "experts" may have vested interests of their own. Across the world, experts from the medical field are putting out the official statement of their countries during the coronavirus pandemic. For example, Lothar Wieler, the head of Robert Koch Institute in Germany, or Anthony Fauci, the head of the National Institute of Allergy and Infectious Diseases, in the US are doing almost daily briefings on the situation. India, while it likes to pat itself on the back for its scientific prowess and the skill of its technical workforce, has turned to its bureaucracy to address public health challenges posed by Covid-19.
The Indian state's response to the crisis has made it clear that the bureaucracy wields enormous power. In its view, the bureaucracy represents the national interest, whereas other actors – politicians, scientists, bankers, economists, academics, etc. – favour particular interests. It is the bureaucracy that can see through the vested interests of the other actors in society and propose and implement solutions that are objective and address the national concern. To ensure that other 'self-interested' actors do not undermine any aspect of its policy, the bureaucracy tries to work out every detail of policy while ensuring that it retains control over almost every aspect of its implementation.
---
Also read: 4,057 orders in 4 months: Covid crisis shows how much Indian officials love making rules
---
Of orders and clarifications
Take the case of Covid-19. The Narendra Modi government and the states have given more than 4,000 orders in the past few months. Through the lockdown, the government has issued order after order, followed by several addenda and clarifications, both written and verbal. While some back and forth is eventual given the dynamic nature of the situation, the seemingly endless cycle of orders and clarifications is evidence that India's elite bureaucrats lack forethought. As Yamini Aiyar noted, "The bureaucracy is designed to speak to itself, and not to ordinary people."
The bureaucrats seek a technocratic solution to every problem, and when their solution doesn't work, they fire another technocratic salvo, and keep on repeating it. In many cases, the solutions offered become part of the problem. A young IAS officer told ThePrint, "Administrative communication is supposed to be detailed, exhaustive, and one that leaves nothing to imagination. It is a language that minimises the scope of error and goes into the fine details of every aspect of administration." Never mind that the fiasco around the opening of liquor shops in Delhi was a comedy of errors of the ever-changing rules. 
The logic is simple: these rules and regulations ensure that the "good-intentioned" bureaucracy remains in charge to prevent bad things from happening.

---
Also read: IAS has emerged as India's steel frame of resistance against coronavirus
---
Darts in the dark
If it was just the coronavirus crisis, one could attribute bureaucratic intervention as a best effort response to a real crisis and finding solutions for problems for which there is no template. But, sadly, that is not the case. One of us during a conversation with a bureaucrat handling the rollout of GST remarked that if the decision-making team could have included just one practicing chartered accountant (CA), the Narendra Modi government may have avoided the needless complexity that overwhelmed the initial rollout of GST. The senior official's reaction was instructive. "But the CA would have vested interests," he said.
We recently came across a news article that the Department of Industrial Policy and Promotion – the venerable department entrusted with the success of Start-Up India programme — intends to hire a Big Four consulting company to advise the department on how to help entrepreneurs. What does this mean in plain English? A bunch of bureaucrats (government) is hiring another bunch of bureaucrats (consultants) to come up with policies that seek to help those who hate bureaucrats (entrepreneurs).
We can understand that an Indian bureaucrat does not know what an entrepreneur needs. So, what does a bureaucrat choose? A consulting company. Why? Because the consulting company has no vested interests (sic!) — it can give objective advice. What are the interests of a consulting company? To get more business consulting. Can you get more business as a consultant if you undermine the interests of your principal? If you do, who will give you the next contract? Also, what does anyone in theBig Four — Ernst & Young, Deloitte, KPMG, and PricewaterhouseCoopers — know anything about entrepreneurship? They have chosen a career path that pays monthly salaries with a well laid-out path to bigger salaries and zero risks. This sounds like another bureaucracy to us. You can predict the outcome – after months and months and crores of rupees, one of the Big Four will prepare a report, which will ensure that the bureaucracy retains a role in developing entrepreneurs. In the best of all possible worlds, the report will gather dust….
---
Also read: The other Covid crisis — India caught between a charismatic PM and servile bureaucrats
---
The evil 'vested interest'
Why don't the Indian bureaucrats do the obvious? Why won't they just ask entrepreneurs, and actors who have skin in the game how to improve the investment climate for start–ups in India? The venture capitalists, their attorneys, and CAs immersed in the entrepreneurial ecosystem will gladly work with the government to develop policies on what is holding them back. The bureaucrats will not set up a committee of experts from the investment community because the entrepreneurs, the VCs, the corporate law attorneys, the CAs have vested interests.
Similarly, with Covid, public health experts have lamented to us their inability to be heard during this moment of crisis, especially when the current phase of managing the virus requires classic epidemiology – policies catering to specific locations and populations. It is not only public health experts, even civil society's input is not valued. A senior bureaucrat reportedly told a gathering of experts not to share health data with NGOs, presumably because NGOs have vested interests.
So, here is where we are. Whether it is Covid or economic policy, self-interest and vested interest have to be avoided like the coronavirus. The government can make sub-optimal decisions or make no decision at all but, god forbid, if we get influenced by "vested interest". The bureaucracy, of course, likes to believe that it has no vested self-interest and only serves in the national interest. The national interest is best protected when the bureaucracy has a hand in everything.
Pradeep Chhibber is a Professor of Political Science and Indo-American Community Chair in India Studies at UC Berkeley, US. Venktesh Shukla is  General Partner of Monta Vista Capital and former Chairman of TiE, Global. Rahul Verma is a Fellow at the Centre for Policy Research. Views are personal.
Subscribe to our channels on YouTube & Telegram
Why news media is in crisis & How you can fix it
India needs free, fair, non-hyphenated and questioning journalism even more as it faces multiple crises.
But the news media is in a crisis of its own. There have been brutal layoffs and pay-cuts. The best of journalism is shrinking, yielding to crude prime-time spectacle.
ThePrint has the finest young reporters, columnists and editors working for it. Sustaining journalism of this quality needs smart and thinking people like you to pay for it. Whether you live in India or overseas, you can do it here.