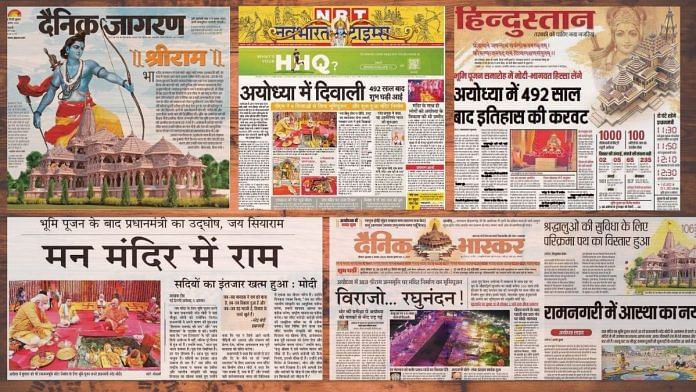 Text Size:
Secularism, however one defines it, is in crisis. But the bigger worry is the tendency to find scapegoats for the Rashtriya Swayamsevak Sangh's dominance in polity. The latest target is the 'English elite'. The proposition is that the RSS has succeeded because it communicates with people in Indian languages they understand; whereas the English-speaking liberal intellectuals have failed to connect with people.
While a contemptuous hierarchy does often exist between English and other languages, which has twisted the literary-academic discourse, the above proposition is flawed and problematic. It disproportionately grants more power to the English intelligentsia than they actually possess, and more responsibility than they should fulfill. The English-speaking elite do enjoy great clout, but if you move away from capitals and big metro cities, you would find that while English does generate awe, its influence gradually weans away and the native languages come to determine mainstream discourse.
The Op-eds written by eminent liberals in English newspapers, and acclaimed books on social sciences and history find little echo in smaller cities, towns, and villages. I lived in a state capital, Raipur, for over four years, reporting for The Indian Express. The reports of a "national newspaper" did occasionally stir the Ministry of Home Affairs in New Delhi, but they ruffled few feathers in towns like Sukma or Surguja in Chhattisgarh. The narrative on the ground, I soon came to learn, is mostly set by local Hindi media.
---
Also read: Secularism gave up language of religion. Ayodhya bhoomi pujan is a result of that
---
The fall of multilingualism
Political activist Yogendra Yadav's recent attack on the English elite, in which he wrote that "secularism was defeated because its custodians… disavowed our languages", is partially correct insofar the disavowal is concerned. But it is otherwise erroneous. First, it wrongly assumes that those who write in English are the only custodians of secularism. The duty to build a secular society in a multicultural nation doesn't rest with the practitioners of any one language, whatever power the language may enjoy. The English community does need to communicate with other languages, but the need for this is as vital as it is for, say, Hindi or Bengali intelligentsia to reach out to those who speak Kannada or Malayalam or Manipuri, and vice versa. Various languages are expected to be in a conversation with each other in a multilingual society.
Cultural critic Mathew Arnold once wrote that to be a good English critic one needs to learn English, at least one contemporary European language, the classical European languages of Greek and Roman, as well as Eastern antiquity, that is Sanskrit or Chinese.
Each language carries with it a distinct cultural code. Several languages working together at various planes restrict the formation of an authoritarian centre. A thriving linguistic diversity is a natural hedge against political-cultural authoritarianism, just like a vibrant religious diversity is.
One of the reasons secularism is in crisis today is because although India boasts of being a multilingual society, we have stopped producing bilingual, let alone multilingual, writers in the last few decades. Many Indian writers born before Independence were effortless polyglots, but the eminent ones from the last few decades seem cocooned in their own languages. Surprisingly, as well as ironically, writers of a multilingual nation find little intellectual stimulation to work in more than one language. It cannot be a mere coincidence that the shrinking of the bilingual space has coincided with the surge of the Hindutva project.
---
Also read: The mother tongue fanatics are keeping India a poor, backward country
---
Fall of the Hindi bastion
The second reason why I disagree with Yogendra Yadav's hypothesis is that one must move beyond English and question the role of writers in various other languages to nourish secularism. I will confine my argument to Hindi, the language whose inner politics, literature, and media I am familiar with. Apart from being the first language of nearly ten states, the Hindi-speaking zone is also from where the RSS has reaped its richest harvest.
First, the print media. For several decades after Independence, there were formidable Hindi publications like Dharmyug, Saptahik Hindustan, Sarika, Dinman that were headed by people of high calibre and integrity. All these publications were shut down around the 1980s-90s — again no coincidence — the phase that also saw the explosion of Hindutva politics. The last standing beacon was Prabhash Joshi and his newspaper Jansatta, which gradually lost its armoury after his death.
At present, almost every major Hindi newspaper enjoys a higher readership than an English daily, and has writers and poets at senior positions. Under their editorial watch, these Hindi publications have been compromised at various levels of functioning, much before the English media and the Hindi electronic media began to take a nosedive. Despite massive circulation and advertisement revenues, Hindi print media has invested very little in original reporting, happily rehashing copies from wire agencies or translating stories from its sister publications in English. The Hindi weekly of the behemoth media network India Today is mostly a translation of its English counterpart, week after week. I didn't hear any protest within or outside the newsroom as these prestigious publications capitulated to political and market pressure.
In fact, the Hindi media had begun undergoing a transformation during the Ram Mandir movement in the late 1980s. While English publications called the demolition of Babri Masjid a 'national shame', several Hindi dailies like Dainik Aaj were euphoric. The paper's circulation shot up in Uttar Pradesh in no time, but the Hindi literati could not counter it. If you analyse Hindi dailies of the last six years, you can't help but ask — where are the columns and essays of dissenters who speak the language of the masses? When several English dailies ran Op-eds supporting the #MeToo movement in 2018, eminent Hindi newspapers questioned the protesting women and often lent credence to the version of the accused.
---
Also read: This Hindi book on Indian secularism could have exposed liberals, but it was ignored
---
The lazy academia
The state of Hindi academia is another sorry tale with its track record of negligible work in social sciences, a fact that the Hindi world laments over almost daily, but has not found a way to course correct. Of late, Facebook has added another layer to the smugness of the Hindi world. A large number of Hindi writers are seen writing cheesy posts and one-liners against the BJP government. But there is little attempt to seriously engage with the issue. Abhay Kumar Dubey's recent work, Hindu-Ekta Banam Gyan ki Rajniti, is among the very few exceptions. It is a book that underlines how the secular liberal failed to grasp the transformation within the RSS.
The only sphere in which the Hindi language has excelled is its literary output. There have been an impressive number of poets and fiction writers in the last 70 years, several of them undoubtedly greats. But such is the bitterly divided world that the dominant Left lobby takes no time dubbing someone "reactionary" over slightest differences. A little love for Indian classical music, arts, or Sanskrit texts quickly earns an epithet of "regressive". Even somebody like poet and literary critic Ashok Vajpeyi, who is among the voices who have been consistently writing against the current establishment, has faced bitter accusations by the progressives for decades. (Disclaimer: I have often been termed a 'Right-winger' in the Hindi circle.)
Consider another instance of Hindi's smugness. In the early 1980s, when Bhopal was becoming the capital of the Hindi literati and a major centre for various arts, the Naxals made their first entry into Bastar from Andhra Pradesh. Police officers posted in Bastar sent nervous alerts to their political and bureaucratic bosses in Bhopal. At that time, Bhopal was hosting some of the world's finest poets and artistes, all of them led by Madhya Pradesh's Hindi literati. But they had little time for the Naxal issue. In 1999, the Naxals chopped sitting minister Likhiram Kawre into pieces at his Balaghat home, but the insurgency still left no mark on Bhopal's literary consciousness.
The poor intellectual engagement of the Hindi world with two major political issues in their very own backyard — Hindutva politics and Naxal insurgency — is appalling. Ever since the 1970s, Naxalism has been spreading in Hindi-speaking states of Bihar, Jharkhand, Madhya Pradesh, and Chhattisgarh. And yet, few Hindi writers have engaged with the issue. If the government announces talks with the Maoists, Chhattisgarh Chief Minister Bhupesh Baghel may not find any Hindi writer with some understanding of the issue, from his state, or even his erstwhile state Madhya Pradesh, to become an interlocutor. Compare this with the vibrant intelligentsia in West Bengal and Andhra Pradesh, who often formed a buffer zone between the state and the insurgents when the two states faced regular violence.
The writer community that misses no opportunity to stake claim for the "national language" status for Hindi, which is also the first language of some half of Lok Sabha MPs, has failed to lead in two prime spheres — media and intelligentsia.
Secularism in India faced its earliest defeat because the land where the first and the most decisive battle began, the Hindi heartland, failed to grasp the challenge. Because the Hindi intelligentsia, with all its reach and resources, couldn't communicate with people. Because they couldn't anticipate and prevent their region from turning into a project of the Sangh Parivar.
The author is an independent journalist. His recent book, The Death Script, traces the Naxal insurgency. Views are personal. 
This is the first in a series of articles on English and Hindi language and secularism debate. Read the second article here.
Subscribe to our channels on YouTube & Telegram
Why news media is in crisis & How you can fix it
India needs free, fair, non-hyphenated and questioning journalism even more as it faces multiple crises.
But the news media is in a crisis of its own. There have been brutal layoffs and pay-cuts. The best of journalism is shrinking, yielding to crude prime-time spectacle.
ThePrint has the finest young reporters, columnists and editors working for it. Sustaining journalism of this quality needs smart and thinking people like you to pay for it. Whether you live in India or overseas, you can do it here.