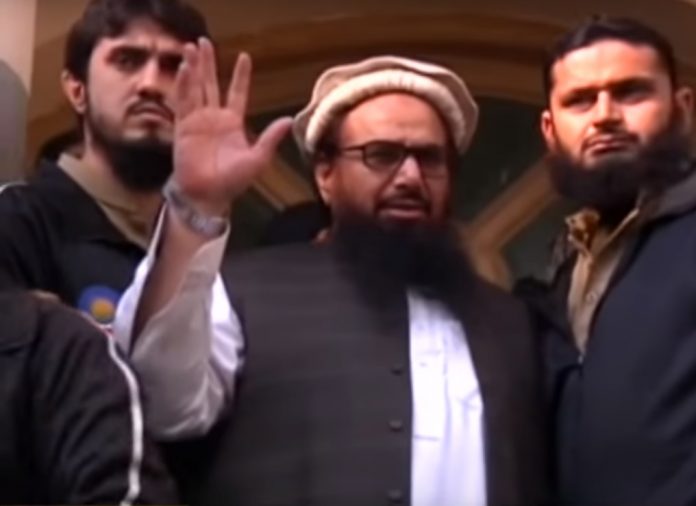 Text Size:
This amendment is an emphatic indication that the Trump administration opposes Pakistan's new policy of mainstreaming militants.
On 2 April, the US government, in a joint move by the State and Treasury Departments, amended Lashkar-e-Taiba's designation as a terror group to include several new "aliases", including Milli Muslim League.
A media note released by Nathan Sales, the State Department's coordinator for counterterrorism, minced no words: "Make no mistake: Whatever LeT chooses to call itself, it remains a violent terrorist group."
These amendments are not new. LeT often establishes new affiliates, and Washington often designates them as terror groups as well. For example, State did so in late 2016 with Al-Muhammadia Students, which it described as a student affiliate of LeT.
Nonetheless, we shouldn't dismiss this latest move as routine bureaucracy. It's quite notable for three reasons.
First, this amendment is an emphatic indication that the Trump administration opposes Pakistan's new policy of mainstreaming militants. Recent months have witnessed the establishment of several new hardline Islamist political parties. One of them, Milli Muslim League, is directly affiliated with LeT and its leader, Hafiz Saeed.
Last September, media reports indicated the Pakistani security establishment proposed and encouraged a plan to bring hardline religious groups into the political process to dissuade them from turning to militancy. That sounds about right. When I was in Pakistan in November, I heard a senior Pakistani military official say that if the US had once supported the mainstreaming of the Irish Republican Army, why not these Pakistani groups too?
In reality, bringing hardliners' dangerous views into the political process bodes ill for an already-radicalised society. Ominously, in a country where Islamists rarely do well at the polls, an MML-supported candidate secured nearly 6,000 votes in a Lahore by-election last September—four times more than the candidate of the well-established Pakistan People's Party.
Washington's message is this: MML's political sheen shouldn't distract from the underlying reality: It's a terror group, pure and simple.
Second, America's move serves as a reminder that despite Washington's policy fixation on Afghanistan-focussed terror groups like the Afghan Taliban and its brutal Haqqani Network faction, India-focussed groups like LeT very much remain on the radar. US officials frequently say their main goal with Pakistan is to protect American lives, so naturally Pakistan-based militants that threaten Americans in Afghanistan will top America's list of priorities. However, Trump administration officials (and Obama officials before them) haven't forgotten that six Americans died in the 2008 Mumbai attacks.
As Washington's relationship with New Delhi continues to grow, expect a continuation—if not intensification—of this emphasis on the LeT. Last year, perhaps in a misguided effort to compel Pakistani action against the Haqqanis, US officials called on LeT to be dropped from aid certification requirements, meaning that US aid considerations would not be conditioned on Pakistani action against that group. If the current US freeze on security aid to Pakistan is reversed, Washington may decide that action against LeT should indeed become a part of the certification process.
Third, Washington's amendment of its LeT terrorist designation underscores a core tension point in US-Pakistan relations. Exactly six years ago, America placed a $10 million bounty on Saeed. Since then, excluding episodic periods of house arrest, he has largely roamed free, conducting media interviews (including with American outlets) and headlining public demonstrations. Islamabad won't sever its ties to Saeed or LeT anytime soon; they remain, in Pakistan's calculus, critical asymmetric assets that can be wielded against an Indian foe too strong to be countered by conventional means.
More broadly, within Pakistan's conservative and deeply religious society, Saeed enjoys a fair deal of respect, thanks in great part to the charity work he claims to oversee through Jamaat-ud-Dawa and other LeT-linked groups. In an impoverished nation where the state often fails to provide basic services badly needed by large portions of the population, society's support for Saeed shouldn't be surprising. For many Pakistanis, Saeed is a venerable philanthropist, not an unrepentant terrorist. He's never been convicted of terrorism, some will argue, so why consider him a terrorist? In this regard, the latest American move to penalise Saeed's organization will harden anti-American views in Pakistan.
Of course, for Washington, the reason he hasn't been convicted of terrorism is that Pakistani legal authorities haven't conducted a proper investigation. Washington's amendment of LeT's terrorism designation telegraphs a loud-and-clear message: No matter how Saeed or his organisation may be branded in Pakistan, the only designation that matters is "terrorist".
In this sense, Washington's move on 2 April also crystallises the deep disconnect in U.S.-Pakistan relations. Just as the two sides don't see eye-to-eye on the Haqqani network and other Afghanistan-focussed groups, they're also miles apart when it comes to India-focussed groups like LeT.
So great is this difference in views about LeT that it's unlikely such a vast gulf can be bridged anytime in the foreseeable future.
Michael Kugelman is the Asia Program Deputy Director and Senior Associate for South Asia at the Woodrow Wilson Center. 
Get the PrintEssential to make sense of the day's key developments