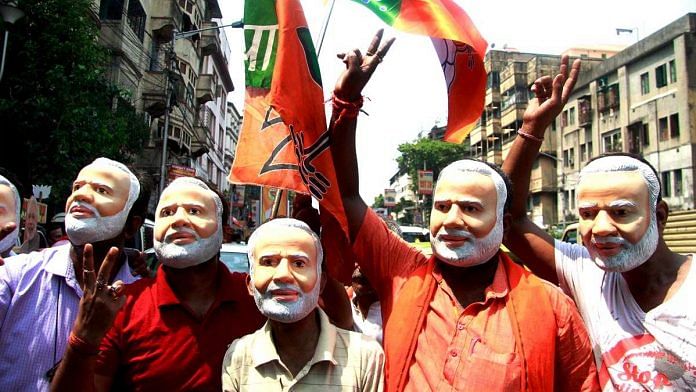 Text Size:
After a repeat performance in sweeping the 2019 national election, a dominant Bharatiya Janata Party (BJP) has begun to assert itself in new parts of India and challenged the standard narrative of regional parties being kingmakers in Indian politics. In 2014, the BJP won 282 out of 543 seats. This number rose to 303 seats in 2019. In consecutive elections, the BJP has formed the majority in government, the first time this has occurred since 1971, with a mandate to consolidate its power. This has allowed the BJP to expand its footprint across India – not only in electoral terms but also in cultural terms. What does the expansion of the BJP beyond its traditional regional bases portend for regional parties in India? How are Centre and State relations being renegotiated as the party system in India is shifting? At the outset, it is important to note that for many years 'regional parties' have garnered a significant vote share. Even in 1984, during the throes of Congress' electoral dominance, the share of the national vote going to parties other than Congress and BJP topped 40%. When we conceive of the relative strength of regional parties in India, it is not about vote share – since regional parties garner significant vote share even in periods in which a national party is dominant. It is about regional parties' bargaining strength vis-a-vis national parties and the capacity to affect governance in the country. This is a counterpoint to a narrative of regional party persistence in India (Tillin 2015; Sircar and Verma 2019).
In this piece, we argue that the electoral performance of the BJP, and the popularity of Narendra Modi, has weakened the bargaining position of regional parties. The BJP's undiluted power at the Centre has allowed for greater centralization of power in matters of governance. Centralization lies at the heart of the BJP's 'hegemonic' project. This in turn has generated greater distinctions between regional and national politics. The popularity of Prime Minister Modi fueled by discernible powers and government schemes attributed to the national government generates a national politics that can be easily separated from regional politics for the voter. This increasingly separate form of national politics weakens the role of regional parties in national politics, both in electoral terms and in bargaining power, as regional parties rarely have well-defined, credible national policy platforms in India. It does however create conditions for entrenching regional parties at the State level.
---
Also read: Not vikas, Modi's 2019 election was built on politics of vishwas
---
Regional parties and India's party system
The Congress had traditionally been the dominant party in the Indian party system, but by the 1990s the party had begun to weaken. At the same time, the BJP started to gain in popularity, with significant help from the 'Ram Janmabhoomi' movement. The BJP formed government with its coalition, the National Democratic Alliance (NDA), for the first time ever in 1998, signaling a shift in the Indian party system – from a dominant party system to a bipolar system with BJP and Congress (and allies) forming the poles – often referred to as the third party system by scholars of Indian politics (Yadav 1999). Despite the change in orientation of the party system, a significant share of the vote continued to go to regional and local parties. Figure 1 displays the share of the vote to BJP, Congress, and regional parties (coded as all parties other than BJP and Congress) for national elections from 1984 to the present. The year 1984 is chosen as the base year, as it corresponds to the first national election that the BJP became a full-fledged party. As can be seen in the graph, the BJP's fortunes in Indian politics start to turn in the early to mid 1990s – after the demolition of the Babri Masjid in December 1992 by Hindu fundamentalist forces. Nonetheless, the sheer stability of the vote share to regional parties is noticeable. Between 1984 and 2014, the regional parties secured between 43% and 52% vote share. By these standards, the 2014 national election in which the BJP came to power was unremarkable, as the regional parties procured 49% of the vote share. The major shift in the 2014 national election is that the BJP gained vote share at the expense of Congress.
But things shifted in 2019, with the regional party vote share dropping significantly to 44%. Much of this was due to the ability of the BJP to make inroads into states, like Odisha, Telangana, and West Bengal, which have been dominated by regional actors for at least a decade. Two descriptive facts are worth noting. First, at more than 40% vote share, the regional parties still receive a sizable share of support from Indian voters. This is, however, just an artifact of the fact that across many regions of India, particularly the Hindi belt, the BJP and Congress are in direct competition with each other. The increase in vote share of one these parties necessarily implies a drop in vote share for the other party, in almost a zero-sum fashion (this is obvious from Figure 1). The second fact is that at 37% of the vote share and over 300 seats (out of 543), the BJP is the single dominant party in the Indian system – what some scholars have referred to as the 'fourth party system' (Vaishnav and Hinston 2019). Indeed, in head-to-head competition between the BJP and Congress, the BJP won 92% of the time. But these descriptive facts have little substantive or explanatory meaning. While the BJP has emerged as the dominant party, and this can be shown in a variety of ways, the key question is how and why the BJP has become so dominant so quickly. Furthermore, as we will argue below in some detail, even if vote shares are substantial, the position of regional parties is fundamentally weaker to what it was a decade ago. The core issue is how the current configuration of voters and parties has changed the bargaining power between regional parties and the national party forming government (in this case, a dominant BJP).
---
Also read: 'Learnt lessons from Maharashtra' — Jharkhand BJP, Congress & others keeping options open
---
Why vote for regional parties?
Why do voters vote for regional parties in national elections? On the face of it, it is strange that, say, a voter from Tamil Nadu or West Bengal would choose to vote for a regional party over one of Congress or BJP in a national election. After all, while a party like the Trinamool Congress (TMC) may be powerful within the state, it has no chance of making up a significant share of any governing coalition. Also, while they may protest against the national policies of the Congress and/or BJP from time to time, these are not parties that have well-formed or credible national agendas as such. One view is that voters are just irrational and cannot easily distinguish the factors above and simply vote for regional parties out of reflex. Yet, the recent elections in a number of states (as we will discuss in detail later) attest to the fact that voters do make clean distinctions between state and national elections today. This suggests that voters are rational – at least in the sense that they see their incentives differently in state and national elections. But, historically, state elections have been highly predictive of national election results (Verniers 2019). What explains this structural shift in Indian politics – namely, discernible differences in voting behavior between state and national elections – and how does this affect the position of regional parties? In order to answer this question, it will be useful to analyze the structure and appeal of regional parties. While it is tempting to view regional parties as 'ground-up' organizations drawn from social movements, this ignores the extent to which present regional parties are born out of national parties or coalitions – and how this affects the ability of regional actors to bargain across the party system. Certain key regional actors like the National Congress Party (NCP) or Trinamool Congress (TMC) have explicitly broken away from the Congress Party. Other parties like Biju Janata Dal (BJD), Samajwadi Party (SP), Janata Dal (United) [JD(U)], or Janata Dal (Secular) [JD(S)] were explicitly a part of the now defunct Janata Dal (as their very names suggest). This background of engagement in national politics is important for regional parties, as it credibly signals their ability to negotiate in the national arena. This is an elite-driven perspective of the behavior of regional parties, which has been most effectively been articulated by Adam Ziegfeld (Ziegfeld 2016). In recent times, regional parties have commanded sufficient vote share to coalesce as a formidable group (as in the Janata Party) or to extract benefits from the national parties in exchange for support at the Center. This is the core structural principle in the 'third party system' (Yadav 1999), in which coalitions were necessary to form government at the Centre. The capacity of regional parties to extract benefits from national party actors may be appealing to voters who may have more regionalized or localized political preferences – by which we mean that they place disproportionate weight on state welfare as opposed to national welfare. Regional political actors often have a hold on the local electorate through a combination of regionalist appeal, party organization, and patronage. Importantly, given the centralizing nature of national parties (in particular the Congress Party in the time of Indira Gandhi), regional parties emerged as better placed to be responsive to regional ethnic/caste based identity claims. In a coalition system, there is little downside for the voter to continue to support the regional party in a national election, as that party can reasonably be a part of the ruling coalition at the Centre and negotiate on behalf of the state.
Voter incentives for split ticket voting
For political scientists, the phenomenon of voting for different parties in state and national elections is called 'split ticket voting' (Campbell and Miller 1957). As the recent elections have shown us, voters in India are quite capable of split ticket voting. A natural question is when split ticket voting will occur, such that voters support a national party in national elections but another party, often a regional one, in state elections. The question of split ticket voting is thus a more general question than the one involving preference for regional parties at the national level, as a split ticket voter may support two different national parties at two different levels, e.g., Congress in the state election and BJP in the national election. One can straightforwardly see, however, that if the prevalence of split ticket voting increases, and national parties have an advantage in national elections, then the proportion of votes going to regional parties in national elections will decrease. Thus, these two phenomena are intimately related. To shed some light on the phenomenon of split ticket voting in India, from a voter theory perspective, let us imagine a voter in a competitive constituency in a national election, where one of the top two parties is a national party like BJP or Congress and the other competitive party is a popular regional party like BJD or TMC. (This scenario occurs in many states across India like Kerala, Odisha, and West Bengal.)
Yamini Aiyar is president and chief executive, Centre for Policy Research. Neelanjan Sircar is an Assistant Professor of Political Science at Ashoka University and Visiting Senior Fellow at the Centre for Policy Research. Views are personal.
This is an excerpt from the paper 'Understanding the decline of regional party power in the 2019 national election and beyond', first published in the Contemporary South Asia journal.
---
Also read: The Chinese are so predictable, Modi & Shah should've seen them coming on 5 August 2019
---
Subscribe to our channels on YouTube & Telegram
Why news media is in crisis & How you can fix it
India needs free, fair, non-hyphenated and questioning journalism even more as it faces multiple crises.
But the news media is in a crisis of its own. There have been brutal layoffs and pay-cuts. The best of journalism is shrinking, yielding to crude prime-time spectacle.
ThePrint has the finest young reporters, columnists and editors working for it. Sustaining journalism of this quality needs smart and thinking people like you to pay for it. Whether you live in India or overseas, you can do it here.