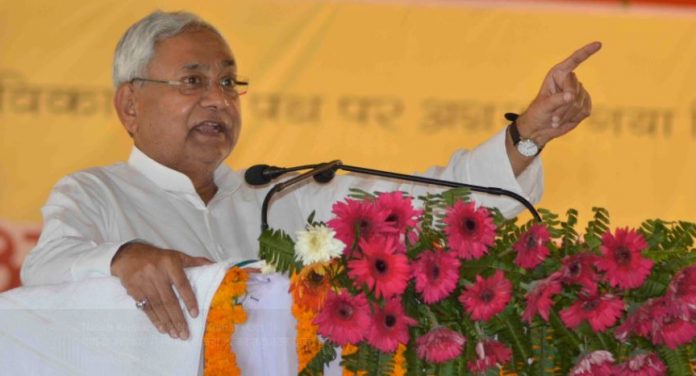 Text Size:
Nitish Kumar's prohibition policy now hangs between its supposed political utility and its social and economic futility.
The righteous among us have long found the idea of prohibition intoxicating. On paper, shutting the tap on alcohol looks like the social policy equivalent of a Swiss Army knife: it cuts and fixes issues in so many ways.
In Bihar, for instance, chief minister Nitish Kumar has held up the liquor ban as his signature achievement. Imposed in 2016, the ban aims to save primarily the rural poor, and turn women into a solid political base.
However, two years on, the policy has turned into a leaking bottle. Total alcohol bans have never been a success. Even partial bans, which are messy to implement and undemocratic, have been found to be pointless. So, the reasons why Nitish's flagship policy would falter were already written into the very nature of it. When legal alcohol disappears, bootlegging swiftly kicks in, giving birth to a new stream of crime and corruption. Under no government, even in the US, can police enforce an effective ban. Ordinary decent drinkers, however, end up becoming "criminals".
In Patna, where there used to be a semblance of a social life, the ban has now turned into mere spoilsport for the law-abiding citizen. It took me one phone call to "arrange" a bottle of scotch whiskey. "Pardon me bhaiya, I can only get Red Label at such short notice." Being told to make do with a "cheap" brand was the only suffering the prohibition was able to inflict on me. (I had no intention to either buy or drink the liquor.)
In a village near Motihari in East Champaran district, I was introduced on phone to the local delivery guy. It's a large village and needs a much wider supply network, the delivery guy told me. But there are only seven people catering to a growing market. "People want to drink and there is supply, but they struggle to pay four to 10 times the price," the 27-year-old who had arranged the phone call told me.
"The ban has failed to cut supply but it has raised the cost of doing business, so a lot of poor drinkers have been priced out," he said. A pouch that used to sell for Rs 10-15 now goes for Rs 60-100. A bottle of the popular IMFL brand Royal Stag, which has a much lower mark-up, was offered for Rs 1,250 "only". "It's from Nepal and high-class," the delivery guy said, offering prompt home delivery.
A daily wager, who was locked up for being drunk, told me that he had more or less a "good time" during his four-day prison stay.
"The jail was full of people like me… One person had been arrested after having his first drink," said Khedu Ram, a Dalit, who earns Rs 200 for a day's labour. He said there was plenty of liquor available but the problem was with the price.
In the far corner of the village, near the Harijan School founded by Mahatma Gandhi during the Champaran Satyagraha, the Musahar community seems to have solved the issues altogether: they brew their own and drink up most of it.
What about the police? "They used to raid from time to time, but we had nothing to give them. They no longer see any point in arresting us," said a man, who looked much older for a 40-year-old. A reformed alcoholic, who had to choose his liver over love for alcohol, he now "brews for others".
The ban has many supporters as well. But even they see the failure at the level of implementation. "Liquor ban is a good thing; it has changed and saved many lives in the village," said Bharat Shah, a teetotaller. "But what we have now is a laughable situation where alcohol is widely available but is expensive, and people are selling their land to afford illegal drinks," he said.
Police should ask for smaller bribes so that at least people can save some money, he said sarcastically. "Did you hear about the SP who was running a whole liquor operation from his office?"
Speaking to the wife of a drinker threw up another core issue that bedevils prohibition policies – people leaving home for other states where they can drink. Hari Narayan (name changed), 42, suddenly left his home to do a night guard's job in Haryana. His wife and sons doubt that the extra cash, barely much, is the real attraction.
A mason and his brother have moved to Kathmandu and rarely visit home, their neighbour and cousin told me. "The earning there, after the big earthquake, is good. There is as much to drink as you wish. Why come here?" he said with a wink.
My Bihar trip, in essence, highlighted the factors well-known to most on why prohibition fails. Nitish, a masterful thinker in politics and policy, now seems to hang between the ban's supposed political utility and its social and economic futility. He has recently spoken of possible amendments to the ban. That will be an even worse idea. If prohibition is the CM's vanity project, it must remain in its watertight form and be properly implemented. A diluted ban will neither have the potency of a moral tonic nor the benefit of simple taxation.
From the riled villages to the empty restaurants in Patna, the message is clear as alcohol: Bihar needs a drink.
Bhawesh Mishra is a journalist based in London and Singapore.
For ThePrint's smart analysis of how the rest of the media is doing its job, no holds barred, go to PluggedIn