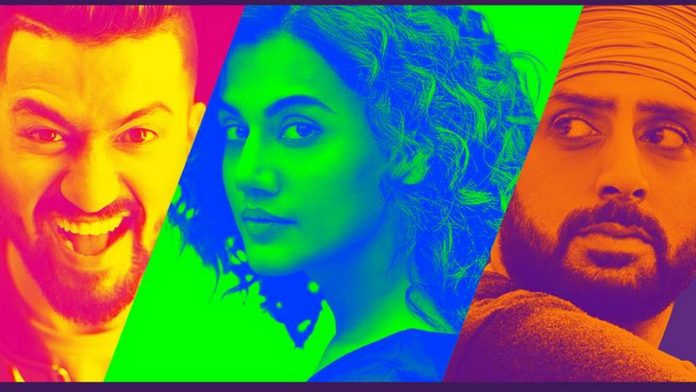 Text Size:
Anurag Kashyap's Manmarziyaan is a concoction of love, raw nerves and sex.
If you saw the trailer of Anurag Kashyap's Manmarziyaan and thought this would be Hum Dil De Chuke Sanam 2.0, then you are wrong.
Kashyap's much-awaited film Manmarziyaan is a story of fickle-minded lovers with his directorial edginess served in measuring spoons.
Manmarziyaan produces a complex range of emotions in its viewers making them intermittently love and hate the film's lead characters, Rumi (Taapsee Pannu), Vicky (Vicky Kaushal) and Robbie (Abhishek Bachchan), for their vacillations.
---
Also read: Netflix's 'Lust Stories' shatter the Indian silence on sex
---
The film starts off with a mohawk-donning Vicky showing off his parkour moves across Amritsar's terraces to meet a dreamy-eyed, yet slang-spewing, Rumi. For them, the concoction of sex and love serves a high. Innocent, yet immature, Rumi and Vicky are Kashyap's puppets and proof of his craftsmanship.
The first half of the film is about an angry and heartbroken Rumi because Vicky with his devil-may-care attitude fails to meet her marriage ultimatum. Enter Robbie, a banker, freshly flown in from London for the sole purpose of getting hitched. The story from then on meanders between loving, moving on and loving again.
With each film, Vicky Kaushal adds more feathers to his hat. He easily surfs through the role of a loafer with his sprightly strut and struggling DJ impersonation. He even packs in a few laughs, but don't let that fool you into thinking that Vicky is without raw emotions. When the reality of losing Rumi hits him, he is inconsolable.
Taapsee Pannu, on the other hand, breaks all the stereotypes of an orphan coy Punjabi kudi and instead lets her tongue loose. She is a bubbling ball of emotions— and unapologetically so. Rumi is steadfast enough to barge into Vicky's house to create a brawl before her wedding but still looks at her grandfather with quaint eyes for validation.
---
Also read: With Sacred Games, Bollywood finds a new home for its politics in Netflix
---
While the screenplay by Kanika Dhillon crafts Rumi and Vicky as refreshing characters, it provides little scope for Abhishek Bachchan's Robbie. Bachchan's comeback to the silver screen after two years seems to be an extended act of his character Prem Kumar in Main Prem Ki Diwani Hoon from 2003 where he played a goodie-two-shoes lover in the waiting. He does the same in 2018, but in a turban.
This film marks Anurag Kashyap's second love story after the much-acclaimed DevD in 2009. Manmarziyaan does not fall far from DevD. Sylvester Fonseca's cinematography gives us glimpses of DevD in the movie starting with Rumi riding a bike to a sloshed Robbie in a red-lit bar. Kashyap's camera continues to seduce strategically placed dancers and an abundance of sunglass-wearing men through different shots, much like DevD. However, Manmarziyaan feels like a more contained film by Kashyap, where he slips in the rawness associated with him in bits and pieces. May be he is slowly trying to wiggle into the commercial mould of filmmaking in Bollywood.
A crawling second half stands testimony to the fact that the script was not penned by Kashyap, but it still manages to smartly cut the usual juice and drama in romantic films and instead focuses on the little nuances between the characters to build on the story.
Amit Trivedi masters the music of the film with 'Daariya' and 'Fyaar' and lets the compositions support the narrative and not override it.
---
Also read: Laila Majnu is the first Bollywood film that did not stereotype my Kashmiri accent
---
Manmarziyaan puts to the fore the confusion in a love triangle when it comes to choosing a partner. It is a lovely depiction of human vulnerability. The plot, for the better part, gives us the illusion that Rumi has been given the task of choosing a partner, but in the end, we are left with the feeling that every character gets to do a bit of manmarziyaan for no character has their morals set in stone in this Kashyap flick.
Get the PrintEssential to make sense of the day's key developments