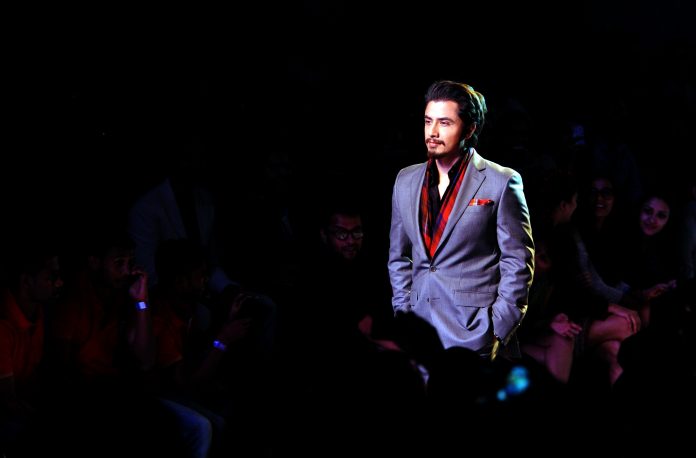 Text Size:
Ali Zafar's dream of being in the Pakistani cinema's hall of fame is now marred by the emerging #MeToo movement triggered by Meesha Shafi's allegations.
Before sexual harassment allegations engulfed him, Pakistan's biggest pop star Ali Zafar had an audacious dream. He wanted to produce a grand Bollywood-style Pakistani movie to revive the local film industry. But promotions for his upcoming movie Teefa in Trouble— billed to be the biggest moment in Pakistani cinema— has now collided head-on with Pakistan's #MeToo movement.
After grave testimonials of sexual harassment by singer Meesha Shafi and other women, Pakistan is now divided among those who will boycott Teefa in Trouble and those who won't.
One of the most expensive Pakistani films made to date, Zafar's 'Teefa in Trouble' (scheduled to release on 20 July) has many hopes and careers attached to it. It is also a family project. Ali and his brother Danyal Zafar have co-written the film, and it is being co-produced with his wife, Ayesha Fazli. This was his first Pakistani venture after his semi-successful trysts with Bollywood. It was also going to be the debut of Maya Ali, a Pakistani television actress, on the big screen. The first teasers made it appear as if Pakistani films were finally going to be 'more than just drama serials'. It was expected to become one of Pakistan's big blockbusters of the year.
All the plans came undone after Meesha Shafi's allegations of sexual misconduct. As other women came out with powerful testimonials, the run-up to the movie has become a test-case for Pakistan's #MeToo movement.
Articles titled "Why I'll be boycotting Ali Zafar's Teefa in Trouble In fact, I'll be boycotting Ali Zafar. Period" began appearing.
It was time for damage control.
In this day and age, the quality of a pre-release PR campaign can make or break a movie. Ahead of the release, bot-like accounts began attacking people critiquing Ali. Micro-bloggers, on the condition of anonymity, said that the PR machinery is working overtime to promote Zafar as 'innocent' and discredit Shafi.
"I got a call from a well-known digital PR agency saying, Meesha has no proof, she's flown to Canada! We want you to highlight this. Ali Zafar is falsely accused and there are no proofs against him," said one micro-blogger and influencer. "I didn't do the campaign."
Another micro-blogger and influencer revealed that an agency promised to send an email with 'evidence' against Shafi.
But ironically, Ali Zafar, in a recent interview to BBC, chose to say that he 'did not want to fight this war out on social media.'
Senior actresses such as Resham and Sahiba chanted, "We love you, Ali Zafar!" in an Instagram video. India's Yashraj Films was announced as the distribution partner for Teefa in Trouble. Parineeti Chopra tweeted her support for her 'friend' from Kill Dil. At one time, mainstream Pakistani media and their social media handles even claimed that Ali had pretty much won the defamation case against Shafi (though her lawyers stated otherwise).
Meanwhile, as Shafi was harassed and targeted on social media prompting her to deactivate most of her platforms, Zafar promoted his charity foundation, it was also reported that he attempted to remove Shafi's brother's work, Faris Shafi, from a Pakistani music streaming site.
The film's trailer and soundtrack have received mixed reactions. Popular promotional sites gave generally favourable 'reviews' but a blogger called the trailer 'cringeworthy' with 'forced comedy'. All of them have cleverly or deliberately avoided the controversy. Those who do touch upon it, do it gingerly, fearfully.
As a survivor and as a feminist, I chose to boycott the film. But Shafi and the six other women deserve an apology. Instead of the good-looking, shiny hero, we have grown up watching, we now see a sleazy male opportunist who attempts to silence women with the patriarchal networks and the formidable money-driven PR machinery that he can deploy.
Zafar's dream of being in the Pakistani cinema's hall of fame is now somewhat diminished. Some other feminists in Pakistan have also called to boycott the film. Someone even circulated his picture with a cross mark on his poster with the hashtag #TeefaIsTrouble.
Ali Zafar was supposed to do a promotional event for his film at KFC. When he reached, this happened. pic.twitter.com/142oh3acDO

— Faizan. (@merabichrayaar) July 19, 2018
If the move is successful at the box office, it may be one giant leap for the Pakistani film industry, but a dangerous step backward for the countless Pakistani women who fear speaking up about sexual abuse.
The author is a liberal, feminist journalist, YouTuber, Supermom & biryani connoisseur in Pakistan. Her Twitter handle is @mahwashajaz_
Get the PrintEssential to make sense of the day's key developments