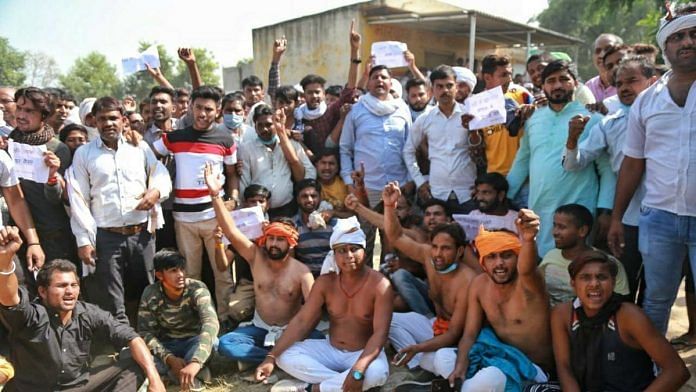 Text Size:
New Delhi: The alleged gang rape and murder of a 20-year-old Dalit woman in Hathras has brought the Thakurs of Uttar Pradesh into the spotlight, because all the four men accused belong to this community.
The case comes nearly a year after a powerful Thakur political leader Kuldeep Singh Sengar, who represented the Samajwadi Party, Bahujan Samaj Party and then the BJP as an MLA, was convicted and sentenced to life for raping a 17-year-old girl in Unnao in 2017. There was massive outrage over the Unnao case, because attempts were made on the girl's life, and her father was killed at Sengar's behest, the court found. But in both these cases, the power of the Thakurs has been cited as a possible factor behind the crimes.
The fact that Yogi Adityanath, a Thakur, is the first upper-caste chief minister of UP in nearly 20 years has given rise to the perception of the 'return of Thakurvad' — that people from the caste are being given undue prominence — something the administration, current and former officials, the ruling BJP and others vehemently deny.
But like most other things in UP, the politics of caste and power is not a simple black-and-white matter. So, ThePrint dives deep to answer the questions — just who are the Thakurs of UP, what explains their hold on political, social and economic power, and what it really means to be a Thakur, an identity that most belonging to the community proudly wear on their sleeves.
---
Also read: 'Paying price for being upper castes' — Thakurs & Brahmins claim Hathras accused innocent
---
Land-owning, politically powerful elite
According to Vedic mythology, while the Brahmins originated from the head of god Brahma, the creator, the Thakurs (Kshatriyas) emerged from his arm. Their coveted position in the Varna system, coupled with their economic affluence, makes them a political force no party can afford to alienate.
Known as the Rajputs during the colonial period, the Thakurs are erstwhile rajas, maharajas, zamindars and taluqdars of UP, who continue to own over 50 per cent of the land in the state despite constituting just 7-8 per cent of the population. In fact, the Thakurs have enjoyed a share of power, money and social prestige that is disproportionate to their population.
According to a paper published in the Economic & Political Weekly (EPW), 47 per cent of Thakurs fall in the top 20 per cent wealth-owning class of UP.
The Thakurs sided with the Brahmins for many decades after Independence — even today, the upper-caste vote is often considered to be a bloc. The list of 14 chief ministers of Uttar Pradesh over the first 42 years of independent India is indicative of the power the upper castes enjoyed — five Brahmins, three Thakurs, two Vaishyas (Baniyas), a Kayasth, a Bengali Brahmo woman who took her Sindhi husband's name (Sucheta Kripalani), a Jat and a Yadav.
The three Thakur CMs until 1989 were Tribhuvan Narain Singh, V.P. Singh and Vir Bahadur Singh. But with V.P. Singh's ascension to the prime ministership in 1989, Thakurs began asserting themselves as a distinct political group.
Even after parties catering to backward classes and Dalits (SP and BSP respectively) started winning elections, the EPW paper shows that Thakurs and Brahmins have continued to be over-represented in the UP assembly.
"For instance, it has been observed that when the SP wins elections in UP, the Thakurs emerge as the largest group in the state assembly, and in the scenario of BSP's victory, none other than Brahmins occupy the maximum number of seats. Together these two castes do not constitute more than 15 per cent of the population of the state, but in each election, they have held more than 25 per cent seats in the assembly," the paper states.
The paper explains this trend by saying: "In the negotiation between parties and castes, powerful groups appear to augment their bargaining capacity by their economic clout. Political parties give undue weightage to these groups which represent a minuscule portion of the electorate."
---
Also read: Hathras woman's family says they know what would have saved her — 'being a Pandit or Thakur'
---
'Winnability'
Sengar, who was convicted for the Unnao rape, was an example of this political power of Thakurs. He hopped from SP to BSP to BJP and got tickets everywhere, never lost an election from his own seat, and could even influence voting in other constituencies of the district. Observers say such leaders are often seen as Bahubalis, musclemen with the most valuable political quality — winnability.
"A Thakur can win an election on his bal (literally, strength). That is why no party can do without them," says Ajai Singh, son of the erstwhile king of Pratapgarh. "They have the money because of land, but there is also their social standing…The poorest person wants a Thakur's hand on his head."
Singh adds: "When all the village pradhans are under the Thakurs' thumb, how can any political party ignore them?"
Then, there's the question of financial clout. "Every party needs dons…When they lose power, who will assemble 500 men for them? Then your IAS, IPS officers vanish, and these Thakurs, remain," he says.
S.P. Singh, a former IAS officer who served in the UP government for over 30 years, agreed with Ajai Singh. "They wield a kind of muscle and money power that cannot be ignored," he says. "In every village, they have small micro-finance groups through which they lend money at high rates of interest…When someone cannot pay, they take their land."
The EPW paper says Thakurs have experienced the minimum inter-generational occupational mobility, i.e. while most other caste groups have seen an occupational shift from agriculture to other professions, this shift has been the lowest among Thakurs, the land-owning elite.
"Why would they take to other professions?" S.P. Singh asks. "They enjoy all the power they can within the village. They give money, food grain, jobs in the fields to everybody in the village. What else would they want?"
"Their political significance is such that even as opposition parties like the Congress condemn the atrocity on the Dalit woman who was gang-raped and murdered in Hathras, no party would dare to say Thakurs did it," he adds. "Mayawati cannot offend Thakurs, let alone the Congress."
---
Also read: The Brahmin-Thakur 'war' in UP can end well for Mayawati. BSP's 2007 playbook can be handy
---
The 'arrogance' of being a Thakur
The traditional position of the Thakurs in UP society has lent them what observers in UP have labelled 'Thakur hone ka mai', or the arrogance of being a Thakur. In fact, the last few decades of Dalit social and political assertion have led to more retaliation from Thakurs, argues Rahul Verma, fellow at the Centre for Policy Research (CPR).
"It is the sense of 'they used to stand before us when we'd walk in, and now they are asserting themselves'," Verma says. "Needless to say, women carry the larger burden of this reaction, this anger."
One of the theories behind the Hathras gang-rape and murder fits with Verma's argument — that the Dalit family had a nearly two-decade-old dispute with the family of one of the accused Thakurs.
The accused's grandfather, it has been reported, was booked under the SC/ST Act, and went on to serve three months in prison for allegedly beating up the victim's grandfather. The mother of the woman has been reported as saying she "grew up aware of their 'status', never mingling with the upper castes."
However, Shantanu Gupta, author of The Monk Who Became Chief Minister, a biography of Yogi Adityanath, disagrees. He argues that the Hathras incident has become the victim of "doorstep reporting" by Delhi journalists, and that the case would not have catapulted into national headlines if the victim was also a Thakur.
"People keep caste alive by talking about it all the time… Even Sengar was a Thakur, but there, nobody played up the caste angle because the girl was also a Thakur."
---
Also read: Yogi Adityanath didn't say 'Thakurs make mistakes', viral news bulletin has been altered
---
'Victims' of modernity
Analysts say that the 'psyche of revenge' that S.P. Singh talks about can also be explained by a sense of lost power — the Thakurs, as a caste group, arguably had the largest number of kingdoms pre-Independence, and even more before the British Raj. The democratisation of India rendered most of them as ceremonial royals — a phenomenon that some experts say has led to a generational resentment.
With notable exceptions like Union Defence Minister and former UP CM Rajnath Singh, most Thakur leaders in politics, from former PM V.P. Singh to the don-politician Raghuraj Pratap Singh 'Raja Bhaiyya', are from 'royal' lineage.
This "Thakur resentment" is captured by the recent viral video of tilak-sporting men threatening Dalit leader Chandrashekhar Aazad of "consequences" if he does not let the law — the SIT and the CBI investigation into the Hathras case — take its course. Two men, with policemen standing behind them, refer to themselves as Aazad's "elder brothers".
Thakur men, who have been staging the "Savarn Jago" protest outside the Victim's village, call out @BhimArmyChief who has reached Hathras to meet the victim's family. pic.twitter.com/sam5n8t86L

— sadhika tiwari (@sadhika_tiwari) October 4, 2020
This nostalgia for a bygone order leads to a heightened need for in-group solidarity among the group and the Hathras case again illustrates this trend, experts said. With clamour growing against the four accused, a Thakur mahapanchayat was held about two kilometres from the village to demand their release. The mahapanchayat was also attended by Brahmins.
Then, there is their traditional proclivity to violence — Thakurs/Rajputs/Kshatriyas are the 'warrior caste', Verma points out. "These are the traditional zamindars, and in those times, power was maintained through violence. And that tendency continues," Verma argues, though he adds the caveat that dominant castes across the state, like Brahmins and Yadavs, also take to violence for political and social assertion.
'Thakurvad' under Yogi Adityanath
The rise of Yogi Adityanath, a Thakur, to the chief ministership after the BJP swept to power in 2017 has resulted in the perception that the caste has become all-powerful in UP.
But, both supporters and detractors of the monk-turned-politician's administration agree on one thing — there is little corroboration of this additional 'dominance' on ground.
"There is so much that is said about Thakur appointments — Thakur SPs, DMs, etc. I have not seen one data compilation on it," says Yogi's biographer Shantanu Gupta. "I have sat for hours myself looking for the names of Thakur SPs and DMs, I could not find any disproportionate representation of Thakurs since 2017."
"People who say all this do not realise that Yogi does not win because of Thakur politics, he wins because of Hindu politics," Gupta adds.
However, A.K. Verma, professor of political science at Kanpur University, says the dominance of Thakurs exposes the contradiction of Indian democracy seven decades after independence.
"To this day, Thakurs are the rajas, maharajas, zamindars and taluqdars… They are the feudal lords," he says. "Their dominance is the result of the unresolved contradiction of Indian democracy, which is politically democratic, but socially feudal."
This has led to Thakurs developing a sense of being above the law, Verma says, but also adds that it holds true for any dominant caste. "There is a sense that you can get away with anything right under the nose of the administration because you have retained your social power, and accumulated political power as well," he says.
---
Also read: AAP survey finds Yogi govt is 'Thakurvaadi', sparks row and FIR against party MP
---
Subscribe to our channels on YouTube & Telegram
Why news media is in crisis & How you can fix it
India needs free, fair, non-hyphenated and questioning journalism even more as it faces multiple crises.
But the news media is in a crisis of its own. There have been brutal layoffs and pay-cuts. The best of journalism is shrinking, yielding to crude prime-time spectacle.
ThePrint has the finest young reporters, columnists and editors working for it. Sustaining journalism of this quality needs smart and thinking people like you to pay for it. Whether you live in India or overseas, you can do it here.