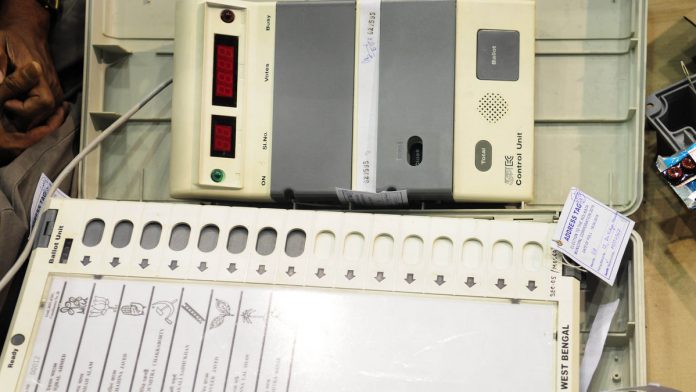 Text Size:
Syed Shuja accuses BJP IT cell of using 'military-grade' tech to tamper with EVMs but fails to hack EVM himself.
New Delhi: Months before the Lok Sabha elections, a masked man who claimed to be a US-based cyber expert alleged that every Indian election since 2014, irrespective of its outcome, had been rigged by tampering with electronic voting machines (EVMs).
The man, who said his name was Syed Shuja and claimed to have been involved in designing EVMs in India between 2009 and 2014, also made a series of other sensational and fantastical allegations:
BJP tech experts rigged the 2014 Lok Sabha elections with the help of Reliance Jio.
The Congress, BSP, SP and AAP, among others, had approached him to rig elections in their favour.
His team consisting of several Muslims was shot dead after it sought to confront a BJP leader in Hyderabad with the information of tampering.
Union minister and senior BJP leader Gopinath Munde was murdered by his own party after he found out about the EVM tampering.
But Shuja, who addressed journalists in London via video conference, and hid his face behind a cloth in a dimly lit room, failed to deliver what he had set out to show — a demonstration of how EVMs could be tampered with.
The London press conference was organised by the Indian Journalists' Association (Europe) and the Foreign Press Association, London. The video of the event showed senior Congress leader Kapil Sibal standing in a corner of the room, sparking allegations that he and his party were behind it.
The Election Commission of India (EC) trashed the press conference, calling it "a motivated slugfest", and reiterated that the EVMs are fool-proof.
The BJP rubbished Shuja's claims. The Congress said it had nothing to do with the press conference but sought a probe into Shuja's allegations.
Election Commission stands by EVMs
"Whereas the ECI has been wary of becoming a party to this motivated slugfest, ECI firmly stands by the empirical facts about fool-proof nature of ECI EVMs deployed in elections in India," the Election Commision said in a press statement.
"It is being separately examined as to what legal action can and should be taken in the matter."
Election Commissioner Ashok Lavasa told ThePrint that the commission has taken all precautions and necessary steps to ensure full security of the EVMs it uses for Indian elections.
Shuja claimed he was an employee of Hyderabad-headquartered Electronic Corporation of India Ltd (ECIL) between 2009 and 2014. He alleged that those responsible for bringing EVMs to his location in the US for the hacking demonstration had been paid off and so he could not show how EVMs could be hacked.
He said he sought political asylum in the US after he was attacked in India in May 2014.
---
Also read: Four-member committee of oppn leaders formed to look into EVM manipulation
---
'BJP IT experts rigged 2014 polls'
Shuja, who claimed that he was part of a team which designed the EVMs used in the 2014 elections, said ECIL explicitly asked him and his team if the EVMs were hackable, and to demonstrate how it could be done. This, ECIL did on the directions of the Election Commission, he alleged.
While he and his team "did not buckle under pressure", the "BJP's IT guys", he said, figured out a way to use a modulator that transmits military-grade frequency — thereby rigging the 2014 elections. This, he alleged, was done with the help of Reliance Jio, which, he claimed, has the network required to transmit the data used for rigging.
Although he maintained that the BJP was the biggest beneficiary of the EVM tampering, he added that all other parties including the AAP, Congress, BSP and the SP, among others, approached him to rig elections in their favour.
If Shuja, who says, the ECIL will "deny his existence", is to be believed, no election in India since 2014 has been held without rigging. While the elections BJP won were won because of the data transmission through hacking, other parties won when "his team" intercepted the BJP transmission, he claimed.
He also claimed that when his team sought to confront a BJP leader in Hyderabad with the information of tampering, the entire team — which he claimed consisted of several Muslims – was shot dead.
While Shuja too was allegedly shot in the attack, he managed to survive and seek asylum in the US. The entire episode was later made to appear to be an incident of communal violence, he said.
Shuja went on to allege that senior BJP leader Gopinath Munde knew about the EVMs being hacked and was then allegedly "murdered" by his own party in order to stop him from flagging the issue.
---
Also read: Chief Election Commissioner claims EVMs are tamper proof
---
BJP calls it 'hacking horror show'
Union minister Mukhtar Abbas Naqvi rubbished the claims and alluded to the presence of Sibal at the press conference. "The Congress has a lot of freelancers, who sometimes reach even Pakistan to take help for removing Modiji," Naqvi said. "They are making a hacking horror show of their possible defeat in the upcoming elections."
Senior Congress leader Abhishek Manu Singhvi said the party had nothing to do with the press conference.
"We haven't organised it. We neither accept nor deny the charges made in the press conference. We also don't support rubbishing the facts that have emerged. There needs to be a fair trial in the matter as people have a doubt on EVMs," Singhvi said.
"Sibal went there as he was invited. He went there in his personal capacity, he wasn't representing the party," he added.
– with inputs from Neelam Pandey
Get the PrintEssential to make sense of the day's key developments