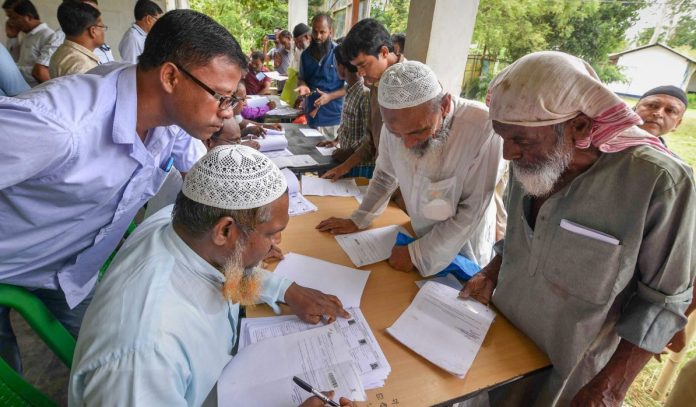 Text Size:
The deportation of illegal Bangladeshi immigrants fell to 51 in 2017 from 5,234 in 2013, reveals government data.
New Delhi: The Bharatiya Janata Party (BJP) maybe using the National Register of Citizens report, released Monday, to its political advantage, and even daring the Congress-led opposition to makes its stand on illegal Bangladeshi immigrants clear, but here's something to chew on: The number of illegal Bangladeshi immigrants deported from India has fallen in the last five years.
In a written reply by Kiren Rijiju, minister of state for home affairs, to a Rajya Sabha question on 14 March, the government said the number of deportation of illegal Bangladeshi immigrants fell to 51 in 2017 from 5,234 in 2013.
Between 2013 and 2014, with the Narendra Modi government coming to power, the number of deportation cases fell over five-fold — from 5,234 in 2013 to 989 in 2014.
Since 2014, there has been a gradual decline with the numbers falling to 474 in 2015; 308 in 2016; and 51 in 2017.
Downward shift
Under the UPA government in 2009, 10,602 Bangladeshis were deported. The following year, the number fell to 6,290 but marginally increased in 2011 to 6,761, revealed data from the ministry of external affairs.
A downward trend of deportation of Bangladeshi immigrants was seen under both the UPA and the NDA, but the rate at which deportations have decreased under the current government has been drastic, revealed the data.
The shift comes at a time when India is anxious about the 40 lakh people in Assam who have been left out of the NRC draft list and fear being deported to Bangladesh. The NRC exercise aims at identifying who in Assam are genuine Indian citizens and who are illegal immigrants.
---
Also read: Supreme Court warns Centre over NRC, says don't take coercive action against people not on list
---
The NRC, which was first published in the 1951 census, is being updated by keeping 24 March, 1971, as the cut-off date to identify those who immigrated illegally to Assam from then East Pakistan (now Bangladesh).
No clarity
The government said applicants will be given sufficient platforms to redress grievances before the final NRC list is out. There is, however, little clarity on how those eventually identified as illegal immigrants would be dealt with.
Rijiju, in his March reply, said all cases of deportation of suspected illegal immigrants residing in India go through a process of communication that includes nationality verification from respective missions or embassies.
The minister added that deportation and detention is a continuous process and many a times those apprehended of illegal migration are housed in detention centres in the country. However, data and details regarding immigrants in detention centres in Indian states and union territories are not maintained by the Centre, he added.
---
Also read: NRC shows Supreme Court has made a messy issue messier
---
For ThePrint's smart analysis of how the rest of the media is doing its job, no holds barred, go to PluggedIn.