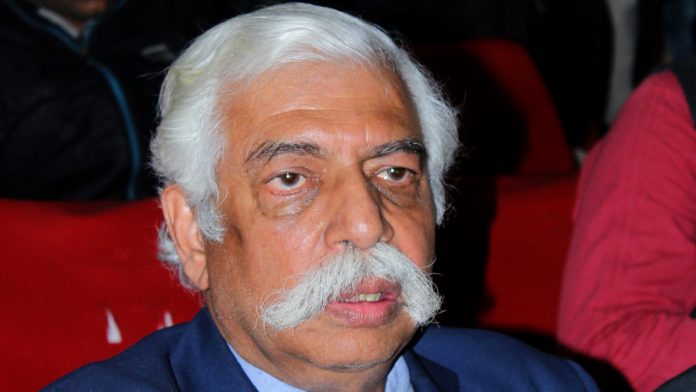 Text Size:
New Delhi: Air Vistara's tweet Sunday calling Major General G.D. Bakshi a "decorated Kargil war hero" caused much confusion over what exactly makes an officer "decorated" or a "war hero", especially when he or she has not taken part in the actual theatre of operations.
Major General Bakshi, who also holds a Sena Medal, was awarded a Vishisht Seva Medal for leading a battalion during a less-publicised confrontation with Pakistan at Kargil in 1987.
While he is "decorated", the confrontation in question took place during peacetime, that is, in the absence of declared hostilities. Also, during the 1999 Kargil war, he was posted at the Army headquarters, and it is these factors that led people to question Air Vistara's description of him as a "war hero".
I guess I know that quite well.

Pl revisit the tweet of Vistara. The responses were specific. No one targeted his impeccable credentials as a decorated Soldier. What is not done is proclaim that parents be recognised/awarded for distinction in exams when their children appeared.

— Akhill Pratap (@MajorAkhill) April 22, 2019
Military awards also entered the news cycle with two other instances over the last one month: When the Indian Air Force (IAF) reportedly recommended Wing Commander Abhinandan Varthaman for a Vir Chakra, the third-highest wartime medal, for his role in the 27 February dogfight with Pakistan, and when Army Chief General Bipin Rawat was conferred the Param Vishisht Seva Medal (PVSM), the highest military medal awarded in recognition of peacetime services not relating to gallantry, last month.
The reports on a Vir Chakra recommendation for Wing Commander Varthaman became a talking point because they breached the confidentiality usually maintained around such decisions till they are finalised.
Should be confidential

— Vedmalik (@Vedmalik1) April 22, 2019
The PVSM for the Army chief, meanwhile, marked a rarity: A PVSM is usually awarded earlier in a military official's career, but an exception was made for General Rawat as he became an Army commander in January 2016, and chief by December the same year.
Military awards form a part of personnel's service record, and are displayed with their ceremonial uniform, but entail no special benefits.
"There is no extra money or benefit which comes with the medals, but within the service, your colleagues know you have served in difficult areas," a senior Army official told ThePrint.
"For every soldier who gets a gallantry award or a distinguished service medal, there may be several others who deserve it, but may not be lucky enough to get it," the official added.
From awards recognising wartime valour to those meant to honour a soldier's distinguished service, ThePrint breaks down the different awards and medals that Indian military personnel are conferred with.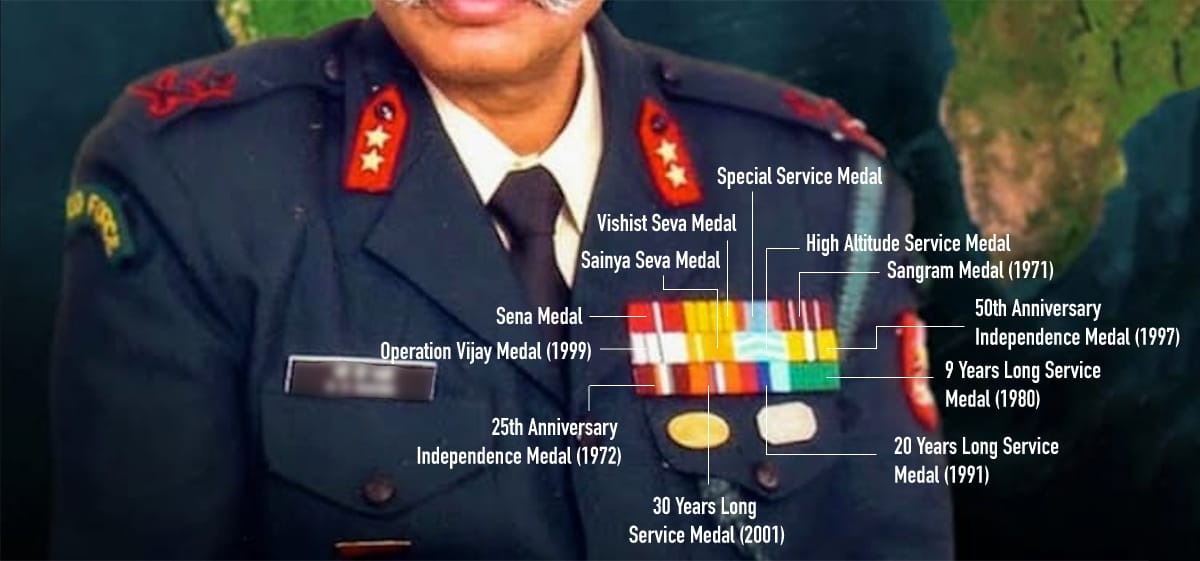 ---
Also read: Vistara's selfie-tweet with controversial ex-armyman GD Bakshi draws ire from all sides
---
In honour of valour
Gallantry awards are given to military personnel for displaying conspicuous bravery or pulling off an act of exceptional valour while putting their own life at risk. Some seek to honour bravery exhibited during wars, while others reward courage shown during peacetime.
Wartime gallantry awards
Param Vir Chakra is the highest wartime gallantry award followed by Mahavir Chakra and Vir Chakra — the second- and third-highest awards.
These are followed by the Sena Medal (Gallantry).
Mention in Dispatches: Records the acts of valour in the service records of personnel.
Chiefs of Staff Commendation Card: Acts of valour recorded in service records of personnel, and a certificate of appreciation awarded by the Chief of Army Staff and/or the General Officer Commanding in Chief.
Peacetime gallantry awards
Ashok Chakra is the highest decoration for peacetime valour, followed by Kirti Chakra and Shaurya Chakra, awarded for bravery shown during counter-insurgency, counter-terror operations.
These are followed by Sena medal (Gallantry), Mention in Dispatches, and Chiefs of Staff Commendation Card.
Selection process
The selection process for gallantry awards is multilayered, involving multiple checks at each stage.
The Ministry of Defence invites recommendations twice a year from the armed forces for gallantry awards.
The proposals duly vetted by each of the three services — and approved by their chiefs — are sent to the Ministry of Defence.
At the ministry, the Central Honours & Awards Committee (CH&AC), comprising the defence minister, the three service chiefs and the defence secretary, takes up the recommendations, after which they have to be approved by the prime minister and the President before they are announced on Republic Day and Independence Day.
---
Also read: Military & moustaches: The world of GD Bakshi, face of Indian media's shrill war cries
---
For distinguished service
Apart from gallantry awards, there are those that seek to honour distinguished service. Some of them are wartime decorations and awarded for the planning and conduct of operations, while others are awarded for peacetime service.
Sarvottam Yudh Seva Medal: India's highest wartime distinguished service decoration.
PVSM: It is the highest military medal awarded in recognition of peacetime services not relating to gallantry.
Uttam Yudh Seva Medal: Also a wartime distinguished service medal.
Ati Vishisht Seva Medal: Meant to recognise "distinguished service of an exceptional order" by all ranks of the armed forces.
Yudh Seva Medal: For distinguished service during wartime.
These are followed by the Sena Medal (Distinguished) and the Vishisht Seva Medal, a peacetime distinguished service medal.
Military personnel are also presented service medals, for which the paramilitary and police forces are eligible as well. They include:
Wound Medal: Awarded to personnel of the armed forces, Central Armed Police Forces, or police forces, for sustaining a gunshot wound in the face of an enemy.
Siachen Glacier Medal: The medal is awarded to personnel who participated in the Siachen conflict for over 90 days.
High Altitude Medal: Awarded to military personnel for serving at altitudes of over 9,000 feet for over 180 days.
Operation Rakshak Medal: This medal was awarded to Indian Army personnel who participated in the counter-terrorism Operation Rakshak in Kashmir in the early 1990s.
Operation Parakram Medal: It is a military award given to troops who were part of Operation Parakram, which marked a standoff between India and Pakistan in 2001-2002.
A soldier can also be conferred any of four 'Star Medals' for participation in certain areas or against Pakistan, such as Samar Seva Star (for participation in the 1965 war), Paschimi Star, Poorvi Star and Operation Vijay Star (1999).
---
Also read: Do BJP and Congress differ in giving Padma Awards to Muslims — the number story
---
Get the PrintEssential to make sense of the day's key developments