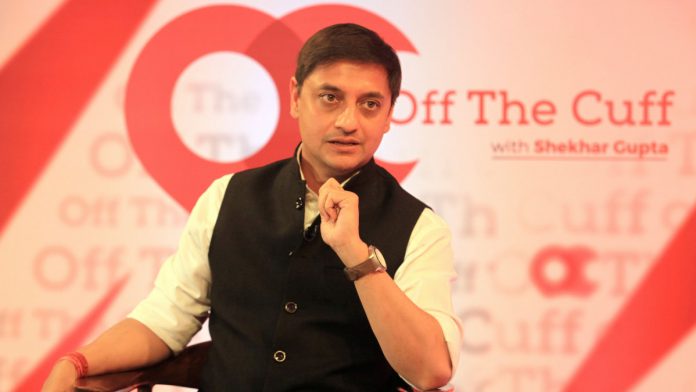 Text Size:
Mumbai: Demonetisation was not a disaster but a part of the wider attempt to put governance frameworks in place and has resulted in improved tax compliance and business culture, Sanjeev Sanyal, principal economic advisor to the Modi government, told ThePrint.
In conversation with ThePrint Editor-in-Chief Shekhar Gupta at Off The Cuff, Sanyal said demonetisation was one of the many difficult decisions that were taken.
"The massive risk and fear of breakdown of the economy did not happen. There was some dampening of growth for a quarter of two. On an aggregate level, the negative impact was small," said Sanyal, a noted economist, writer and urban theorist.
"Was there a massive benefit? It is the case that the amount of cash in the system has drifted back to where it was before. But you have to compare it with where it would have been if we had not done it," said Sanyal.
He added demonetisation was "not at all" a disaster and has led to a general improvement in tax compliance and the country's business culture.
"You have to take demonetisation as part of the wider attempt of this governance problem. We have seen dramatic increase in tax compliance, business culture of the country has dramatically improved," he said.
"There was a time when people would break rules and brag about it, but now if they do they keep quiet about it."
Sanyal's latest book India In The Age Of Ideas explores new ways of looking at India and its place in the world through a collection of essays.
Minimum government, maximum governance
The economist, who worked in financial markets for over two decades before joining the government in 2017, said when Prime Minister Narendra Modi promised "minimum government, maximum governance," people only remembered the first part of the slogan.
"You need to have a framework of governance in place before withdrawing government. The monetary police committee framework was for bringing down inflation, the bankruptcy code was a framework for insolvency, GST (Goods and Services Tax) was also a governance framework, a new way of taxes," Sanyal said.
The growth during the United Progressive Alliance (UPA) regime was "not bad", but the bigger problem was that "the system was completely out of control", he added.
"The real problem was inflation spiking up into double digits, fiscal deficits going up to 6.6 per cent in 2009-10, current account deficits at 3-3.5 per cent of the Gross Domestic Product, there was massive lending from banks, completely out of control," Sanyal said.
'GST issues smoothened out'
Sanyal said the need for a unified national taxation system was felt even 20-25 years ago, but it was never put into effect.
"Finally in 2017, we decide to go ahead and at the point when we were going ahead people pointed out several things that can go wrong. Ultimately the decision was taken to just do it because the only way to find out what can go wrong was to just do it," Sanyal said, adding many things went wrong in the first three months, but these have since been smoothened.
"Ultimately, we have made a major transition to a system that was a dramatic improvement. It is not perfect but our grandchildren will be using a version of the system," Sanyal added.
On the Modi government's recent announcement of Rs 6,000 income support scheme to farmers, the economist said it was a new approach to the agriculture sector instead of pursuing the approach of input subsidies and encouraging the farmer to produce more.
All farm policies until now focused on producing more and the success of these policies has created a situation where prices are depressed due to over production, said Sanyal.
"We have to think about agriculture in a fundamentally different way. There is one thing we need to do — direct income transfer to farmers. Instead of giving more fertiliser, we just give him a top up income directly into his account," he said.
Sanyal said every reform is disruptive to a certain extent, but this government has undertaken some major reforms and created infrastructure.
"Why is everybody unhappy that we did all the painful things? We are still the fastest growing economy despite all of this," said Sanyal.
"People grumbled but they took it. Now to have wasted this moment in history and not done it would have been criminal."

Get the PrintEssential to make sense of the day's key developments