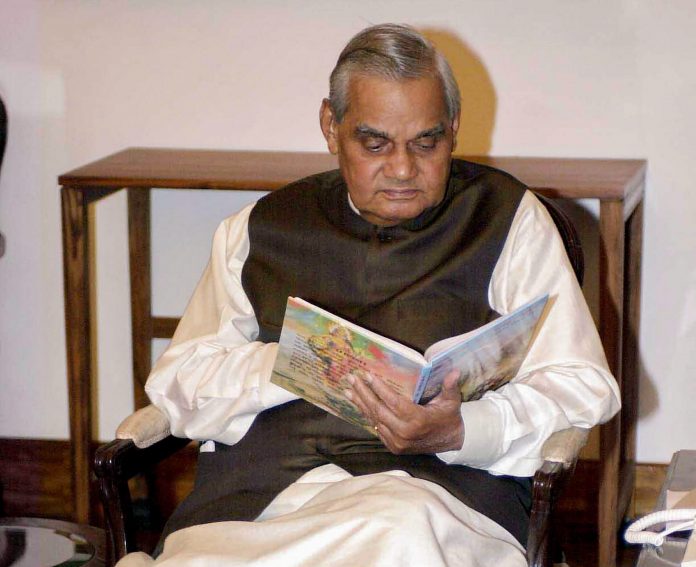 Text Size:
HRD Ministry sources say government wants chapters on Vajpayee's role in the Pokhran nuclear test, the Kargil war, and as a Jan Sangh leader.
New Delhi: Students across schools in India might soon get to read about the life and contributions of former prime minister Atal Bihari Vajpayee, who passed away last week after prolonged illness.
According to sources in the Human Resource Development Ministry, discussions are on to figure out how to include a chapter on the life of the veteran leader in school textbooks.
"There have been discussions in the quarters of BJP (Bharatiya Janata Party) and HRD Ministry that Vajpayee's life should be known to the young people in India and one way this can be done is by including a chapter on him in school textbooks," said a source.
"While this new initiative will be at the level of the Central government, state governments have also been asked to include teachings on Vajpayee in schools. Some states have already started doing that, not officially as a part of the curriculum but as extra reading," the source added.
---
Also read: India has 10 lakh teaching vacancies. India has 4 lakh excess teachers. Go figure
---
The discussions are still at an initial stage but the government wants that there should be a chapter in political science books about the veteran leader's role in the Pokhran nuclear test, during the Kargil war, and as a Jan Sangh leader.
Sources said the formal curriculum will only be implemented from the following year.
This will be among the many initiatives that the BJP-led government is taking as a mark of respect to the late Prime Minister.
The BJP wants to memorialise Vajpayee's name through other ways, including naming Naya Raipur, the upcoming capital city of Chhattisgarh, as 'Atal Nagar', and building a memorial in Mumbai to depict his "life and works".
As part of the 'Atal Kalash Yatra' to immerse the ashes of the leader in holy rivers across the country, BJP state unit chiefs have been asked to work along with Union Ministers from the respective states. The Congress government in 1984 did something similar after the death of Prime Minister Indira Gandhi. Her ashes were sent across the country for final homage before being scattered over the peaks of Himalayas.
Recently, the newly proposed School of Management and Entrepreneurship school in Jawaharlal Nehru University was renamed as Atal Bihari Vajpayee School of Management and Entrepreneurship.
---
Also read: IITs reject proposal to scrap JEE Advanced, B.Tech courses will continue in all institutes
---
Read Global Pulse for a sampler of the big international stories, and why they matter.