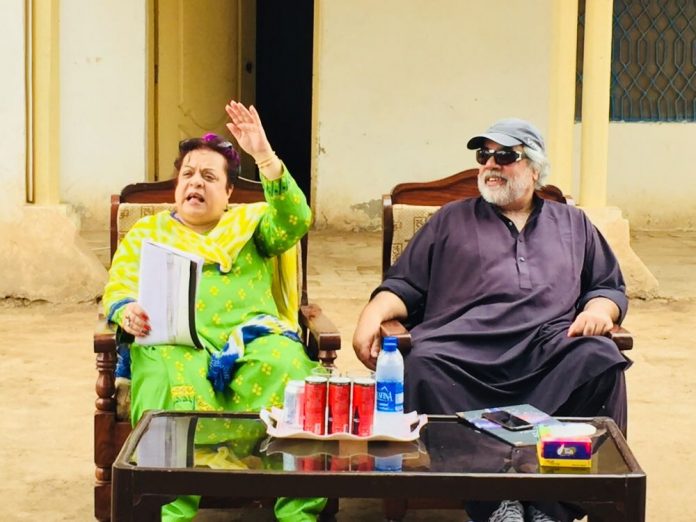 Text Size:
Here's what's happening across the border: Celebrations as Sharifs are released from jail; country discusses issues of Uighur Muslims with China for the first time.
Shireen Mazari terms varsity's new smoking policy 'discriminatory' 
Human rights minister Shireen Mazari has termed an Islamabad university's new policy, permitting only men access to smoking areas, as being 'discriminatory' and unacceptable.
In a tweet, Mazari attached a copy of the notification that the National University of Sciences and Technology had issued in this regard, and said that banning smoking altogether would be a far 'healthier option'.
Good to discourage smoking but discriminatory approach towards girl students and gender-biased rules cannot be acceptable. Wrong message being given to our young students – that it is okay to discriminate against women. Banning smoking for all on campus would be far healthier too pic.twitter.com/F7lgHcgO3T

— Shireen Mazari (@ShireenMazari1) September 19, 2018
According to the notification issued by the university, a fine of (Pakistani) Rs 1,000 will be levied on girls if they breach this rule and their parents will be informed, The Express Tribune reported. The report quotes a student as saying that the campus was smoke-free but with the new policy, around 20 new smoking areas opened up for boys on the campus.
The move has been slammed online, with many calling out the university's sexist policy.
Ammar Rashid, a journalist and researcher, wondered how men devising such policies in Pakistani universities managed to 'get away'.
NUST establishes designated smoking areas on campus but bans 'girls' from entering them (essentially amounting to a gender-specific smoking ban). It is crazy what kind of stone-age sexist drivel the men running Pakistan's universities are allowed to get away with. pic.twitter.com/nc2arrTiLM

— Ammar Rashid (@AmmarRashidT) September 18, 2018
Fehmeen Anwar, a social media user, tweeted that the policy appeared to have been designed keeping in mind that smoking cigarettes were a blot on a woman's character.
Because cigarettes are dangerous for a man's lungs and a woman's character.

And since woman's character > health issues, hence the highly commendable (read: SEXIST) policy!

NUST – always making us proud! pic.twitter.com/q0sKtLjcll

— Fehmeen Anwar (@AnwarFehmeen) September 18, 2018
Omar. R. Quraishi, a journalist, expressed surprise at the notification.
Pakistan's premier university NUST designates smoking areas and introduces fines for smoking outside designated area — oh, and also bans female students from entering the designated smoking areas

Via @AmmarRashidT pic.twitter.com/1UAi0UDRMY

— omar r quraishi (@omar_quraishi) September 19, 2018
Celebrations after Sharif family's release but legal troubles not over yet
There have been celebrations among supporters of the PML-N party and well-wishers of the Sharif family after the Islamabad High Court Wednesday suspended the jail terms of former prime minister Nawaz Sharif and his daughter Maryam Nawaz, in the Avenfield luxury flats corruption case.
The two were welcomed back to their Jati Umrah residence, with supporters showering rose petals on their car.
Jubilant scenes after former Prime Minister Nawaz Sharif and his daughter Maryam Nawaz are released from prison pic.twitter.com/11vv8ns2iX

— omar r quraishi (@omar_quraishi) September 19, 2018
Analysts, however, believe that the ordeal of the Sharifs is far from over.
In almost all the opinions of analysts weighed in on a blog by Dawn, the primary concern was that the trio had only been released but not acquitted of their charges in the corruption case.
Arifa Noor, an analyst, said that the court's decision only acts as a "temporary relief" and remarked that Maryam Nawaz could start her political stint again only if her "conviction was overturned".
Ali Chughtai, a lawyer by profession, brought out the legal implications of this temporary relief. He was quoted as saying that it was "highly possible that the conviction may be sustained in the main appeal".
Owais Tohid, a senior journalist, also had a similar take on this matter saying "The suspension of sentence against Nawaz and his daughter Maryam, to me, is a temporary relief as both still have to face cases, so the legal sword will continue to hang on their heads".
Pakistan finally raises China's treatment of its Uighur Muslims
In a first, Pakistan has raised the issue of China's treatment of its Uighur Muslims residing in the country's largest province, Xinjiang.
Pakistan's minister for religious affairs and interfaith harmony, Noorul Haq Qadri, in his meeting with the Chinese Ambassador to Pakistan, Yao Xing, Wednesday, urged that the Muslims living there be given relaxations as they were facing numerous restrictions, reported Dawn.
"The placement of restrictions increases the chances of an extremist viewpoint growing in reaction," Qadri was quoted as saying.
The Chinese ambassador reportedly told Qadri that the 20 million Muslims living in China were allowed to freely practice their religious faith. He also invited Qadri to visit the country, which the latter accepted. Xing has also assured that arrangements would be made for a delegation of Pakistani religious scholars to visit Xinjiang.
A United Nations panel last month said that it had the backing of several credible reports to believe that around 1 million Uighur Muslims were being held in "massive internet camps" in Xinjiang province.
Bollywood film trolled on Twitter for showing a Technology Park as ISI headquarter
Pakistani Twitter users slammed Bollywood film Genius, starring Nawazuddin Siddiqui and Mithun Chakraborty, for depicting Lahore's Technology Park as the headquarters of the ISI, the country's premier intelligence agency, The Express Tribune reported.
UNESCO chair and ex-Cabinet member for Punjab, Umar Saif, tweeted that Bollywood industry needed better scriptwriters.
Arfa technology park making waves beyond borders.

P.S. Bollywood needs better script writers. pic.twitter.com/vCeff7GYSj

— Umar Saif (@umarsaif) September 18, 2018
Other Twitter users too joined in.
LOl ???? Indian film industry trolling & Arfa software technologies park is ISI headquarters… Big joke lie of the day sir @CPEC_CSCEC you built it ???????????? https://t.co/j1pQMcEgtl

— Abdul Rehman (@AbdulMaan) September 18, 2018
More funnier is that the building is shown to be in Islamabad, its not the script writer but the movie editor that is responsible for such obvious blunder.

— Yasir Wattoo ???????? (@yesir786) September 18, 2018
Get the PrintEssential to make sense of the day's key developments