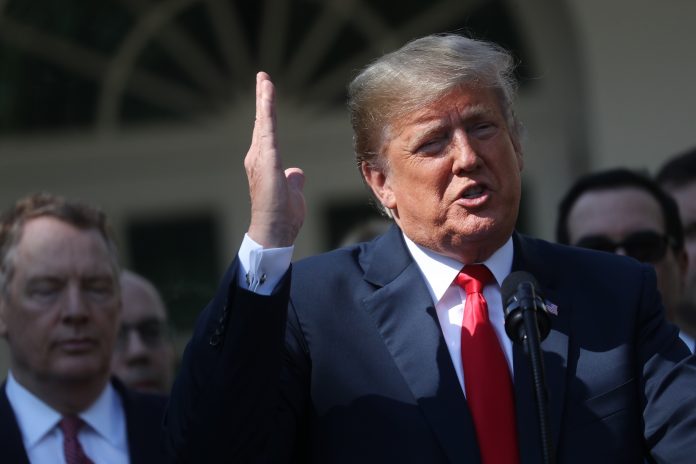 Text Size:
Here's what's happening across the border: Pakistan President Arif Alvi says govt has no plans to recognise Israel and amend blasphemy law; Supreme Court orders resumption of Karachi's iconic tram service.
Trump justifies cutting aid to Pakistan
US President Donald Trump has justified his government's decision to cut off millions of military aid to Pakistan, arguing that the country does not do a "damn thing" for America, The News International reported.
Trump has also censured Pakistan for sheltering al Qaeda leader Osama bin Laden in Khyber Pakhtunkhwa's Abbottabad region whom the US forces gunned down in 2011. 
"You know, living – think of this – living in Pakistan, beautifully in Pakistan in what I guess they considered a nice mansion, I don't know, I've seen nicer," Trump said in an interview to Fox News Sunday.
"Everybody in Pakistan knew he (bin Laden) was there," the US President stressed.
Trump used this incident to claim that the aid that has been revoked to Pakistan by his government was a valid action.
"And we give Pakistan $1.3 billion a year. Laden lived in Pakistan, we're supporting Pakistan, we're giving them $1.3 billion a year — which we don't give them anymore, by the way, I ended it because they don't do anything for us, they don't do a damn thing for us," he was quoted as saying.
The Trump administration had in early September rescinded a $300 million military aid to Pakistan for not taking enough stringent actions to combat activities of terror outfits within its territory.
Prez Alvi refuses to recognise Israel, amend blasphemy law
Pakistan President Arif Alvi has said that the government has no intentions of changing the blasphemy law, The Nation reports.
In a conversation with representatives of different ulemas (scholars from different schools of thought) who called on him at Governor's House Lahore, Alvi said that the government was ready to protect the Islamic Namoos-e Risalat, which commands respect for all human beings.
He also assured the ulemas that PTI government was neither going to amend blasphemy law nor recognise Israel.
Allama Ayub Safdar, on behalf of the delegation, assured that the ulemas will extend all possible help to ensure peace of the country.
SC orders resumption of Karachi's iconic tram service
The Supreme Court of Pakistan has given directives to officials to resume the iconic tram service in a few old areas of Karachi city which was closed 43 years ago, reports The Express Tribune.
The order was given Saturday amid a high-level meeting, chaired by the top court's Justice Gulzar Ahmed with important authorities in Karachi city's civil administration, local government and railway. The meeting was organised at the Supreme Court Karachi registry.
The SC judge ordered that the tram service be restored for tourism purposes for which the carriages should be made with the assistance of Karachi Municipal Corporation. The city's administration will plan the route of the service based on its consultation with the Pakistan Railways.
1,400-km vintage car kicks off from Karachi
Ninth Classic Car Rally kicked off Saturday from Karachi and is expected to traverse several cities and towns in Pakistan before finishing at its final destination in Khyber Agency's Torkham town, near Afghanistan border, reports The Express Tribune.
The annual event is organised by the Classic Car Club Pakistan where the fleet of vintage cars began their journey from Karachi's Ramada hotel.
The journey includes a visit to Maza-e-Quaid, the final resting place of Muhammad Ali Jinnah and other important Pakistani leaders. The route passes through cities such as Ghambat, Bahawalpur, Lahore, Islamabad, Peshawar before finishing at Torkham.
People witnessed a convoy of 19 colourful vintage cars which are expected to be joined by at least 70 other vintage vehicles by the time the group reaches Islamabad, chairman of the event Tauqir Sultan Awan said.
Awan said the purpose of holding these annual rallies is two-fold: one is to promote a "softer image of Pakistan to the rest of the world", and the second is that "Pakistan also has car enthusiasts and we're no different from the rest of the world".
The motorcade comprises models of American and British cars, antique Volkswagens, Camper cars among others. He also mentioned about a 1959 Rolls-Royce which has taken part in the rally for the third consecutive year.
Prez Alvi explains the origin of the word, algorithm
Pakistan President Arif Alvi has announced the launch of a huge programme to teach artificial intelligence in the country, The News reports.
Speaking at the event, he also explained the meaning and origin of the word 'algorithm'. Alvi said the word is a gem from Islamic history.
He even tweeted about it saying 'Algorithm' is the latinisation of Al-Khwarizmi, a Persian mathematician, astronomer, and a scholar, who is known as the father of algebra.
A gem from muslim history: Algorithm is latinisation of name of Al-Khwārizmī who also authored the science & word 'Algebra'.Today Algorithms as a simple set of rules for a task to be performed is the basis of Artifical Intel . I would IA be launching a huge prg to teach AI in Pak

— Dr. Arif Alvi (@ArifAlvi) November 17, 2018
Get the PrintEssential to make sense of the day's key developments