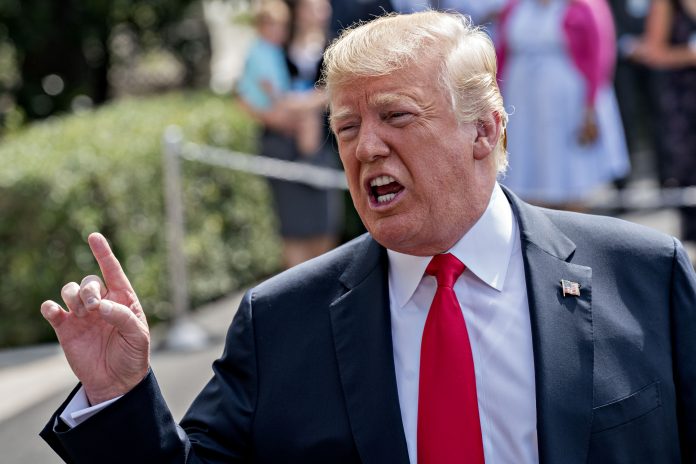 Text Size:
Trump 'compels' US attorney general Jeff Sessions to resign, and Silicon Valley startups continue to take Saudi money.
Trump threatens to adopt 'warlike posture' if investigated by Democrats  
As the Democrats won back the control of the House of Representatives after the midterm elections, US President Donald Trump said he would adopt a "warlike posture" if they used this opportunity to investigate his financial and political affairs, reports The Guardian. 
Advertisement

In Tuesday's election, the Democrats tapped vast voter disenchantment to secure a majority in the House of Representatives, thus eliminating the one-party rule of the Republicans that critics slammed as a threat to democracy. However, the excitement of Trump's critics was tempered by the fact that Republicans widened their majority in the Senate, the second chamber of the US Congress.
Addressing a press conference after the results were announced, Trump called it a "a beautiful bipartisan-type situation" but also sought to warn the Democrats. "Now we have a much easier path because the Democrats will come to us with a plan for infrastructure, a plan for health care, a plan for whatever they're looking at, and we'll negotiate," he said.
However, he struck a different tone when asked about his likely reaction if the Democrats launched investigations against him. "If they do that, then it's just – all it is is a warlike posture… They can play that game, but we can play it better," he added. 
Trump also said he would not be releasing his tax returns, saying, "Look, as I've told you, they're under audit. They're extremely complex. People wouldn't understand them."
 US attorney general Jeff Sessions resigns at Trump's behest
Jeff Sessions resigned as the US attorney general Wednesday on President Donald Trump's "request", reports Politico. The news broke as Trump announced Sessions' departure on Twitter. However, in an undated resignation letter, Sessions reportedly made it clear that the decision wasn't his own. "Dear Mr President, at your request I am submitting my resignation," he wrote, reports BBC.
….We thank Attorney General Jeff Sessions for his service, and wish him well! A permanent replacement will be nominated at a later date.

— Donald J. Trump (@realDonaldTrump) November 7, 2018
Sessions' resignation concludes a tenure "marked by public humiliations" at Trump's hands after he refused to join the Department of Justice investigation into alleged Russian meddling to help Trump win the 2016 election.
Matthew G. Whitaker, the chief of staff to the attorney general and a critic of the inquiry, has been appointed the acting attorney general. 
The decision to remove Sessions triggered a massive uproar from the Republicans, who warned Trump that the Russia investigation must be allowed to continue unimpeded, reports The Guardian.
Prince Charles junks English for Pidgin on Nigeria visit
Prince of Wales Charles surprised Nigerians as he junked Queen's English to deliver an address in Pidgin, the widely spoken language of West and Central Africa, reports The Guardian.
He addressed the assembled dignitaries, politicians and celebrities in Lagos with "How you dey? (How are you?)". Prince Charles will be winding up his tour of  The Gambia, Ghana and Nigeria Thursday.
"I find it hard to believe that nearly 30 years have passed since I first came to this city," he said, adding, "As they say, 'God don butta my bread (God has blessed me)'." 
Amid Khashoggi saga, Silicon Valley startups continue to accept Saudi money
Silicon Valley startups are still negotiating deals for funds with Saudi Arabia through its partner SoftBank Group, despite allegations that the kingdom played a role in the assassination of dissident-journalist Jamal Khashoggi, reports The Wall Street Journal. 
Disclosures of investments by View Inc, which makes light-adjustable glass, and Zume Inc, which uses robots to make pizza, revealed a combined grant of $1.5 billion from SoftBank's Saudi-backed Vision Fund. Katerra Inc, an innovator in property construction, also reached a $1 billion deal with the Saudi government last month. 
Allegations of Saudi involvement in Khashoggi's  killing had led many companies in the Silicon Valley to cancel attendance at an October conference in Riyadh sponsored by the Saudi sovereign-wealth fund. 
Australia foreign minister in China to ease frost in ties
Australia foreign minister Marise Payne is visiting Beijing in an attempt to improve the country's relationship with its biggest trading partner after more than a year of political tension. However, it will be a tough job for Payne as she is expected to face some hard questions from Beijing over Canberra's bid to block a billion-dollar Chinese investment deal, ABC news quoted Chinese analysts as saying.
Australia treasurer Josh Frydenberg had announced recently that he intends to block a $13 billion Chinese takeover of Australia's largest gas pipeline business.
However, whether a dialogue will pacify the tensions between the two countries is uncertain. Some believe that it now difficult to fully recover normalcy as "Australia has left a bad impression on Chinese people". 
China-Australia relations are about to reset, but Australia has left a really bad impression on Chinese people, almost the worst among all Western countries. The fondness of Chinese for Australia is difficult to fully recover, which will be a drag on bilateral cooperation. https://t.co/6oH3pZQvO1

— Hu Xijin 胡锡进 (@HuXijin_GT) November 7, 2018
Separate fact from fiction, the real from the fake going viral on social media, on HoaXposed .
Advertisement