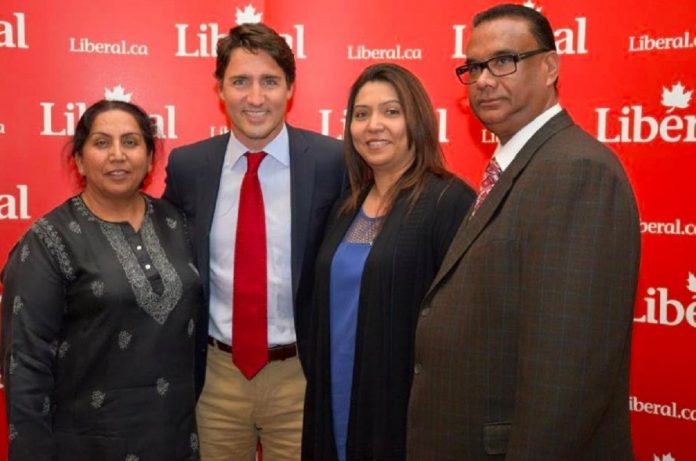 Text Size:
Jaspal Singh Atwal was convicted for the attempted murder of a Punjab minister in Canada in 1986. But that isn't the only criminal charge laid on him.
Chandigarh: Close links with terrorists, being part of an attempt to kill a prominent Punjabi politician in the mid-1980s, being involved in the sale of stolen cars—Jaspal Singh Atwal has a long list of charges against him.
Atwal's pictures with Canadian Prime Minister Justin Trudeau's wife Sophie at an official dinner in Mumbai and an official invite to a reception being held Thursday night by the Canadian High Commissioner in New Delhi have led to a massive storm.
But the reason Atwal, a convicted former member of the International Sikh Youth Federation (ISYF)—a militant body banned in India, the US and Canada—was granted visa by the Indian high commission could be that he is no longer on any blacklist. Effectively, this means, he isn't on the radar of security agencies in India.
Senior officers of the Punjab intelligence wing acknowledged to The Print that "not much is known" about Atwal in Punjab and there are no records currently to show that he was involved in any crime or act of terror in Punjab.
Charges galore
Atwal belongs to Pharana village in Phagwara and left for Canada quite young. He claims to have studied at the British Columbia Institute of Technology. He is now into the construction business and also runs an internet radio station Wave Media. Atwal has been known to hobnob with Canadian politicians of all hues.
He was convicted in Canada for the attempted murder on Malkiat Singh Sidhu in 1986. At the time, Sidhu was minister of state for planning in the Shiromani Akali Dal (SAD) government led by Surjit Singh Barnala. Sidhu was visiting Vancouver for a wedding, and was forced off the road by four men and shot in the arm. Sidhu and his gunman were later killed by terrorists in Punjab in April 1991, in the run up to assembly elections.
Canadian news group Vancouver Sun reported that apart from Atwal, the trial court convicted Amarjit Singh Dhindsa and Sukhdial Singh Gill and sentenced them to 20 years' imprisonment. The trial court termed the murder attempt as an "act of terrorism". The verdict was overturned during appeal and the four men didn't serve their prison terms.
The Vancouver Sun said Atwal suggested it was unfair to raise his criminal conviction given how long ago the crime occurred. He blamed enemies for circulating his photos and stressed that he travelled to India on his own on 11 February and is not part of any official government delegation.
CBCNews, another Canadian media outlet, added that in 1985, Atwal was charged but not convicted for a near-fatal attack on Ujjal Dosanjh for opposing the Sikh separatist movement. Later, Dosanjh went on to become the Premier of British Columbia.
The incident is also mentioned in Stewart Bell's book 'Cold Terror: How Canada Nurtures and Exports Terrorism Around the World'.
Senior Punjab journalist Baljit Singh Balli who visited Canada last year said he was invited for a talk to the Wave Media radio channel, and there he met Atwal. "Atwal tried to present his side of the story, saying he had been wrongly charged of attacking Dosanjh. Atwal claimed that he and Dosanjh are also related," said Balli.
Atwal was in the news again in 2006-07 when he was working as a car salesman and he, along with his realtor son Vikram Atwal, was among a dozen persons named in a civil suit filed by the Insurance Corporation of British Columbia as members of a ring dealing in stolen cars.
Vancouver Sun reported that in 2010, a British Columbia Supreme Court judge ruled Atwal had at the time assisted with the conversion of one of the stolen vehicles. Atwal appealed the ruling, but lost in 2012.
Political links
In 2012, Atwal made news in Vancouver again when it was realised that he was invited to the budget speech of the then Premier Christy Clark as a guest of the government. She was livid over the invite and a complaint was made to the Speaker's office. Tariq Ghuman, a liberal party director who had invited Atwal to the speech, had to resign following the controversy.
It was then reported that Atwal was a member-at-large of the Surrey Fleetwood-Port Kells Liberal riding association of the Federal Liberal party since March 2011.
Atwal has visited India at least once in the past few years. His Facebook page shows him visiting the Taj Mahal in Agra.
There is a picture of him with a young Justin Trudeau posted on 14 January 2013 on his Facebook page.
"If a politician is clicked with a person, it really does not mean that the two are close. We receive so many requests from people we don't even know to get pictures clicked with them. We cannot check what their background is," said Herb Dhaliwal, a senior Canadian politician of Punjabi origin.
"In this case, what Jaspal Singh Atwal did happened in 1985. The new lot of politicians will not even know about his conviction. The big question is how Atwal managed to get a visa to India despite his conviction."
Punjab police officials point out that several Punjabi NRIs who have Person of Indian Origin status in Canada do not need a visa to travel to India, which could have been the case. "But to get that card also, you have to go through a security check in Canada," said Dhaliwal.
Attempts were made to get in touch with Atwal for his version through his radio channel numbers listed on its website. However the calls went unanswered. This report will be updated if he responds.
Separate fact from fiction, the real from the fake going viral on social media, on HoaXposed .