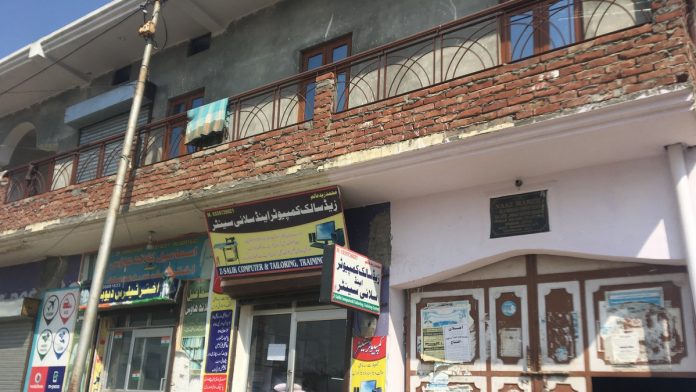 Text Size:
Deoband: It was around 2 am on 22 February, when 20 men from the Uttar Pradesh Anti-Terror Squad landed up at room number A-4 of Naaz Manzil, a hostel in Deoband, and took away three men suspected to be Jaish-e-Mohammed (JeM) operatives.
While two of them — Shahnawaz Teli and Aquib Ahmed — were placed under arrest, Zahid, under whose name the hostel room was taken on rent, was released after 24 hours of rigorous questioning.
The UP ATS claims that two men were posing as students in Deoband with the aim of recruiting youths to the terror outfit and were in possession of arms and jihadi literature.
But Zahid, who stayed with Shahnawaz for over a year and with Aquib for at least 10 days, has a different story to tell.
Earlier this week, ThePrint traced Zahid to a hostel room inside Darul-Uloom, an Islamic religious institution in Deoband, where he is pursuing Islamic studies.
"I was with Shahnawaz in the room on the night when we were picked up. The police claimed that they recovered pistols and jihadi literature from us, while the fact is that they did not find anything in the room except a train ticket to Nizamuddin dated 14 February, some newly purchased clothes, shoes and our course books," he said.
ADG, ATS, Asim Arun, however, refuted Zahid's claim.
"That's not true. The recoveries are genuine. The phones have their audio clips, voice chats fully incriminating them for …arranging weapons, planning attacks," he said.
"The evidence is very strong and their conviction will certainly happen. We will get the voice matching done which will be more than enough to convict them."
---
Also read: 2 suspected Jaish-e-Mohammed terrorists arrested in UP's Deoband
---
'Issues around Islam'
Zahid claimed that Shahnawaz was his senior at Anantnag University, Kashmir, when he was pursuing B.Sc in 2010. He, however, lost touch with Shahnawaz after he came to Deoband in 2014. It was only last year that he ran into him again at Darul-Uloom.
The UP ATS claimed that Shahnawaz was not a student at Darul-Uloom, but Zahid said that even though he was not formally enrolled, he was preparing for the entrance exams to the institution and attended most lectures and was very active in classes.
"Shahnawaz bhai was a regular for most lectures. At Darul-Uloom, one can attend lectures and events even if you are not formally enrolled. We started eating lunch together and often discussed issues centering around Islam," Zahid said.
It was on 5 February that Zahid and Shahnawaz decided to take a hostel room together. Shahnawaz then introduced him to Aquib, who was also later arrested by the ATS.
"I knew Shahnawaz but not Aquib. Shahnawaz bhai told me that Aquib was here to shop for a wedding in his house and will stay with us till then. I agreed."
"We all took a room in Naaz Manzil on my identity card," he said.
'Spoke strongly about Kashmir'
Zahid said that soon after news broke of the 14 February Pulwama attack that killed 40 CRPF personnel, Shahnawaz seemed "concerned".
"He said the situation will get worse from here," Zahid said. "He was concerned for the Muslims back home and other Kashmiri Muslims living in other parts of India."
Zahid further said Shahnawaz never spoke of war or violence but did talk about atrocities by the armed forces in Kashmir.
"He did speak very strongly about the excesses by the armed forces in Kashmir but that is nothing new. All of us have suffered at the hands of the forces and only we can understand it," he said.
"Each family in Kashmir has someone or the other who has either been killed or is suffering."
Zahid added, "The Army patrols our streets, raids our homes at will, tortures locals and this is the reason why some youths celebrate any casualties suffered by the forces. They get happy, share messages, but again, that does not make them a terrorist.
"Shahnawaz did have very strong views about Kashmir, but does that make him a terrorist?" Zahid asked.
---
Also read: No room for Kashmiris in Deoband as councillor tells hostel owners to get students to leave
---
'Biryani or gosht'
Zahid said that the phone calls Shahnawaz and Aquib received were mostly from friends and family and everything looked "positive".
"Whatever calls they received were either from friends or family. Just a few days after the attack, Shahnawaz was on the phone asking a friend whether he will have biryani or gosht."
"He had called someone over for dinner the next day, but before that, the police came and took us away," said Zahid. "As soon as they arrested us, they told us that the biryani and gosht plan has been scuttled."
The Darul-Uloom student said this indicated that the police had kept Shahnawaz's phone on surveillance.
He also said that Shahnawaz and Aquib often went for long walks.
"I do not know if they went out for meetings but they went out often. I did not accompany them as I preferred staying indoors," he said.
"On the day of the attack, Aquib went to Nizamuddin in Delhi by train. He told us that he was going to shop for clothes and shoes. At night when he returned, he came back with shopping bags," he said. "We had no reason to suspect him."
The night of the raid
Recalling the night of 22 February, he said, "We were all sleeping, when a few men came and started banging on our door. Shahnawaz bhai told me that they may be people from Bajrang Dal who had come to harm us because we are Kashmiris and we should not open the door.
"We held the door from inside but the men managed to break it open and rounded us all up. The men told us that they were from the police and started asking for 'Shahid,'" he added.
"I told them there was no Shahid and that my name is Zahid. They took our I-cards, handcuffed us and dragged us to their cars."
Zahid recalled that the men were taken to a building and kept in separate rooms.
"They took details of our Facebook accounts, emails, family members, their numbers, addresses. While none of the interrogators manhandled me, I could hear Shahnawaz and Aquib shouting and writhing in pain," he said.
"They made me sit facing a wall and questioned me for long. Several officers came and went and kept asking the same questions. I told them that I was innocent and towards the end they let me go," added Zahid.
"When I came out, I saw Shahnawaz and Aquib. They were being taken away. It appeared that they were beaten up mercilessly. I bid them good bye," he said.
---
Also read: Jobs & milk to helping the stranded — how a CRPF helpline became a lifeline for Kashmiris
---
'No jihadist literature, no weapons'
Zahid said he was surprised to see the news the next day with the police claiming that they found two .32 bore pistols and live bullets from the possession of the two alleged Jaish operatives, while there was nothing that was taken from their room after the search.
"All they could find was shopping bags which had clothes and shoes that Aquib had purchased and some course books. There were other people from the hostel around and they are witness to it. No pistols or live bullets were recovered," he said.
"In fact, the sum of Rs 10,000 that the police has shown on record claiming to have been recovered from Shahnawaz and Aquib is my money. When I asked for it while leaving, the policemen told me that they were not aware of it," he added.
"On record they have shown Rs 5,000 recovery each from Shahnawaz and Aquib."
Although Zahid is thankful to the ATS for letting him go, he does have a complaint.
"The agencies believe that Darul-Uloom is a breeding ground for terrorists, when it is not true. It is the most secular, transparent institution," he said.
---
Also read: Madrassas to military training — how Balakot emerged as largest breeding ground for JeM
---
For ThePrint's smart analysis of how the rest of the media is doing its job, no holds barred, go to PluggedIn