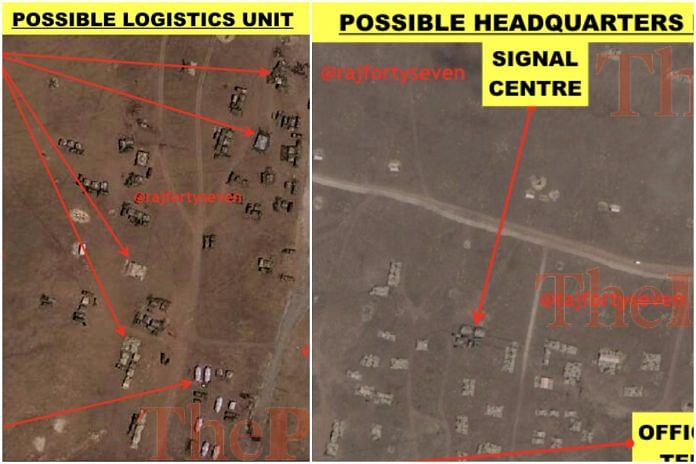 Text Size:
They are armed with camouflaged tanks and missiles, images from international satellites accessed by ThePrint reveal.
New Delhi: The bitter two-month military face-off between India and China in Doklam was resolved peacefully on 28 August, after New Delhi and Beijing announced that they had agreed to withdraw their troops from the disputed tri-junction area.
But exclusive satellite images accessed by ThePrint show that there is continued unease in the region, and the military situation has not normalised as a significant Chinese troop build-up continues close to the contested point on the Doklam plateau. These units have heavy and lethal equipment not noted in the past in this region.
Although the plateau itself is not contested as it was during the stand-off, the build-up gives the People's Liberation Army (PLA) the ability to quickly escalate matters at a time of its choosing.
Sources in the Indian government told ThePrint that New Delhi was closely monitoring the developments, but added that there is no cause for alarm.
On Friday, the Indian External Affairs Ministry, responding to ThePrint report, said that there is no reason for alarm and status quo prevails at the face-off site in Doklam.
"From what I can make out, this particular news report refers to alleged Chinese build-up well within China. I would like to reiterate that there are no new developments at the face-off site and its vicinity since the 28 August disengagement. The status quo prevails in this area," the MEA spokesperson said.
The satellite images accessed by ThePrint show the PLA had a brigade-plus strength deployed in Yadong County, within two hours striking distance of the Doklam flashpoint by vehicles even in September, after both sides had agreed to withdraw.
Satellite imagery of 6 September shows a brigade strength of troops (approximately​ 2,000-3,000 soldiers) deployed north of Yadong town. These are not routine deployments as older satellite images of the same area do not show PLA presence here in the past.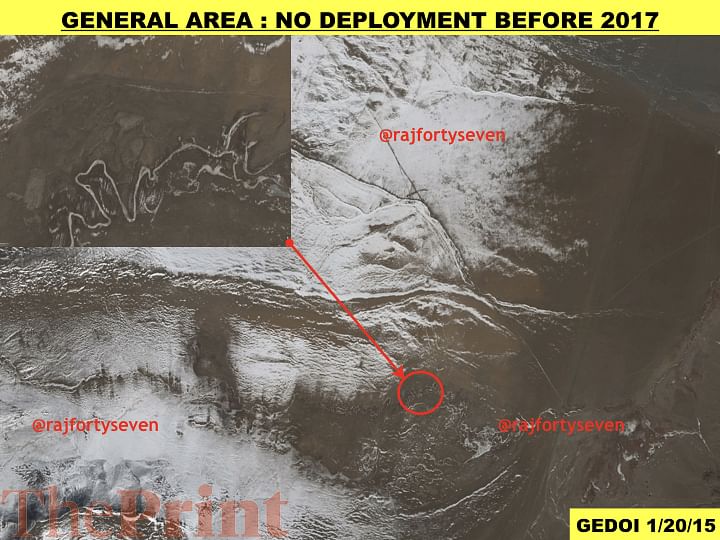 During the Doklam face-off, the PLA had an estimated 300 troops in the tri-junction area of India, Bhutan and China. India also had the same number of troops then.
The general area covered by the satellite images with ThePrint is 13 km west of Jomolhari mountain, considered the consort of the Kanchenjunga in the Himalayas. The area is located in the Yadong County of Tibet, and borders Thimpu district of Bhutan.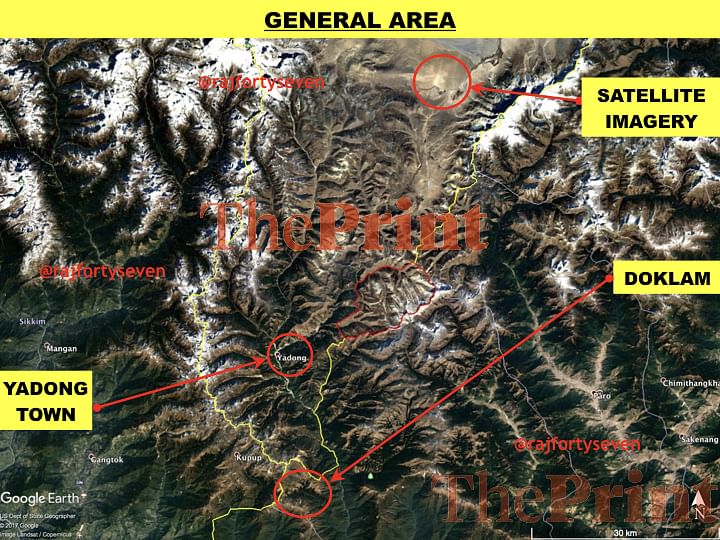 Traditionally, China has used the area east of Yarla Shampo, which is approximately 300 km north-east of the Doklam area in question, for training purposes. The PLA is not known to have deployed troops in the Doklam area in the past for training or any other purpose.
Fighting equipment
Images show the menacing concentration of a large body of troops and equipment close to the contested area – all troops are under camouflage nets depending on the colour of the ground. The troops deployed along nullahs (rivulets) where the ground is green, due to the availability of water and grass, have green camouflage nets while the others have desert camouflage nets.
Specialised fighting equipment – possibly tanks and armoured fighting vehicles – are concealed under a good camouflage that almost merges with the background. What seem to be large tank transporters have also been hidden under camouflaged nets in six groups.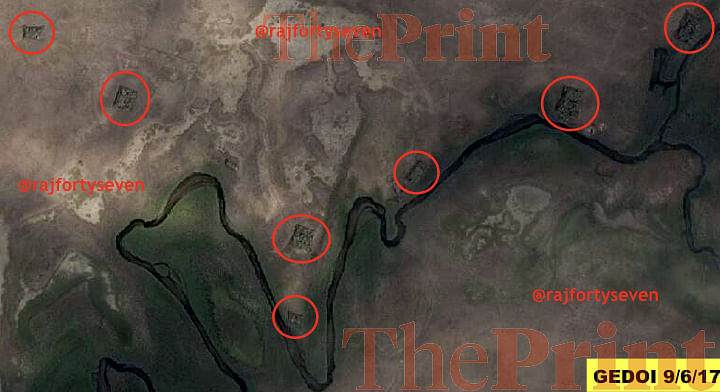 Partially camouflaged ammunition carrying vehicles are parked across the road with revetments – retaining walls or barricades – around them. There seems to be an effort made to conceal the vehicles by parking them back to back, and projecting them as larger, tank-transporter vehicles. This probably is part of the deception policy of the PLA.
The deployment of troops is widespread with most units well dispersed to avoid effects of shelling or bombing. The entire brigade is covering an area of almost 27 sq km. But the dispersed deployment brings in a major disadvantage of track discipline.
Track discipline
When any disciplined force like an army is deployed in tents, it ensures minimum movement to avoid detection by eyes in the sky. The movement of troops either in vehicles or on foot creates additional tracks and exposes locations like the operations room and signal centre.
A careful commander ensures that only old tracks are used by his troops, and no new tracks are created, referred to as track discipline in military jargon.
This track discipline needs to be of the highest order to avoid detection by satellite imagery or aerial coverage by UAVs. The track discipline of the PLA in this area has been poor – one of the reasons for the detection of this well-camouflaged and well-dispersed brigade by satellites.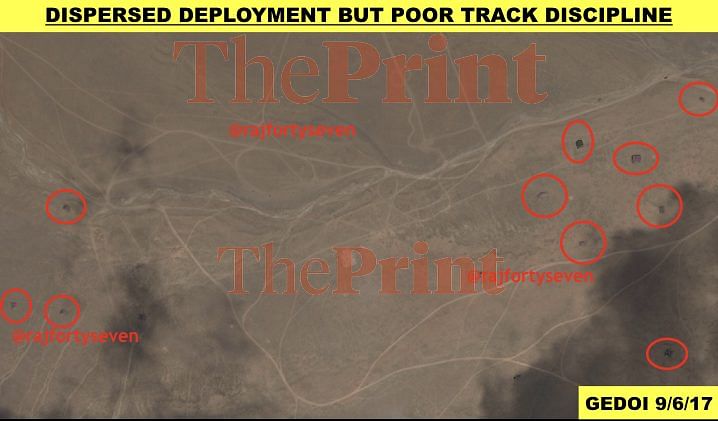 The units identified seem to suggest it is a deployment of a combined arms brigade consisting of all the elements of the PLA ground force, rather than a simple brigade with three infantry units.
Roads built by China in this part of Tibet are black topped with large berms – flat strips of land – and the road coming up to the contested area of Doklam is wide enough to sustain heavy traffic including motorised/mechanised vehicles.
The importance of this deployment also increases considering the areas of North Sikkim, between Gurudongmar Lake and Mt Chomo Yummo, have been an eyesore for the Chinese for years. This area is only 50 km west of the new deployment in Doklam.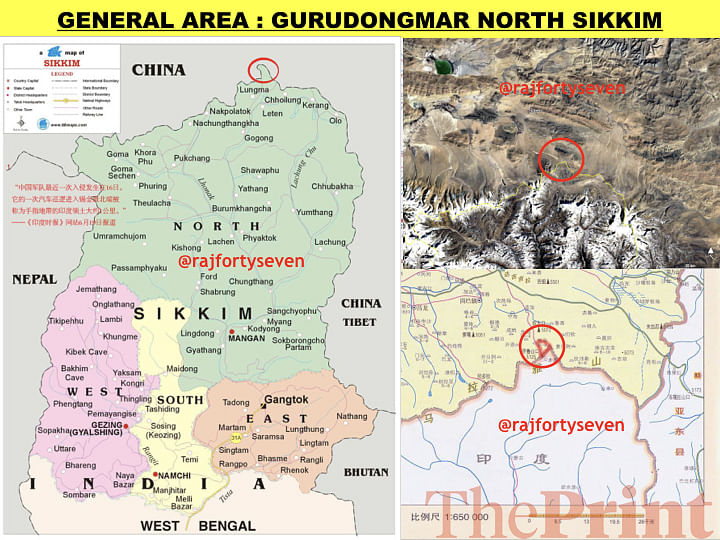 Comparison of this protruding thumb of North Sikkim indicated in the image below illustrates the point better. The brigade strength identified by this report is located 50 km from both the protruding thumb and the Doklam area. The brigade could be used to occupy either area in as little as two hours.
Units and headquarters
There are a large number of units possibly deployed in and around this area. The ones that could be identified are explained below:
Logistics Unit: A possible logistics unit has been identified in this area. It has 26 second line transport units used by the PLA clearly visible without any camouflage. There four possible stores under camouflage nets for clothing, rations, ammunition etc.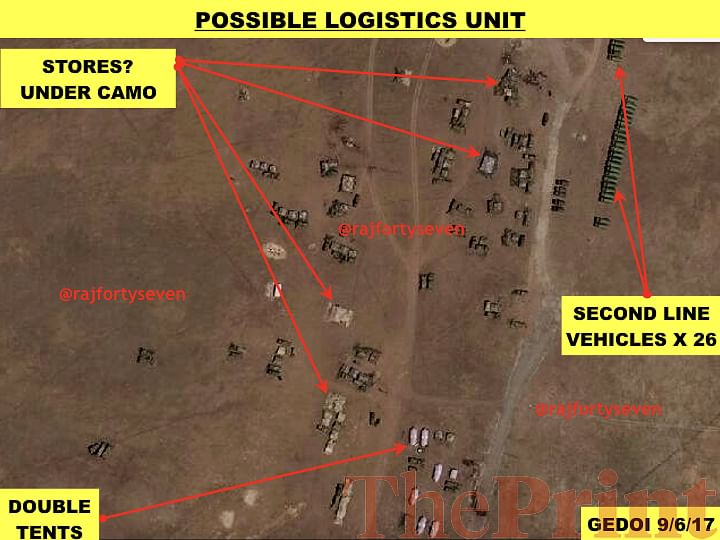 Two of these stores are dug out and two are overground, suggesting that the two underground ones are probably ordnance stores. There are six large tents, possibly for storing winter clothing or other such stocks. There are many other tents and vehicles under camouflage nets observed as well.
Air Defence and Artillery Unit: There are two very prominent artillery deployments observed in the area – two units of six guns each.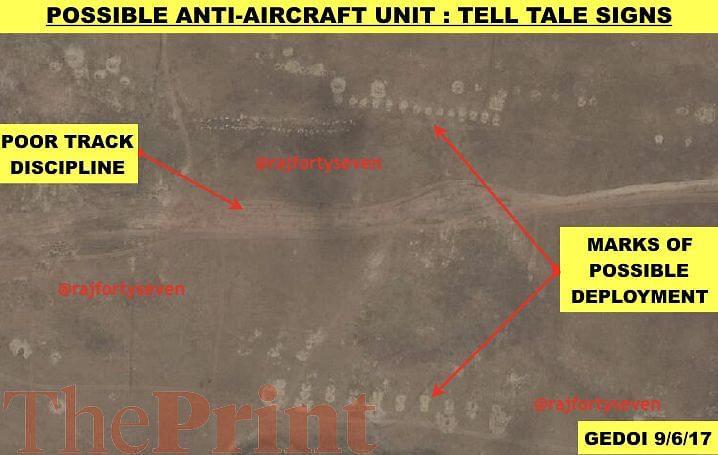 The one on the west is probably the air defence sub-unit and the one on the east is probably artillery pieces.
Mechanised Unit: There is a unit very well camouflaged, possibly consisting of a mechanised unit with transporters in a group of six nets.
There are vehicles partially camouflaged located to the north of the road, probably carrying ammunition and/or other support equipment.
Headquarters: There are a large numbers of tents concentrated in an area observed in the satellite image. This could possibly be a formation headquarters. There is a large square of camouflaged nets with an opening and a parking space. Three vehicles are observed parked. The area around this concentration of camouflaged nets shows large numbers of vehicular tracks suggesting regular, heavy use.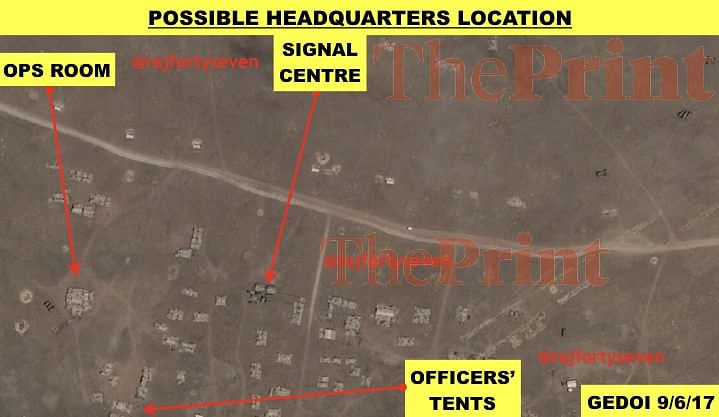 This appears to be the operations room, partially underground and covered with camouflage nets. There are a few tents with camouflaged nets south of the operations room with more vehicular movement observed, suggesting these are probably officers' tents-cum-offices.
Another set of tents with small vehicles is observed in the same area with cables connecting to other tents. This possibly is the signals centre for communications. There also are a large number of tents under camouflage nets and vehicles observed which are possibly support troops for the headquarters.
There are a large number of tell-tale signs left behind by the previous deployment during the Doklam stand-off. One of them clearly indicates that there was an air defence battery with eight guns.
The sudden increase in Chinese presence of 3,000 troops with assorted mechanised vehicles in the Doklam area will make it a huge challenge for the Indian Army to face.
(The report has been updated to include the comment of the Indian External Affairs Ministry)
Colonel Vinayak Bhat (retd) is a Military Intelligence veteran of the Indian Army with vast experience of satellite imagery analysis. He has worked as a Chinese interpreter and is a specialist on PLA and Pakistan's armed forces. He tweets @rajfortyseven
Subscribe to our channels on YouTube & Telegram
Why news media is in crisis & How you can fix it
India needs free, fair, non-hyphenated and questioning journalism even more as it faces multiple crises.
But the news media is in a crisis of its own. There have been brutal layoffs and pay-cuts. The best of journalism is shrinking, yielding to crude prime-time spectacle.
ThePrint has the finest young reporters, columnists and editors working for it. Sustaining journalism of this quality needs smart and thinking people like you to pay for it. Whether you live in India or overseas, you can do it here.