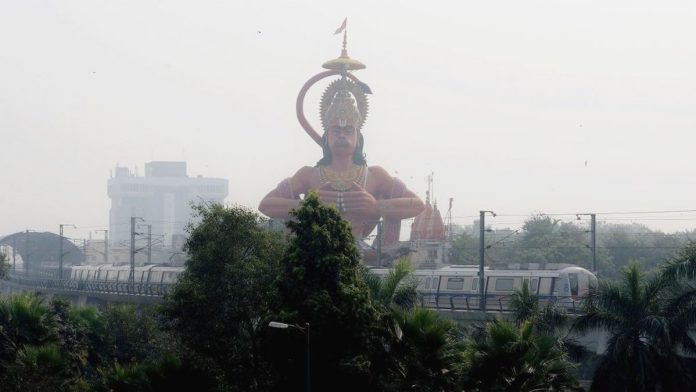 Text Size:
Giant statues of Hindu gods and leaders are making Muslims in India nervous
India's new statues of Hindu gods and leaders attempt to convey the power and vision of one dominant group — and the vulnerability of the minorities, writes Indulata Prasad.
Modi-Shah's poison has met its match in Mamata Banerjee's poison
If Narendra Modi and Amit Shah have made a poisonous, polarising campaign their brahmastra for 2019, Mamata Banerjee is showing them its limitations, Shekhar Gupta writes in this week's National Interest.
'I am very much alive', Mani Shankar Aiyar tells trolls claiming he 'died in Balakot'
For a leader who always manages to stay in the headlines, Congress leader Mani Shankar Aiyar has been conspicuous by his absence in the Lok Sabha campaign so far, causing his critics and trolls to circulate messages about his "death". Read the report by Neelam Pandey.
India slipped further behind China under Modi govt
China has outspent India on defence, implemented sweeping military & diplomatic reforms & built strategic infrastructure in India's backyard, writes Iain Marlow.
Pragya Thakur's remarks on Karkare were 'very wrong', says Maharashtra CM Fadnavis
Maharashtra Chief Minister Devendra Fadnavis said Sadhvi Pragya Thakur may have her own complaints, but using "such words" against Hemant Karkare, who the entire country respects as shaheed, is wrong. Thakur had said Karkare was killed in the 26/11 terror attacks because she had cursed him. Read the full interview by Manasi Phadke.
Narendra Modi is contesting 2019 elections not as India's PM but as Gujarat's CM of 2002
Prime Minister Narendra Modi has his priority right in 2019. He is no longer talking about bullet trains or smart cities. People should vote for him because only he can provide them the security without which their material possessions, or aspirations for them, are meaningless, writes D.K. Singh.
New twist to CJI Gogoi crisis: More SC staff suspected to be part of 'Ambani order fudging'
The two former employees of the Supreme Court arrested for allegedly fudging an order in favour of industrialist Anil Ambani were not alone in the conspiracy. Police claimed that "other persons have also misused their position in the office to give undue advantage to the 'same person'", reports Aneesha Bedi.
Get the PrintEssential to make sense of the day's key developments