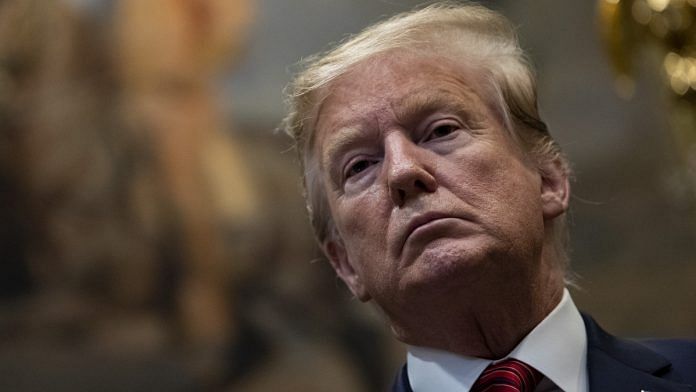 Text Size:
New Delhi: US President Donald Trump left India's foreign policy establishment rattled late Monday after he claimed that Prime Minister Narendra Modi had requested him to "mediate" on the Kashmir issue.
While the Ministry of External Affairs (MEA) categorically denied Trump's claims within minutes, a controversy erupted immediately and hit even Parliament.
On Tuesday, External Affairs Minister S. Jaishankar told Rajya Sabha: "We heard remarks of President Donald Trump that he's ready to mediate. I would like to categorically assure the House that no such request was made by Prime Minister to US President."
This is not the first time that Trump has put out a blatantly false claim. But this controversial diplomatic episode raises a familiar set of issues. First, do all of his fake claims matter equally? Second, will Trump ever become presidential in his conduct or not?
ThePrint contextualises Trump's statement on the Kashmir issue in view of these two questions.
Trump is a serial liar?
By now, with almost four years of Trump's presidency, it has been well established that the US President makes false claims on a regular basis, ranging from ones about the birth certificate of former president Barack Obama to illegal immigration into the US.
But numbers help put Trump's habit in perspective.
PolitiFact, a Pulitzer Prize winning fact-checking portal, analysed all of Trump's publicly available claims. And it found that the US President is "True" only 5 per cent of the times. He is "Mostly True" 11 per cent of the times and "Half True" just 14 per cent. Effectively, Trump's statements have some element of truth only 30 per cent of the times.
Conversely, Trump's "False" claims stand at 34 per cent and "Mostly False" at 21 per cent.
PolitiFact also came up with another category called the "Pants on Fire". This comprises statements that are not only false but also "outrageous". Fifteen per cent of Trump's claims were categorised as "Pants on Fire".
Meanwhile, Washington Post's Fact-Checker analysed Trump's fake claims and found that not only does he lie, but also repeats these lies frequently.
For instance, until 7 June, Trump had repeated his fake claims on the "Mexican border wall" 172 times, on "US trade deficits" 153 times, on "NATO spending" 99 times, on "Middle Eastern wars" 43 times and on "Payments to Iran" 36 times.
---
Also read: Trump is no fool & this is why he deliberately lied about Modi's Kashmir request
---
Not mere musings
Reiteration of false claims has led analysts to argue that Trump uses them as a political device. The idea is to repeat the claims several times — effectively manipulating public perception in a certain direction.
Washington Post's Fact-Checker found that until 7 June, Trump had made false claims 10,796 times.
Given how often the US President gets things wrong, it becomes a tedious task to disentangle his usual fake claims from the substantial ones — which might indicate a shift in American policy.
But some of Trump's false claims have had more devastating impact than others.
For a while, Trump kept putting out fake claims regarding the defence spending by NATO countries and US's trade deficit with its allies.
Initially, these claims were taken as mere musings of the US President — but their impact was felt when his statements became the drivers of American foreign and economic policy.
Trump's claims on trade, NATO and other issues
Trump's factually incorrect statements on trade eventually drove the US government to hike steel and aluminium tariffs against the country's trading partners and started a trade war, which continues to wreck the global economy.
"We lost, over the last number of years, $800 billion a year. Not a half a million dollars, not 12 cents. We lost $800 billion a year on trade. Not going to happen. We got to get it back," Trump remarked while defending the steel and aluminum tariffs on 5 March 2018.
His statement reflected a gross lack of understanding of what trade deficit means. According to Washington Post, Trump has repeated a version of this fake claim 153 times.
Meanwhile his false claims on NATO have resulted in a severe weakening of the "trans-Atlantic relationship". Today there is deep mistrust between the US and its traditional European allies.
"I don't like it when, as an example, we're protecting Europe and we're paying for almost the entire cost of NATO. We're paying for a very, very substantial portion, far greater than what it should be," said Trump on 23 October 2018, reflecting his complete unawareness of how NATO's spending works.
Beyond such strategic shifts, Trump's fake claims have had significant effects on US domestic and foreign policy.
For instance, his exaggerated claims on the number of "illegal immigrants" entering the US through the Mexican border eventually shaped America's controversial immigration policy.
"Millions of people are flowing through Mexico. That's unacceptable. Millions and millions of people are coming right through Mexico," remarked Trump on 4 June.
Contrary to his claim, a far smaller number of "illegal immigrants" enters the US annually. And the figure has been declining since 2007.
This policy shift has resulted in wide scale "migrant detentions" in the US.
---
Also read: Trump's vanity makes PM Modi look stronger — and gives him a chance to fix economy at home
---
'Toddler-in-chief'
While global leaders have now become accustomed to Trump's false claims, for a brief period after his election, analysts hoped that Trump would someday become presidential in his conduct and stop lying.
Back in 2017, US political scientist and columnist Daniel W. Drezner came up with a Twitter thread called "Toddler-in-Chief".
The idea behind Drezner's Twitter thread was to highlight news reports where Republican politicians and Trump's White House staff refer to the president as a toddler — whom they can't really control beyond a point.
"At the time, I was not planning on maintaining a thread on this theme. But as story after story after story got reported in which Trump's own staff talked to the press like they were babysitting a petulant child, it became too good a meme to give up," wrote Drezner on the thread's second anniversary.
By 21 July, Drezner had logged 843 instances on his thread.
Evidently, Trump neither seems well-advised by his staff nor is he always aware of sensitive aspects of other countries' foreign policy.
In Monday's instance, Trump claimed that Modi asked him a couple of weeks ago to mediate and find a resolution to the Kashmir issue. It's still unclear if Trump wasn't aware that India's position clearly states that all issues with Pakistan have to be resolved bilaterally, or if he decided to make the comment regardless.
Subscribe to our channels on YouTube & Telegram
Why news media is in crisis & How you can fix it
India needs free, fair, non-hyphenated and questioning journalism even more as it faces multiple crises.
But the news media is in a crisis of its own. There have been brutal layoffs and pay-cuts. The best of journalism is shrinking, yielding to crude prime-time spectacle.
ThePrint has the finest young reporters, columnists and editors working for it. Sustaining journalism of this quality needs smart and thinking people like you to pay for it. Whether you live in India or overseas, you can do it here.