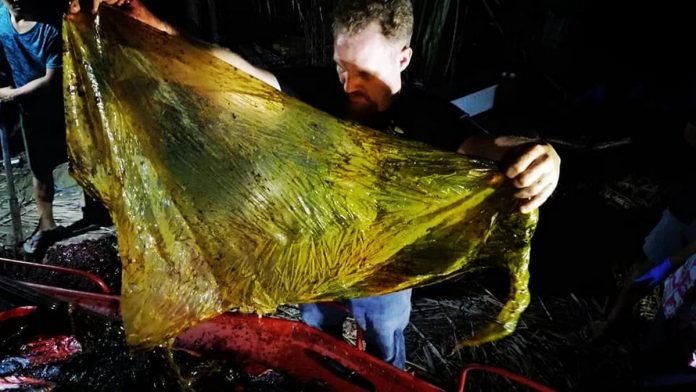 Text Size:
Bengaluru: A dead whale that washed ashore on a beach in Philippines had 40 kg of plastic in its stomach. The 500-kg Cuvier's beaked whale is believed to have died from a 'gastric shock' after swallowing plastic shopping bags and rice sacks.
On 16 March, the Philippines' Bureau of Fisheries and Aquatic Resources had found the male whale in an emaciated condition. The whale was also vomiting blood, and died shortly after.
When a necropsy was performed on the whale, marine biologists were shocked to see the huge amount of plastics in its stomach.
"It was full of plastic — nothing but non-stop plastic," said Darrell Blatchley, marine biologist and owner of D'Bone Collector Museum Inc, Davao, Philippines, in an interview.
"It was compact to the point that its stomach was literally as hard as a baseball. That means that this animal has been suffering not for days or weeks but for months or even a year or more."
In a Facebook post, the museum posted pictures of the whale and the plastics found from its stomach. There were 16 rice sacks and several shopping bags of local Philippines chains Gaisano Capital and Gaisano grocery outlet. A full list of items found in the whale's stomach will be posted in the coming days, said the Facebook post.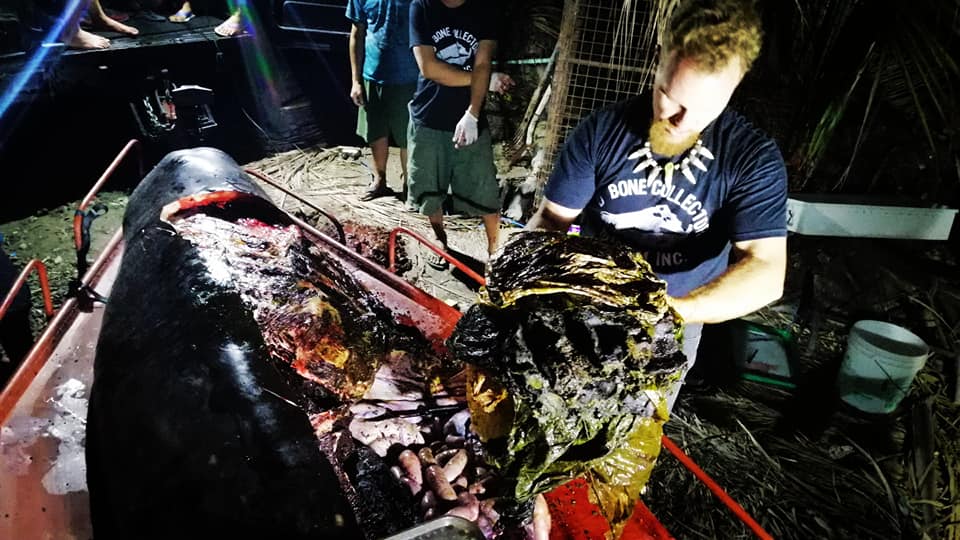 "It's disgusting," the post said. "Action must be taken by the government against those who continue to treat the waterways and ocean as dumpsters."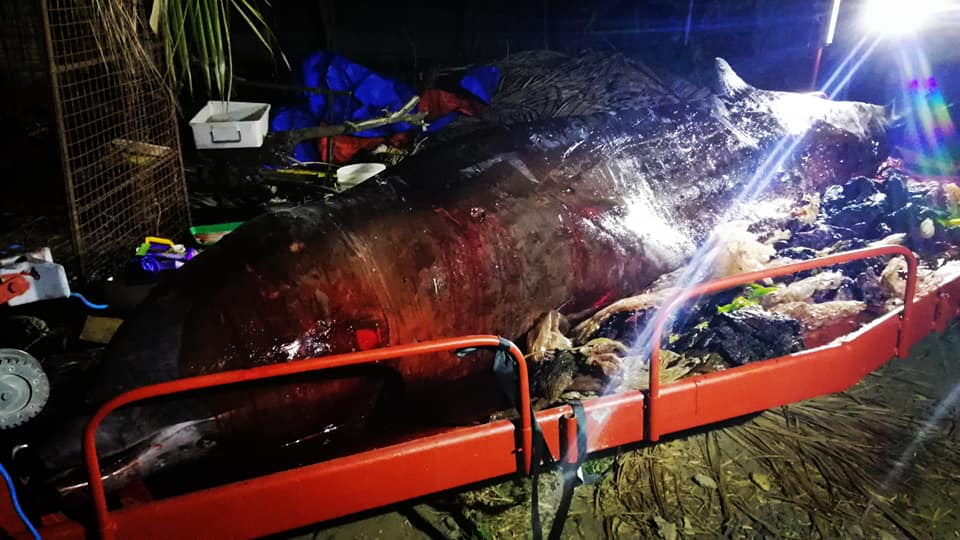 Blatchley and his team work closely with the government in Philippines and aid in the rescue of marine animals. Just in the last three months, they have found three dead large sea mammals, all of whom died due to plastic consumption.
"In the last 10 years, we have recovered 61 whales and dolphins just within the Davao Gulf," Blatchley said. "Of them, 57 have died due to either ingesting plastic, fishing nets or other wastes, or gotten caught in pollution — and four were pregnant."
---
Also read: Over 60% of the plastic in our oceans came from eight Asian nations
---
Plastic consumption gives a false sense of fullness
This Cuvier's beaked whale had swallowed plastic when it felt hungry. Consumption of plastic gives mammals a false sense of fullness, akin to having eaten a meal, without providing the necessary nutrients.
As a result, whales become weak, leading to their rapid weight loss. This is further exacerbated by the fact that the plastic cannot be digested and excreted by the whales. Eventually, it reaches a point where there is so much plastic that whales can't swallow anymore and start vomiting blood.
Such incidents have increased in recent times
In February last year, a sperm whale died off the coast of Spain after nearly 30 kg of plastic was found in its stomach, including fishing nets and trash bags. In June last year, a whale died in Thailand after 8 kg of plastic was found in its stomach, clogging up its internal system and restricting its movement. In Indonesia, a sperm whale had died in November last year after ingesting 1,000 assorted pieces of plastic, including 115 cups, 25 bags, 4 bottles, shoes, among other things.
Experts estimate that around 300 marine animals such as whales, sea turtles and dolphins, die after swallowing plastic. Over 1 million marine animals are killed every year in the ocean because of plastic debris.
---
Also read: Trendy bans on plastic straws are mostly bunk
---
Phillippines is leading in plastic pollution
The World Wildlife Fund has reported that the Philippines is one of the world's biggest plastic polluters, thanks to their dependence on single-use plastic.
"The low cost and convenience of plastic sachets as well as inefficient waste disposal have made Philippines one of the world's leading plastic polluters with tremendous negative impacts on the environment," said WWF.
Even popular tourist beaches and resorts have closed their doors to the public after water pollution.
Renewed focus to end plastic pollution
The Cuvier's beaked whale death resumed the focus on what can be done to curb plastic pollution. Several nations have banned single-use plastic already. Online movements to reduce the use of single-use straws have seen a new momentum over the past few months. Tamil Nadu banned single-use plastic late last year while India as a nation plans to completely ban single-use plastic by 2025.
Check out My543, our comprehensive report card of all Lok Sabha MPs.