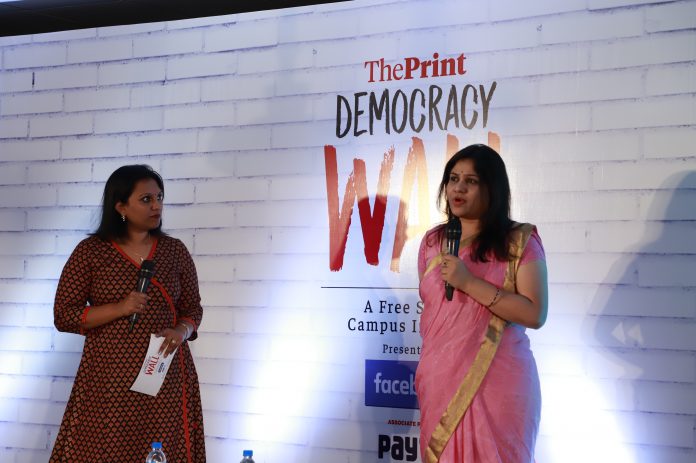 Text Size:
The IPS officer, who made headlines for her report about the alleged luxuries V. Sasikala was enjoying while in jail, said that she had no regrets about joining the police force. 
Bengaluru: Karnataka IPS officer D. Roopa has been transferred 41 times in 17 years, has faced privilege motions for naming politicians in FIRs, and is also currently facing a defamation case seeking Rs 20 crore in damages from her. But she says she wouldn't have it any other way.
"When you do something like this, because not many bureaucrats do, you'll face a lot of flak, officially and personally. But as long as you have the determination that you are morally correct, as well as the competence that comes from the expertise of knowing what you're doing, you can speak your way," she told ThePrint's Associate Editor Rohini Swamy at Democracy Wall.
The IPS officer said she made sure she stayed within the purview of the law at all times, especially in a system where corruption is "like writing on the wall, it is very much there."
Democracy Wall is a monthly free speech campus initiative organised by ThePrint in collaboration with Facebook. The second edition of the event at Jain University in Bengaluru featured Roopa, Congress leader Sachin Pilot, rapper Sofia Ashraf, actor Huma Qureshi, lawyer Manasa Venkatraman, political commentator Meghnad, and comedian Aravind S.A.
The IPS officer, who was at the centre of a controversy after citing the alleged luxuries AIADMK's V.K. Sasikala was enjoying in a Karnataka jail, spoke about how different prisons were for regular and VIP convicts.
"Prisons are in actuality dark dungeons particularly for prisoners who are very poor. Poor prisoners face mistreatment, it is very rampant. But the rich and powerful can get everything. LED TV, air cooler, sometimes even a refrigerator to keep energy drinks," she said.
Roopa said she held the post of Deputy Inspector General (prisons) for just 17 working days and was transferred soon after the controversial report.
Any regrets about joining the police force? 
Despite facing backlash and intimidation, Roopa said she didn't regret joining the police force.
"More women should come, and the best lot should join the civil services and politics to churn the wheels of the country. The flak will come, that's how humans are, even for people that take the right and legal way," she said.
She admitted that the controversies had never helped her in any way.
"While controversies may help celebrities, because of the entertainment factor in their lives, I will not get any better posting because of it," she said in response to a question from a student.
Roopa also spoke about sexism in the police force, and said that it was an open secret that postings were often dependent on a candidate's relationship with their bosses.
"A lot of times women miss out on these postings because there are a lot of vested interests surrounding these postings. The men wonder, what will the woman official think? Will she accept the things we do? Will she report us?" she said.
Separate fact from fiction, the real from the fake going viral on social media, on HoaXposed .