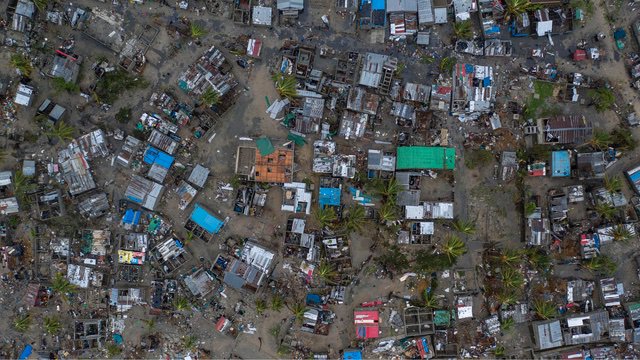 Text Size:
Bengaluru: Over 1,000 people are feared dead in Cyclone Idai, which has ravaged four African countries and could become the worst-ever tropical storm to hit the southern hemisphere.
The powerful category 4 tropical storm (Category 5 is the most powerful) is currently racing through Madagascar, Mozambique, Malawi, and Zimbabwe.
In Mozambique, which has the longest stretch of Indian Ocean coastline in Africa, 90 per cent of the coastal city of Beira has been completely destroyed, according to a statement by the humanitarian organisation International Federation of Red Cross and Red Crescent Societies (IFRC).
"Almost everything is destroyed. Communication lines have been completely cut and roads have been destroyed. Some affected communities are not accessible," it added.
The city's airport has been shut down.
Cyclone Idai strengthened and weakened after it was first observed in the southern Indian Ocean on 4 March, until it made landfall at midnight near Beira on 15 March.
In the four nations affected, it has killed over 150 people — according to official statistics — and displaced nearly 150,000 more. Around 1.2 lakh people have been affected in Mozambique alone, with The New York Times estimating that flooding could reach as much as 20 feet in some places.
As of Wednesday, the toll in Mozambique was 84, according to official estimates, but it is expected to climb to up to 1,000.
"Officially, we have a record of more than 84 dead but everything indicates that we can have a record of more than 1,000 dead," said President Filipe Nyusi.
At least 98 deaths have been reported in Zimbabwe — where the cyclone headed after Mozambique — with over 100 people said to be missing.
Spare a thought this morning for the people of #Beira and surrounding areas of central #Mozambique as #CycloneIdai hits the region. Thanks to #MozSARescue teams on their way to assist. Take care @DasenThathiah. pic.twitter.com/rqJyNETMbv

— Dan Moyane (@danmoyane) March 15, 2019
How the cyclone progressed
Idai is the eleventh storm of 2019 to have a name, and the seventh most intense cyclone in the Indian Ocean for the cyclone season of November 2018-April 2019.
This season has already broken the record for the most number of intense cyclones (seven) since satellite records began to be kept in 1967.
In the southwest Indian Ocean region, cyclones are classified into seven intensities: Tropical disturbance (with winds less than 50 kmph), tropical depression (51-62 kmph), moderate tropical storm (63-88 kmph), severe tropical storm (89-117 kmph), tropical cyclone (118-165 kmph), intense tropical cyclone (166-212 kmph), and very intense tropical cyclone (>212 kmph).
On 4 March, Idai originally started as a tropical depression off the coast of Mozambique. It then ventured on to land as a tropical cyclone, where it traveled for five days, before appearing again on water.
On 9 March, it was in the Mozambique Channel, between Mozambique and Madagascar, gaining strength. It was then classified as a moderate tropical storm, following which the storm instensified further.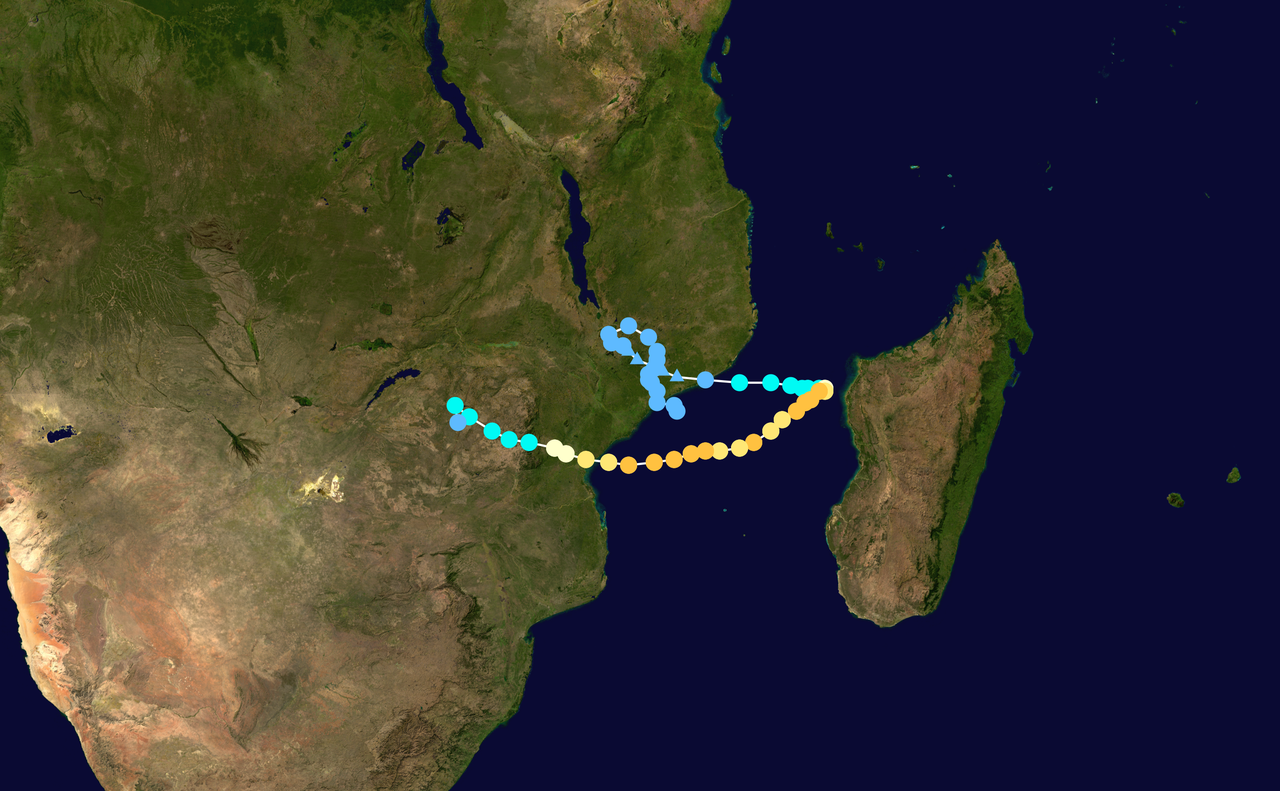 As its core is still not fully stable and changing in structure, the intense tropical cyclone weakened to a tropical cyclone before intensifying again.
On 14 March, its winds measured a maximum of 195 kmph, then weakened slightly before landfall as an intense tropical cyclone, with sustained 10-minute winds of 165-175 kmph.
---
Also read: Over 1000 feared dead in cyclone Idai in Mozambique
---
How bad is the storm and what are its effects?
Cyclone Idai is already the most catastrophic cyclone seen by the southern African region. Tropical storm Eline, which hit Mozambique and Madagascar in 2000, killed 800.
Eline is currently considered the deadliest tropical cyclone to hit Africa, but experts say Idai could easily top it to become one of the deadliest storms in the entire southern hemisphere.
If and when Idai's toll crosses 1,000, it will be the deadliest tropical cyclone anywhere in the world since the 2013 Super Typhoon Haiyan, which killed more than 7,000 people in the Philippines.
Mozambique, where the World Bank estimated 48 per cent of the population to be living in poverty as of 2014, is no stranger to deadly weather. In Africa, it faces the third-highest risk for extreme weather events.
It has faced floods every two to three years and droughts every seven of 10 years.
In 2015, the country lost 5 per cent of its GDP ($861 million) when cyclone Chedza, with a wind speed of around 90 kmph, killed 140 and left vast infrastructural damage in its wake.
The 2008 tropical cyclone Jokwe came with maximum winds of 185 kmph, but while it caused immense destruction, the toll was far lower at 16.
Needless to say, the country's vulnerability is exacerbated by anthropogenic or human-caused climate change, which is making sea levels rise.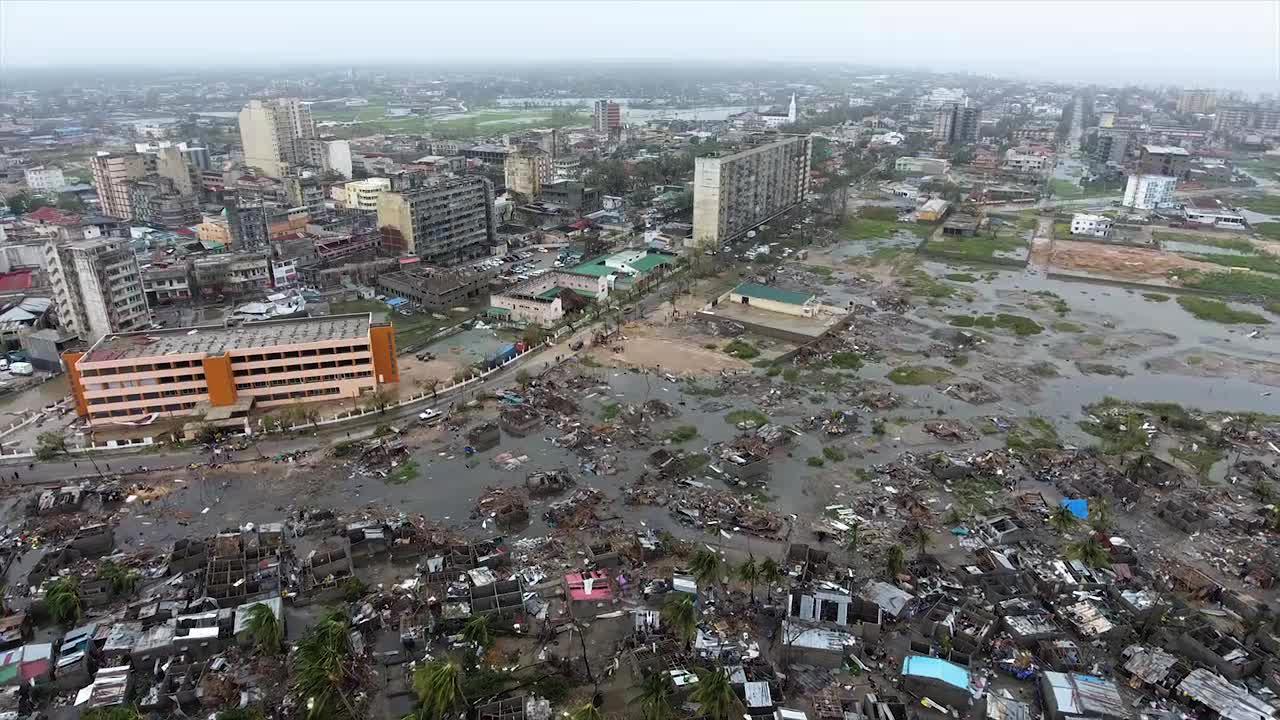 Economy and disaster relief
The government of Mozambique — and administrations across the world — is aware of the risks faced by low-lying areas like Beira.
The mayor of Beira, Daviz Simango, has acknowledged the need for better disaster preparedness and set about improving the city's infrastructure. He cleaned up the river Chiveve and is partnering with private investors to make the city more green, inclusive, and "disaster-proof".
There was even a proposal for a Beira flood barrier, to be achieved by optimising the city's drainage systems.
However, as one of the world's most impoverished nations, Mozambique still lacks financial resources to make the coastal cities safe from the inevitable sea level rise.
In the wake of Idai, India has offered to rescue 5,000 people stranded in Beira. The IFRC has released 340,000 Swiss francs (approx. Rs 2.34 crore) from its disaster relief emergency fund for "early warning and early action, and to prepare to support 7,500 people in the aftermath of the storm".
For ThePrint's smart analysis of how the rest of the media is doing its job, no holds barred, go to PluggedIn