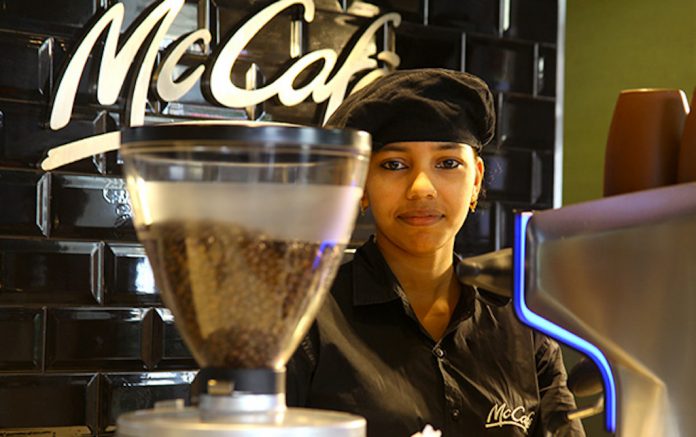 Text Size:
McDonald's franchisee Hardcastle gets notice for not dropping the price even after GST rate cut, insists input tax credit withdrawal has left a deep impact.
New Delhi: The Narendra Modi government has stepped in to inquire why McDonald's has been selling overpriced coffee to its consumers, instead of reducing the price after the GST rate cut. However, McDonald's franchisee Hardcastle Restaurants insists that its input costs have gone up, resulting in the price for the consumer remaining the same.
The director general of safeguards issued an anti-profiteering notice for investigation against McDonald's franchisee Hardcastle Restaurants on 29 December 2017, for keeping the price of its McCafe Regular Latte at Rs 142, even after the government slashed the GST rates from 18 per cent to five per cent.
This came after a complaint was sent to the National Anti-profiteering Authority (NAA), a government body set up to make sure that all benefits of input tax credits and reduced GST rates on goods or services go to consumers, prohibiting the supplier from indulging in illegal profiteering.
As per the anti-profiteering law, consumers can file a complaint against companies not passing on the benefits. So when the price of the McDonald's coffee did not change after the government reduced the tax slab, the standing committee on anti-profiteering vetted the complaints sent in.
Hardcastle Restaurants will now have to provide an explanation, along with copies of balance sheets profit and loss account statements for 2016-17, and GST returns for July-December 2017. These will also include sample invoices for raw materials used at the restaurants.
Straightforward case?
According to Bimal Jain, chairman of the indirect taxes committee at the PHD Chamber of Commerce and Industry, this is a straightforward case with McDonald's being at fault.
"When the rate is reduced from 18 per cent to 5 per cent, they have increased prices without any basis. The price was Rs 130 prior to 15 November when 18 per cent tax rate was applied, and was increased after that. This kind of situation should not be allowed," Jain said.
However, Hardcastle Restaurants'official statement to ThePrint, attributed the price increase to input tax credit withdrawal.
"We would like to point out that from 15 November 2017, Goods and Service Tax for restaurants was reduced from 18 per cent to 5 per cent, but at the same time, input tax credit was withdrawn. The impact of input tax credit withdrawal is larger for organised players like us," said the statement.
"McDonald's and its suppliers have invested over Rs 1,000 crore to set up a supply chain and factories to 'Make in India'. Given that we procure most of our supplies from organised and GST-registered participants of the supply chain, our operating costs have increased by 10-12 per cent. After taking into account the increase in costs due to withdrawal of input tax credit on products and services as well as on capital goods, the effective tax benefit is negative.
"As a law-abiding corporate citizen, we are compliant with all applicable laws. We will respond to the query and co-operate with the authorities."
Others on the radar
Hardcastle Restaurants isn't the only company that has come under the government's scanner for illegal profiteering. The DG safeguards has also issued a notice to Jaipur-based Sharma Trading, which allegedly continued to charge 28 per cent GST on Vaseline, even after the government slashed the tax rate to 18 per cent.
Other enterprises which have had notices issued against them include a Honda car dealer Vrandavaneshwaree Automotive Ltd, Pyramid Infratech, as well as retailer Lifestyle.
All these companies are required to turn in their responses with the necessary documents. If subsequent inquiries by the standing committee on anti-profiteering holds the companies responsible for overcharging consumers, they will have to pay the penalty prescribed in the anti-profiteering law and lower their prices.
Check out My543, our comprehensive report card of all Lok Sabha MPs.