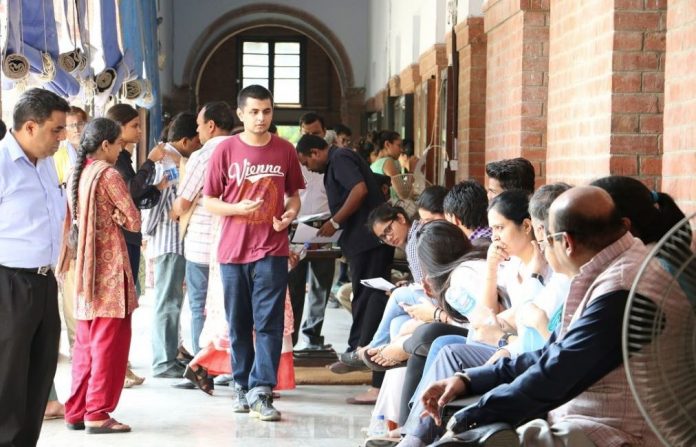 Text Size:
Girls account for just under half of the total enrolment in higher education, while the numbers for SCs, STs, Muslims and other minorities are rising.
New Delhi: The enrolment level in higher education in India continues to grow, as per the All India Higher Education Survey report 2016-17 released Friday. India has registered a 0.7 per cent rise in its Gross Enrolment Ratio (GER), which now stands at 25.2 per cent.
Total student enrolment rose to 35.7 million in 2016-17 from 34.6 million in 2015-16, with girls constituting 46.8 per cent of the total enrolment.
The survey, which also recorded individual teacher level details, showed a dip in the number of teachers – a slide that has been attributed to Aadhaar being made compulsory. Human Resource Development minister Prakash Javadekar said the issue was being examined, and that these cases would be verified.
There has been slight increase in student enrolment across all segments in 2016-17. Scheduled Caste students now constitute 14.2 per cent and Scheduled Tribes 5.1 per cent of total student enrolment. While 4.9 per cent students come from the Muslim community – up from 4.7 per cent in 2015-16 – 2.2 per cent are from other minorities. Other Backward Class students account for 34.4 per cent of the enrolment.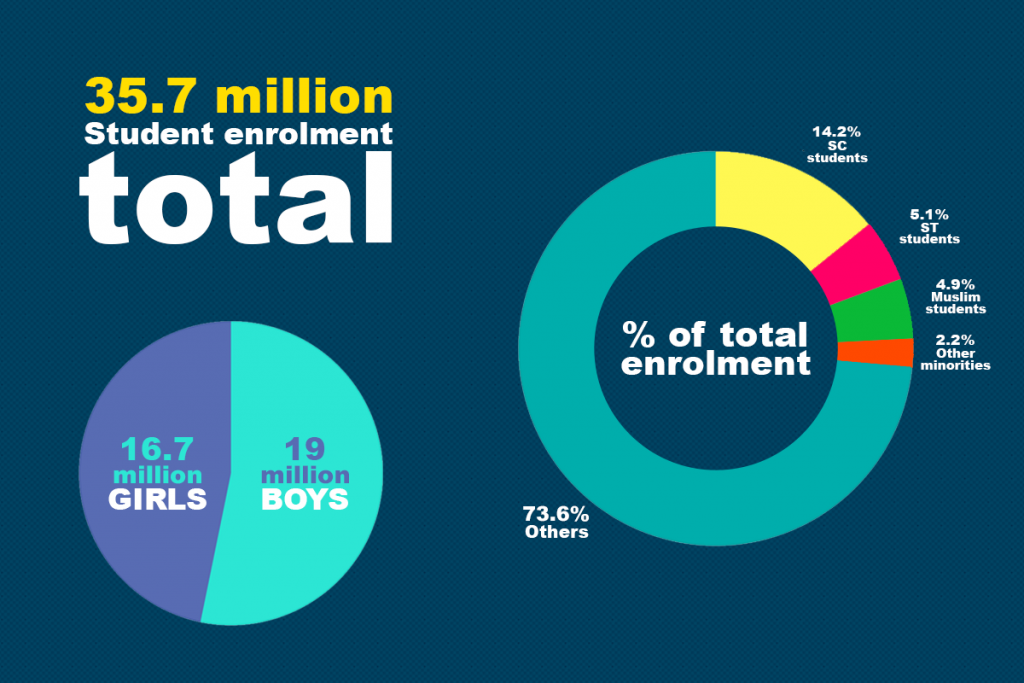 The ratio of male students to female students in enrolment is higher almost across all segments except post-graduation and M.Phil. Muslim males have registered a higher enrolment rate than Muslim females.
Javadekar pointed out that the GER had risen to 25.2 per cent in 2016-17 from 19.4 per cent in 2010-11, and this will help achieve the targeted GER ratio of 30 per cent by 2022. The minister also noted that the Gender Parity Index (GPI), a ratio of proportional representation, has improved from 0.86 to 0.94 and to add to the same, the supernumerary quota for women in IITs will be increased.
The survey is conducted every year since 2011 by the HRD ministry, to map higher education in the country. There are currently 864 universities, 40,026 colleges and 11,669 standalone institutes. Three hundred and thirteen universities are privately managed. About 59.3 per cent colleges and 338 varsities are located in rural areas. Uttar Pradesh, Maharashtra, Karnataka, Rajasthan and Andhra Pradesh are the states with the highest number of colleges.
Course preferences
The survey report shows that 79.4 per cent students are enrolled in undergraduate programmes, and a mere 0.4 per cent in PhDs. Most PhD students pick science, followed by engineering and technology, while post-graduate courses attract maximum students in the social science stream, followed by management courses.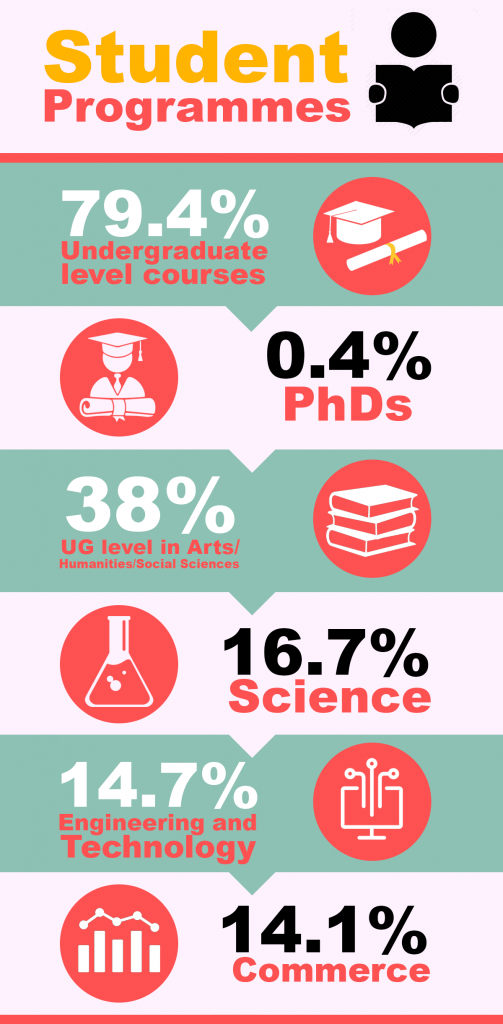 At the undergraduate level, it is the Bachelor of Arts programme that registers the maximum student enrolment, followed by Bachelors of Science and Commerce. In fact, 84 per cent of the total students enrolled in higher education pick just 10 of the 191 available academic programmes.
Thirty-eight per cent students are enrolled in liberal arts programmes, 16.7 per cent in science, 14.7 per cent in engineering and technology, and 14.1 per cent in commerce.
Eleven per cent of the enrolment is in distance learning courses, with female students accounting for more than half of the total enrolment.
The 2016-17 survey records the enrolment of 47,575 foreign students from 162 different countries. Nepal sends the maximum students to India, followed by Afghanistan, Bhutan, Nigeria, Sudan, Malaysia and Bangladesh. Seventy-six per cent of the foreign students enrolled are at undergraduate level in B.Tech. and BBA courses.
Teachers' numbers
This year's report also introduced a new Teacher Information Report Format (TIF), which details information on individual teachers. The TIF has shown a decrease in the number of teachers and the report says the main reason is probably making it compulsory for teachers to provide their Aadhaar numbers.
Overall, 59.45 per cent of teachers are male.
About 58 per cent of teachers come from the general category, 31.3 per cent from the OBCs. SCs and STs account for 8.35 and 2.2 per cent of teachers respectively, 4.9 per cent are from the Muslim community and 8.9 per cent from other minority groups.
Telangana, Andhra Pradesh and Maharashtra have greater representation of teachers from the SC/ST communities compared to the rest of the states.
Get the PrintEssential to make sense of the day's key developments