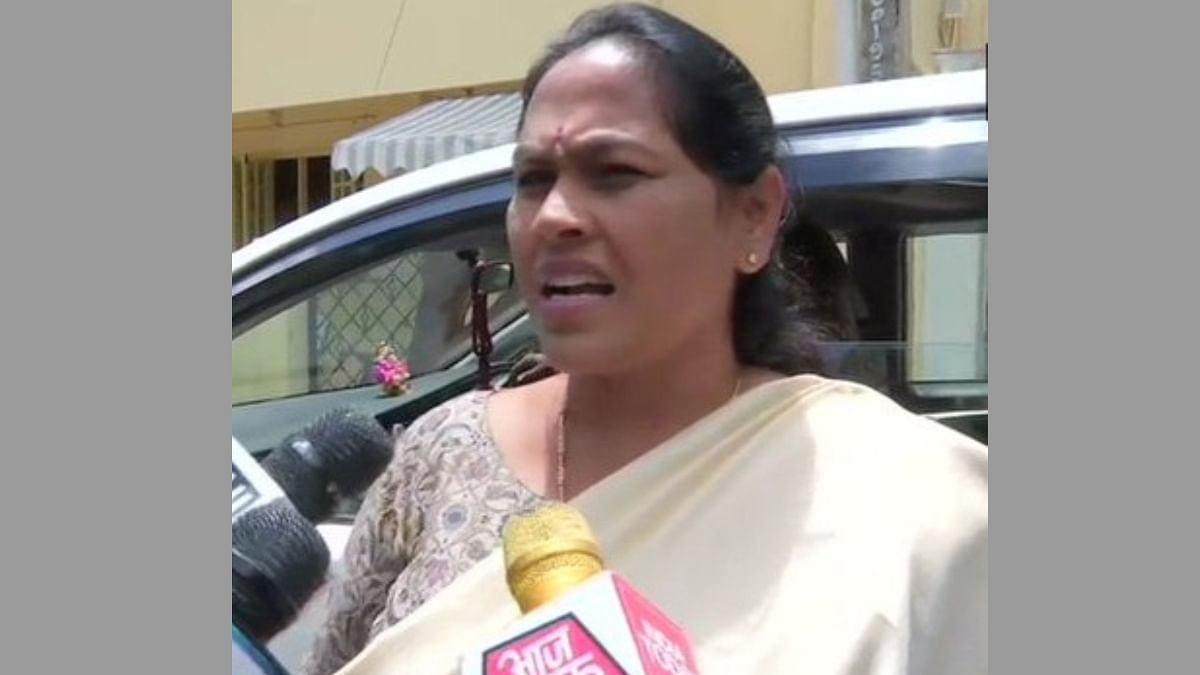 Bengaluru: On 8 February, when BJP Lok Sabha MP Shobha Karandlaje called for greater scrutiny on migrants from Kerala in Karnataka, she said it was for "various reasons and not just coronavirus", which three Keralites had tested positive for.  
The migrants, she suggested, might have other motives. 
But the controversial statement, which follows earlier comments about Kerala "turning out to be the safest den of religious extremist jihadi elements", was not uncharacteristic for Karandlaje.
Kerala is turning out to be the safest den of religious extremist Jihadi elements!

Mohammed Kutty of Palakkad arrested for running a parallel telephone exchange, it's said that Jihadis used this to communicate outside India without leaving any trace!

Wake up @vijayanpinarayi! pic.twitter.com/q7126MWgAb

— Shobha Karandlaje (@ShobhaBJP) February 9, 2020
She is repeatedly known to stoke controversy with provocative remarks.
On 22 January, she alleged on Twitter that Hindu families in Kerala's Malappuram district were being denied drinking water as they supported the controversial Citizenship Amendment Act [CAA]. She called it Kerala's "baby steps to become another Kashmir". 
Kerala is taking baby steps to become another Kashmir!

Hindus of Kuttipuram Panchayat of Malappuram was denied water supply as they supported #CAA2019.#SevaBharati has been supplying water ever since.

Will Lutyens telecast this intolerance of PEACEFULS frm God's Own Country!? pic.twitter.com/y0HKI4bitD

— Shobha Karandlaje (@ShobhaBJP) January 22, 2020
The Kerala government took note of her tweet and booked her for "promoting religious enmity". A similar FIR had followed in 2017 when she accused "jihadis" of trying to rape and kill a teenager — a complaint police reportedly discovered to be false. 
At the 8 February press conference where she called for greater surveillance on Kerala migrants, Karandlaje hinted that people from the state were responsible for anti-CAA violence in Mangaluru.
She often rails at "jihadis" and saw a Kerala Tourism tweet promoting a local beef dish as a "war against Hindus of Kerala". 
Cheating as well as inflicting physical and mental cruelty are the characteristic features of jihadi elements.

A 18-year old girl from Kasargod was lured by sweet talk, then given juice laced with drugs, later raped & blackmailed.

1/3 pic.twitter.com/f0SAkinJQC

— Shobha Karandlaje (@ShobhaBJP) January 5, 2020
Despite the controversies, Karandlaje, known to be a protégé of Karnataka Chief Minister B.S. Yediyurappa, has grown to become the state's most powerful woman.
Those who know Karandlaje describe her "absolute dedication" to the party and the Rashtriya Swayamsevak Sangh (RSS) — dedication that is cited as the reason she has chosen to stay unmarried.
Her rise through the party has not exactly been smooth, with acquaintances pointing out how "sexism" within the BJP forced her to exit the Karnataka cabinet in 2009. There have also been allegations and insinuations about her "closeness" with Yediyurappa, whom she describes as a father figure. But Karandlaje has been unwavering in her dedication to the party, a zeal she brings to bear on her Twitter timeline where she has over 2 lakh followers.
---
Also Read: Why Modi-Shah's BJP bent its rules for Yediyurappa
---
A Sangh follower at heart
Karandlaje was born on 23 October 1966 at Puttur in Karnataka's Dakshina Kannada district, which borders Kerala.
She completed her Master's in Social Work (MSW) from Mangalore University in 1990 and obtained a second degree in MA (Sociology) from Karnataka State Open University, Mysuru, in 1996. 
Said to be heavily influenced by the Sangh, she spent a large part of her growing-up years working closely with the Rashtra Sevika Samiti, the women's wing of the RSS. 
As a member of the Akhil Bharatiya Vidyarthi Parishad (ABVP), the RSS' student wing, she dabbled in student politics while in college.
Her interest in active politics got a boost when she was spotted by veteran BJP leader A.J. Kodgi, who was the Udupi BJP district president at the time. 
While pursuing her Master's in social work, she got a job in the accounts department of Kasturba Medical College, Manipal. By this time, she was also actively involved with the BJP mahila morcha in Udupi. 
According to Anayya Nayak Patla, a former BJP leader who is now in the Janata Dal (Secular), Karandlaje had to quit her job at the medical college because her seniors were unhappy with her political affiliations.
"She told me how she had already spoken to senior party leaders, including [the late] Ananth Kumar, B.S. Yediyurappa and then national party president Venkaiah Naidu, expressing her interest in joining the BJP full time," Patla said. 
In 1996, the local BJP unit wanted Karandlaje to contest from the Saralebettu ward in the Manipal municipal body elections, but she reportedly refused. 
"Along with another local leader Ramdas Naik, I reached Shobha's residence to convince her to contest," said Patla.
"She declined the offer, saying she would help us find a good candidate, but she did not think the time was right for her to contest. On her recommendation, Savitha Kamath stood for the election, but we lost by just 32 votes."  
Suresh Kumar C.T., who serves as secretary in the BJP legislature party, said Karandlaje had "no life beyond the party".
"She has dedicated her life entirety to the party… It is her dedication and strong-willed attitude to deliver the assignment given to her that has brought her so far," he added.
Rise through the ranks
After having worked for a few years in the Udupi region, Karandlaje set her sights on Bengaluru, where Yediyurappa, whom she terms her political mentor, took her under his wing. 
Then the state BJP chief, Yediyurappa made her the BJP Mahila Morcha president. 
Despite allegations that she got the post only because of her proximity to Yediyurappa, he subsequently appointed her the BJP state general secretary in 2006. 
"Yediyurappa liked people who worked hard. Her never-say-no attitude earned her respect and brought her close to the party leadership, which was headed by Yediyurappa then," said a senior party functionary who refused to be named.
"She was ready to take up any assignment, travelled across the state willingly to deliver results." 
In 2007, when the BJP was in its short-lived alliance with the JD(S), she was elected unopposed to the Vidhan Parishad (legislative council, upper state house). 
Irate BJP leaders were calmed by party seniors with the argument that they needed workers like her.
In the May 2008 assembly election, Yediyurappa fielded her from North Bengaluru's Yeswanthpur seat. Again, there was stiff resistance from a section of BJP workers who refused to campaign for an "outsider" [since Karandlaje hailed from the Dakshina Kannada region].  
However, she went on to win the seat. The election also marked the BJP's first win in assembly elections in southern states, and Yediyurappa saw his profile rise further in the party. 
---
Also Read: Karnataka BJP backs Anantkumar Hegde, says his remarks on Gandhi 'thought-provoking'
---
'Sexism' within BJP
In the Yediyurappa government formed after the election, Karandlaje was given the Rural Development and Panchayat Raj Ministry, with additional responsibility as the district-in-charge minister of Mysuru. 
As a minister, Karandlaje was known to wield such clout that some members of the BJP and the government accused her of being the "de-facto CM". 
She often held media briefings after cabinet meetings, and there were allegations that no file would get cleared without her approval. Some ministers, including Janardhan Reddy and K.S. Eshwarappa, alleged interference from her in their ministries — a charge she vehemently denied. 
Although Yediyurappa did try to stand by her throughout this crisis, he had to finally give in and force her to resign "in the interest of the party". 
A senior leader of the BJP described the entire furore as one driven by sexism.
"Some leaders claimed she was controlling the government and Yediyurappa. Some male chauvinistic leaders could not digest her influence or growth," said the leader. "They could not stand taking instructions from a lady."
In 2012, when Yediyurappa broke away from the BJP to form the Karnataka Janata Paksha (KJP) after major differences with the leadership, Karandlaje joined him. 
In the 2013 assembly elections, she contested against BJP leader Suresh Kumar from the Rajajinagar constituency but lost. 
After Yediyurappa merged the KJP with the BJP next year, she was given a Lok Sabha ticket from the Udupi-Chikmagaluru seat in the 2014 elections. She won and retained the seat in 2019.
'He has spoken her mind'
Her 2008 assembly election win and twin Lok Sabha terms, say party insiders say, have given her an advantage over other women in the party, none of whom have attained a similar feat in recent years. 
"She emerges as a strong woman leader… Winning the parliamentary election twice, which no other woman has done in the recent past in Karnataka politics," said BJP spokesperson S. Prakash. 
"Women representation is dwindling and Shobha is the biggest hope." 
Within the party, her controversial comments about Kerala have many backers. 
"Her statements on Kerala youth are well founded. Several young boys have been radicalised in Kerala and they are the ones who entered Mangalore and tried to spread terror," said BJP worker S.A. Hemanth. 
"It is an open fact now that Kerala has become a hub for radicalisation," he added. "She has spoken her mind." 
---
Also Read: Yediyurappa's dalliance with mining barons cost BJP heavy. He hasn't learnt lessons
---