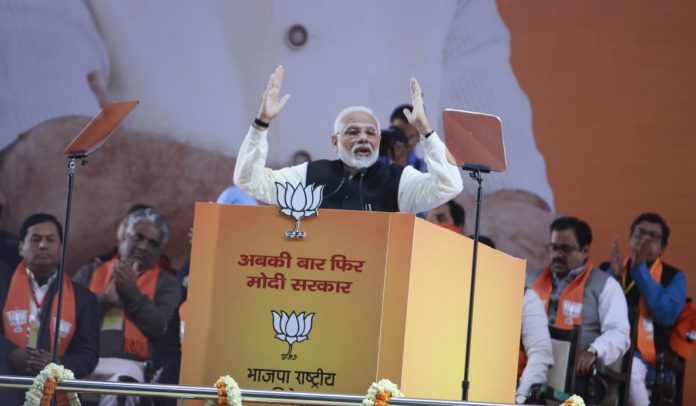 Text Size:
At the BJP national convention, PM Modi brought out all his weapons in a high-pitched and dramatic campaign speech.
New Delhi: Seeking to put the spotlight on his government's "honesty" as well as pro-farmer and welfare approach, while only briefly touching upon the Bharatiya Janata Party's pet Hindutva themes like the Ram temple and Citizenship (Amendment) Bill, Prime Minister Narendra Modi Saturday resorted to a heavy dose of anti-Congressism in his concluding speech at the BJP national convention.
The mega convention, being attended by thousands of BJP leaders and workers, is being seen as the party's effort to send out an emphatic message on a grand scale ahead of the 2019 Lok Sabha polls to voters and rival parties alike.
Never one to miss an opportunity to mount an aggressive campaign, PM Modi used the dais to the hilt to launch a pointed and blistering attack on Congress, sell his government's "honest", "non-corrupt" record and list its achievements – in this order, besides slamming opposition efforts to forge a grand alliance. The speech comes in the backdrop of a shrill and consistent attack against him by Congress President Rahul Gandhi on the Rafale deal.
As he began speaking, the PM warned "he was in a mood to talk a lot" and sought permission to do so. In the nearly an hour-and-a-half speech, Modi decided to bring out all his weapons in a high-pitched and dramatic campaign speech – a style that has now become his hallmark. He, however, just about mentioned contentious issues that suit his party's majoritarian agenda, while keeping his focus on drawing comparisons between his government's honesty and what he sought to portray as Congress' corruption and scam-ridden history.
---
Also read: After losing 3 states, BJP seeks to re-establish pro-farmer and pro-poor credentials
---
BJP versus Congress
With Gandhi continuing to push allegations of corruption in the Rafale deal and directly attacking the PM, even calling him a "thief", Modi evidently wanted to spend the maximum part of his speech underscoring what he claimed to be his incorruptibility versus the corrupt Congress.
"It is the first time in history that there is no corruption allegation against the government. The previous government pushed the country into darkness. The country lost the crucial years between 2004 to 2014 years in scams and corruption cases," Modi said.
"If in 2004, Atal ji (former PM Atal Bihari Vajpayee) had continued being PM, the country would have been somewhere else. We have brought back the confidence the country had lost. The country is now moving in the direction of honesty. This government has proved the country can change, and it can change in favour of the average citizen. We have proved the government can be run without corruption," he added.
The PM sought to talk about loan defaulters by putting the onus on the Congress for having protected them, claiming the party used the "Congress process" were banks were "forced to give loans to its scamster friends" as against the "common process".
"Public money had become private wealth. Those who had to protect people's money were busy spending it. People's money was being distributed as loans to scamsters. It is important to repeatedly talk about Congress' serious betrayal of the country," he said, adding it was because they were now being exposed that they "had resorted to abusing" him.
Modi also slammed the Congress for its attitude towards the Doklam stand-off and the surgical strikes.
"On one hand, there are some people who somehow want to keep their regime intact, and on the other, we believe in our Constitution. They don't respect the law or institutions," he said.
It is hardly a coincidence that the PM's scathing criticism of the Congress approach towards institutions comes at a time when his government is receiving flak for its handling of the internal war in the Central Bureau of Investigation (CBI) and its attitude towards former CBI chief Alok Verma.
---
Also read: At BJP convention, Amit Shah raises poll pitch with Ram temple but skips heartland losses
---
Listing pro-poor initiatives
The PM spent a considerable time talking about his government's welfare and pro-poor initiatives. Most importantly, he spoke at length about his pro-farmer policies, given growing agrarian and farm discontent has been a strong narrative that has cost his party in state assembly polls. He, in fact, sought to place the blame of the farmers' plight on previous Congress regimes.
"Farmers are our annadata (those who provide food). We are seriously and honestly trying to strengthen them. The state of farmers and agriculture is a result of decades of policies and apathy towards them. Those who had the responsibility of helping them, thought only of politics. Annadata ko matadata bana rakha tha. Hum annadata ko oorjadata banana chahte hain (They treated the ones who provide food as only votebanks. We want to make them the energy source). We are looking at the long term, to solve fundamental problems of farmers," Modi said.
He also claimed none of his government's initiatives carried his name, unlike those launched by the Congress which had some name of the Gandhi family attached.
---
Also read: BJP to promote 'well-intentioned' quota bill, thwart opposition 'bid to mislead' SCs, STs
---
The 10 per cent quota bill
Importantly, it was fairly early on in his speech the PM brought up his government's recent and hurried move to provide 10 per cent reservation to the 'poor' in the general category.
"The 10 percent quota will increase the self-confidence of new India. This is not just reservation, but it is a new beginning for youth who didn't get opportunities due to poverty," he said.
Well aware of the fine balancing act his party needs to maintain in order to not antagonise Dalits and backward communities while pleasing the upper caste voter, Modi made it a point to emphasise this quota would not affect existing ones. He even asked the party's workers to take this discourse to the people.
"The rights given by Baba sahab in our Constitution will continue to remain. Equality of opportunity means we could not have ignored the poor in the general category. It is without touching or snatching the share of those who were already getting reservations that we gave this 10 percent quota," he said.
---
Also read: BJP looks to send 'war-ready' message with two-day mega meet in Delhi
---
The barely-there mentions
The BJP's rise in national politics has been on the back of its majoritarian, Hindutva approach and key parts of these today are the Ram temple issue – which is in court, and the Citizenship (Amendment) Bill that has been passed by the Lok Sabha but faces the Rajya Sabha hurdle.
The PM only touched upon these mentions, talking about them in the context of the Congress opposing them. This was also his way of attempting to counter-polarise by blaming the Congress for the delay.
He said the party opposed everything from the Enemy Property Act, the National Register of Citizens (NRC), the Citizenship (Amendment) Bill, legal backing to Aadhaar, criminalisation of triple talaq, constitutional status for the OBC commission as well as the Ram temple in Ayodhya.
"In Ayodhya, Congress through its lawyers is trying to put hurdles in the nyaya prakriya (legal process). Congress doesn't want the Ayodhya issue to be resolved," he said.
This was in significant contrast to BJP president Amit Shah's inaugural speech where he took up the Ram temple issue to animatedly state his party was committed to it, eliciting frenzied responses from the audience.
Modi's approach to these, however, was more muted, as he sought to spend more time and vigour in attacking the Congress and portraying his government as the saviour of the country.
Read Global Pulse for a sampler of the big international stories, and why they matter.