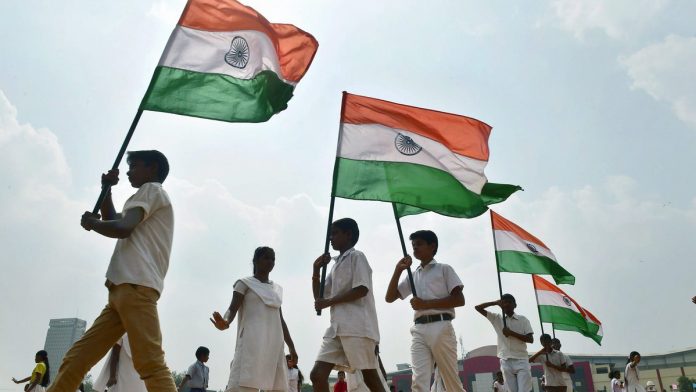 Text Size:
The govt said in an RTI reply that India had different names in Hindi, English & Urdu. Atul Kothari of Shiksha Sanskriti Utthan Nyas wants that to change.
New Delhi: As the Central government renames welfare schemes and state governments rename cities, an RSS-linked academic organisation has raised an even bigger demand — no more 'India' or 'Hindustan', the country should be known by just one name — Bharat.
Speaking at an event to mark Constitution Day, Atul Kothari, general secretary of the Shiksha Sanskriti Utthan Nyas (SSUN) pointed to a "funny" RTI submission from the government, which said the official name of the country was Bharat in Hindi, India in English and Hindustan in Urdu.
"Have you heard of translations of names in different languages? Can my name Atul have English or Japanese translation? We demand that our country should have one name, and that will be Bharat," Kothari said, to loud applause from the audience.
Kothari is a well-known aide of Dina Nath Batra, the controversial Right-wing educationist.
However, Kothari's statement is not entirely correct — many countries are known by different names in their own languages, such as Egypt (Misr) and Greece (Hellenic Republic).
The event was organised by Kabir Ke Log, a civil and social organisation, and India Foundation, headed by BJP national general secretary Ram Madhav.
---
Also read: By demonising RSS in Madhya Pradesh, Congress is only helping BJP
---
Original Constitution
Kothari said the Constitution should be made part of Indian education, and should be available in vernacular languages as well.
"When the Madhya Pradesh government wanted to introduce the Bhagavad Gita in the syllabus, we were attacked for 'saffronisation' of education. But what about our Constitution? The original copy of the Constitution has several pictures which will not be seen as 'secular' by many who are pointing fingers at us," Kothari said.
He also said people should be able to see the original copy of the Constitution, with pictures of Lord Ram, Lord Krishna, Vedic gurukul, Shivaji, Subhas Chandra Bose and Guru Gobind Singh.
Kothari's demand was supported by Sanjay Paswan, former central minister and an MLC from Bihar, who attacked previous Congress governments for "diluting the original essence" of the Constitution.
BJP general secretary Madhav agreed. "You can have strongest Constitution… Dr B.R. Ambedkar had warned that if there are bad managers, the Constitution will not be effective. Political parties should think of national interest and not of their benefits," said Madhav.
---
Also read: Indian diplomats attend RSS-linked events, raise question about their political neutrality
---
Get the PrintEssential to make sense of the day's key developments