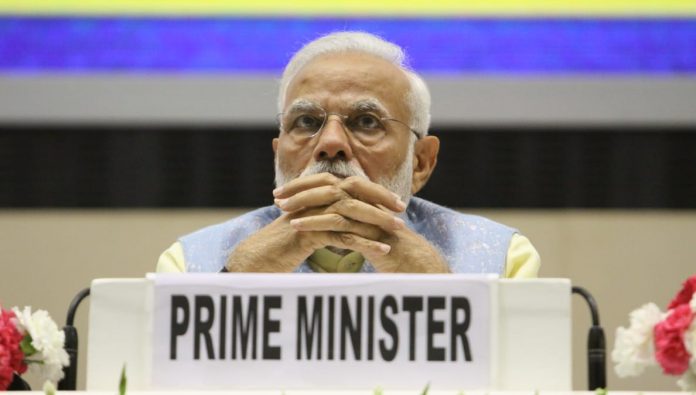 Text Size:
Umang Agarwal runs a small factory in Kanpur that makes iron sheets out of coils. He also runs the Facilitation for Industries & Traders Association (FITA) which has 1,800 companies as its members from across Uttar Pradesh. The association urges its members to deal with the government without paying any bribe. In this interview, Agarwal explains how micro, small and medium enterprises (MSMEs) have fared in the last five years.
There are two kinds of businesses, traditional business and the new ones with global methods. The Narendra Modi government's policies over the last five years have helped big business among the traditionalists boom and evolve. The new global businesses are thriving. But the traditional small businessman, and that's 85 per cent of the business community, has suffered. Our orders are down by 50 per cent.
The Modi government has approached small business with the pre-determined mindset that we are not honest. Yes, India has had a strong parallel economy which, by the way, helped India absorb many global economic shocks. Modi's policies to finish black money have caused more harm than good. The result is that today, there is no money in the market — in black or in white.
Modi forced rapid change on us without preparing us for it. Last few years, the next generation of the small industrialist is leaving business for jobs. And the children of those in jobs are creating start-ups, selling things online sometimes without physically moving them from godown to market.
Modi's war on the parallel and informal economy has been accompanied with a credit slowdown. Banks have stopped sanctioning loans, except to the non-deserving who want thousands of crores. The claim that we can now get a loan in 59 minutes is a joke. Banks can't even look up the credit score of an applicant in 59 minutes. They take that long to pass the cheque from one counter to another. What has improved is the unease of doing business, while the government claims otherwise.
Small guys for nation building
The Modi government has had good intentions but the bad implementation is destroying small business. A negativity has set into the business environment for everyone except the 15 per cent top guys. They have taken away the business we have lost.
Nation-building needs to take care of the small guys too. What we need right now is a massive rescue operation but there is none in sight.
The nail in the coffin was the goods and services tax (GST). Overnight the small players lost business. The big ones were better placed to adapt to GST, the small ones took time. Clients instantly rushed to the big players for GST benefits and when small business complained, we were called thieves. GST was implemented when the country was not ready for it. GST officers themselves are not trained for it, the ones nearing retirement refuse to learn. We have to go and teach them.
How is a small businessman supposed to keep track of countless modifications to GST? Do I run around to retain clients or to make sure the CA is not making any mistakes? We have to run around for refunds, shrinking our working capital and again giving the big players an advantage.
Corruption has increased
The GST has actually increased corruption. When the GST rate is as high as 18 per cent or 28 per cent, everyone has the incentive for corruption. If you can get away with a bribe that effectively costs you 7-8 per cent, why would you pay 28 per cent?
Modi should have read Kautilya, who said that tax should be so reasonable that tax evasion was not possible. I have been to many countries where GST has been implemented efficiently with a low rate. That is when the GST would work, with a single low rate.
What the Indian economy is facing today is not a slowdown but a recession. For 85 per cent of the business community, the revenues are shrinking. That's what a recession does.
The fact that economic policy has been designed to hurt small business and benefit big players is proof that crony capitalism is alive and kicking.
Republic of fear
And I say all this as someone who has never voted for any party other than the Bharatiya Janata Party (BJP). But I don't see how Modi is helping India progress. Today there's an environment of fear in the country. No front is working independently: Not the judiciary, not the media. We are only being shown the picture the government wants us to see.
Anyone who raises his voice is called a traitor. We had one independent outlet, social media, but now that has also been manipulated.
People don't speak up out of fear, doesn't mean they are happy. I am an odd one out. I speak my mind. I'm an RTI activist, I follow the law, I don't break rules, don't evade tax or pay bribes. Despite that if the government comes after me for expressing my views, I will think 'Bhole Nath' (Lord Shiva) is unhappy with me. I'm only his follower.
TINA means NOTA
I preferred the BJP of Atal Bihari Vajpayee, who promoted faith, love and confidence. Vajpayee did not promote fear.
The Congress is the most corrupt party. Akhilesh Yadav is the right man in the wrong party. The second half of his term, he genuinely tried to help business grow. I could tell by reading the government orders. When I read the Yogi Adityanath government's orders regarding business and industry, I feel like I'm reading Chacha Chaudhary comics.
I didn't have any choice this election. I voted NOTA.
---
Also read: Why this Modi voter chose NOTA this election
---
Get the PrintEssential to make sense of the day's key developments