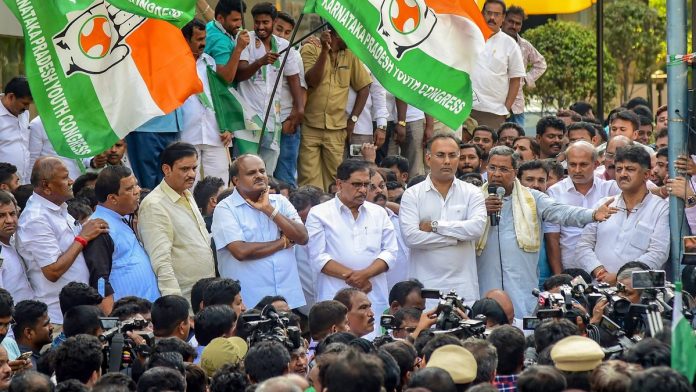 Text Size:
Bengaluru: Karnataka Chief Minister H.D. Kumaraswamy had predicted Wednesday that there would be Income Tax raids on Janata Dal (Secular) and Congress leaders, but that didn't stop the raids from becoming a burning issue Thursday. And this is despite the fact that over the last few years, I-T raids on leaders of both parties have become common whenever polls of any kind roll around.
Several MLAs and persons close to the JD(S) and Congress leaders were reportedly raided Thursday, with Kumaraswamy calling them the "real surgical strikes" conducted by Prime Minister Narendra Modi. He alleged complicity on the part of I-T officials, questioned the timing of these raids, and also asked why no BJP leaders had been raided.
"The Income Tax Department did not initiate action against the BJP leaders when the Congress and JD(S) MLAs were being offered Rs 20 to 50 crore during 'Operation Kamala', why now?" Kumaraswamy asked.
He also called B.R. Balakrishna, the principal I-T commissioner for Karnataka and Goa, a "puppet in the hands of the Modi's government", and said he should be sacked immediately for misusing his post for the BJP's political benefit.
The I-T department released a statement that the "searches are being carried out in Karnataka and Goa on contractors and connected persons. No MP, MLA or minister has so far been covered in the searches. These searches are being carried out on the basis of credible information received".
However, minister for minor irrigation C.S. Puttaraji confirmed that his homes in Mysuru and Mandya had been raided by the I-T department.
Karnataka Congress president Dinesh Gundu Rao told ThePrint that "they will be planning more such raids of this kind. We need to tell our people that this is being done intentionally and we also want to put pressure on the I-T department as they should not think that they can have a free run".
---
Also read: Congress, JD(S) put up united front — a message more for cadre than opposition
---
Not the first time
This is certainly not the first time Karnataka is witnessing such raids and allegations. Ahead of the 2013 assembly elections, around Rs 5 crore was seized in raids, I-T officials told ThePrint.
In 2018, pre-election raids resulted in a record seizure of close to Rs 31.5 crore. The I-T Department and the Election Commission simultaneously conducted joint raids at 27 locations, just ahead of polling day, 12 May.
The persons raided at the time included the residence of Congress leader Bhimanna Naik, a few Independent candidates, 11 government contractors and a resort owner. These included aides of former PWD minister H.C. Mahadevappa, former Bangalore development minister K.J. George. Senior Congress leaders Shamanur Shivashankarappa and his son S.S. Mallikarjun were also raided.
Kumaraswamy Thursday raised questions about the money seized during these raids in a public meeting in front of the Income Tax office.
"What happened to the 2 crore rupees that were seized during the assembly election in Hosanagara in Shivamogga? The money was seized by the state government officials, but since the state officials cannot deal with more than Rs 10 lakh rupees, they handed the rest of the money to the IT authorities. What happened to that? Why has no mention been made of that?" he asked.
When ThePrint contacted I-T officials to check on the status of these various cases, an official who did not want to be named said they were "under investigation" and no comment could be made on their status.
Focus on D.K. Shivakumar
One person who has been in the eye of these raids is current water resources minister and senior Congress leader Shivakumar. The I-T department said it had unearthed a large amount of unaccounted cash after raiding his home, offices and associates in August 2017. The I-T sleuths claimed that they had seized more than Rs 7 crore in cash from his Safdarjung Enclave residence in New Delhi.
Shivakumar and his associates had been booked under the Prevention of Money Laundering Act, 2002. The I-T department had also four slapped cases under the Income Tax Act for tax evasion and falsifying statements, while the Enforcement Directorate too filed a case against Shivakumar.
The raids in August 2017 had lasted more than four days, and led the I-T sleuths to later state that they had unearthed Rs 300 crore worth of "undisclosed income".
At that time too, Shivakumar questioned the timing of the raid, as he was picked up from a resort on the outskirts of Bengaluru where he was hosting 43 Gujarat lawmakers who were flown in so that the party could keep a check on defections just before the Rajya Sabha elections. An official had told this reporter at the time that Rs 15 crore in cash and jewellery had been seized from more than 60 places connected to the leader.
Last week, the I-T Department conducted yet another raid on Shivakumar, and said it had confiscated benami properties worth Rs 75 crore. Balakrishna also claimed that Rs 29.23 crore worth of unaccounted wealth had been detected, and that the department was in the process of scrutinising it.
---
Also read: Karnataka Congress says 'hidden hand' behind EC move to put farm loan waiver scheme on hold
---
Potential impact of raids on elections
The impact of these raids was felt during the assembly elections. Since no BJP candidates were raided, they did not have any financial constraints during campaigning, whereas Congress and JD(S) candidates weren't unable to fund their campaigns to the extent required. Several candidates had complained to their leaders in the JD(S) and the Congress that they were unable to even transport party funds from one place to another because of continuous raids by I-T officials.
Get the PrintEssential to make sense of the day's key developments