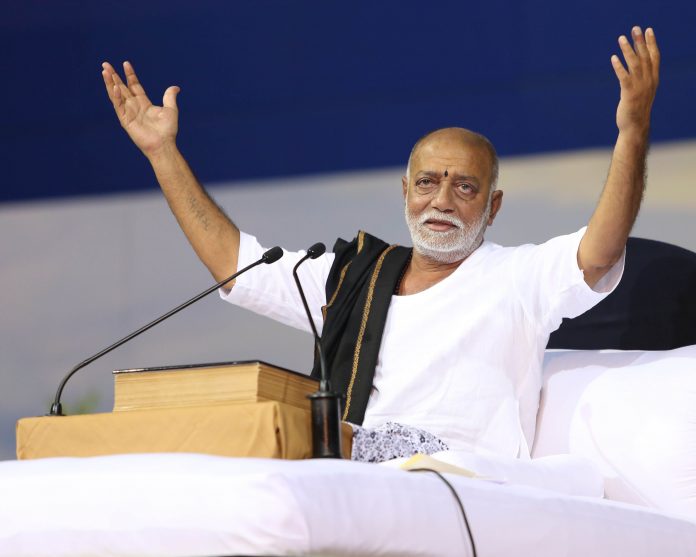 Text Size:
Schedule for Morari Bapu's 'Ram Katha' falls in the middle of election season — from 2 to 10 December; organisers told to keep political leaders at bay.
New Delhi: Days after videos with communal overtones surfaced in poll-bound Gujarat, a 'Ram Katha' planned in the textile hub of Surat has the Election Commission worried now.
The schedule for spiritual guru Morari Bapu's 'Ram Katha' falls in the middle of the election season — from 2 to 10 December.
Surat votes on 9 December and there was concern that the Ram Katha could be used for political purposes. The Surat administration has now asked the organisers to refrain from holding the programme on 9 December and to give an assurance that no politicians will be involved.
The model code of conduct that is in force in Gujarat also requires that 48-hours before an area votes, every political worker must leave the place for free and fair elections to be held. The Surat police have warned the Ram Katha organisers to keep political leaders at bay during that period.
"Concerns were raised over the matter in the EC and the state chief electoral officer and accordingly, we have looked at the issue carefully. While the Ram Katha is scheduled to be held every day from 9.30 am to 1.30 pm, on 9 December, the organisers have been asked to start the Katha only after polling is completed — after 6 pm," Surat police commissioner Satish Kumar Sharma told ThePrint.
"We have also cautioned that there should be no political links with any party. We are satisfied that this is a purely religious event being conducted for the welfare of martyrs," he added.
Sharma said that the Ram Katha was planned months in advance and well before the election schedule was announced.
However, a number of mahants and religious gurus have spoken favourably of the BJP in the run-up to the Gujarat polls as reported by ThePrint, and Morari Bapu is one of them.
In one of the videos posted a few months ago, he said: "I got a call from Kaushikbhai (Patel, BJP Gujarat coordinator) asking me if I have any views on the Modi government's three-year rule. I said I maintain my distance from everyone and have nothing to do with politics. All I could say is no one can question his patriotism."
While no political party had officially complained about holding the Ram Katha in the election period, there was a concern in the EC and State CEO's office of the possible electoral impact. That there is also a strong political contest in Surat this time was also a factor to consider.
Surat is seen as the epicentre of the Patidar agitation. A number of polling booths have already been assessed as sensitive and additional security is likely to be deployed there, sources said.
Get the PrintEssential to make sense of the day's key developments