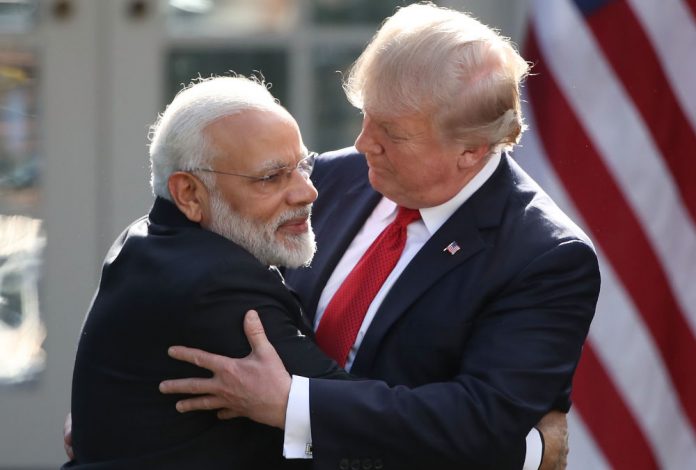 Text Size:
This is the latest in a long line of diplomatic faux pas committed by the US President, and might end up affecting relations between the two countries.
New Delhi: US President Donald Trump wanted to help Narendra Modi find a wife. According to a report by Politico, he had inquired whether or not Modi would be bringing his wife along on his 2017 visit to the White House. On being told by his national security aides that Modi and his wife, Jashodaben, had been separated for decades now, Trump, allegedly joking, said: "Ah, I think I can set him up with somebody."
The mysterious figure of Modi's wife — Jashodaben Chimanlal Modi, now a 66-year-old retired school teacher, has eluded mainstream discourse even in the Indian media. They were married at a young age by their families in Vadnagar, Gujarat in 1968 — a practice common for the Ghanchi caste in the area.
---
Also read: Now, US civil society groups urge Trump govt to make TB drugs affordable
---
At the time, Modi was barely 18 years old and Jashodaben was 16. Modi left his village and Jashodaben shortly after the wedding, but the couple never officially divorced. The subject never came up until 2014, when the announcement of Modi's candidacy for prime ministership forced him to publicly confront the gaping hole in his personal narrative.
Jashodaben, who now lives with her family in Gujarat, continues to call herself Modi's wife. In an interview in 2014, she had said "if he calls me, I will go," adding that she feels very good when she hears Modi speak on the television.
Faux pas galore
For Trump, however, the matter was of less sensitive significance. The President's effort at match-making, the same article reports, is just one of the many diplomatic faux pas he has made in his controversy-riddled 20 months in power. The article mentions instances where Trump has repeatedly tried to call Japanese prime minister Shinzo Abe at inappropriate hours of the night, as well as his "awkward meetings" with global leaders.
---
Also read: Narendra Modi's charm and grand Republic Day invite won't fix ties with Donald Trump
---
In a briefing ahead of a meeting with Modi in 2017, the American President also reportedly mispronounced Nepal as "nipple" and Bhutan as "button". In the same incident, Trump was reportedly genuinely perplexed when he looked at a map of South Asia, because until that moment, he had not known that these two countries bordering India even existed.
The Politico report acknowledged that US presidents, before they take charge, often have little clue about the world beyond their borders — that this was true of George W. Bush as well as Barack Obama. But Trump, Politico implied, pretty much led the presidential race in the "I have no clue" department.
The story comes a couple of weeks before the much-postponed 2+2 dialogue between the foreign and defence ministers of India and the US finally takes place on 6 
September
in New Delhi, and adds much grist to the mill about a deteriorating personal relationship between Modi and Trump.
ThePrint had earlier reported that the two leaders maintained a cool distance when they met in Manila during the ASEAN summit last November, and that Modi felt Trump was treating him like "just another Asian leader".
The Washington Post has also reported that Trump mimicked Modi's Indian accent in conversations within his own administration.
For ThePrint's smart analysis of how the rest of the media is doing its job, no holds barred, go to PluggedIn