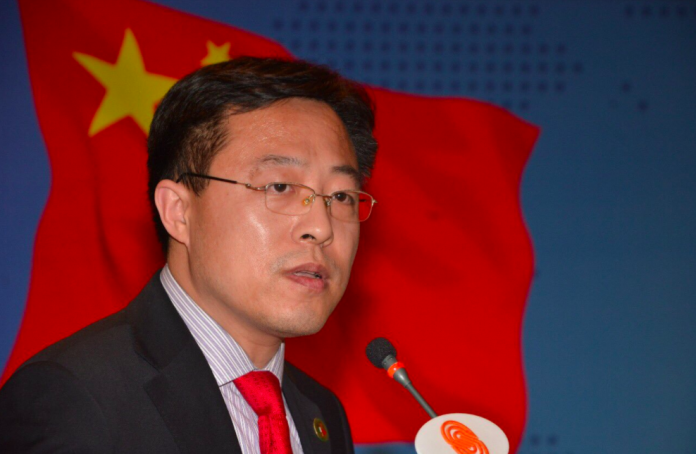 Text Size:
Lijian Zhao directed angry tweets towards former Pakistani ambassador Husain Haqqani and US-based columnist C.J. Werleman, calling it 'anti-China propaganda'.
New Delhi: Lijian Zhao, China's number two diplomat in Pakistan, went on a Twitter rampage Saturday, combating what he called "anti-China propaganda".
Zhao, a rare Chinese diplomat active on social media, was visibly cross with Twitter users sharing a recent report that said China had asked its Muslim Uyghur minority to eat pork, in an attempt to stamp out "radical religious thought" in the community.
Among those Zhao attacked aggressively for sharing the report was former Pakistani ambassador to the US, Husain Haqqani. While Haqqani simply tweeted the report with the headline, Zhao refused to take his "lie" lightly.
---
Also read: China builds Gulag-like prisons for Muslims, calls them 'political re-education centres'
---
Quoting the former ambassador's tweet, Zhao said: "How much are they paying you? You're lying like this and attacking China. I respected you as a former Ambassador, but no more from now on."
Zhao's tweet was retweeted over a thousand times.
In fact, taking a dig at Haqqani, who no longer lives in Pakistan, Zhao tweeted: "Joke of the day. A person without soul and nationality is joining a groundless attack against China. What a pity!"
The Chinese diplomat, who is known to mince no words on Twitter, also attacked US-based columnist C.J. Werleman. "This is groundless anti-China propaganda. Chinese government protects its citizens' right to freedom of religious belief & people of all ethnic groups enjoy freedom of religious belief in accordance with law. This person is notorious in China for anti China activities," he tweeted, quoting Werleman's tweet.
Zhao also took exception to Pakistani-Canadian journalist Tarek Fatah's tweet.
"China has ordered its Muslim Uighur population to turn their back on the Quran and start eating pork. Pakistan rewards China's attempts to wipe out Islam by handing over Occupied Balochistan to Beijing," Fatah, known to be a vocal critic of Pakistan, tweeted.
Zhao responded: "This is baseless propaganda against China. Chinese government governs & develops Xinjiang in accordance with law. Xinjiang enjoys social stability and a sound momentum of economic development with people of different ethnic groups living in harmony."
---
Also read: India and Pakistan silent on China's horrific Muslim 're-education' camps

---
Of late, China has come under severe criticism from the international community for its mass detention of Muslims in the country.
The Chinese government is running "transformation camps" in Xinjiang, wherein Uyghurs and other Muslim minorities are kept as inmates for weeks. The campaign is reportedly aimed at obliterating any expression of Islamic faith, even as Beijing maintains that the aim is to provide job training and legal education to the community.
Get the PrintEssential to make sense of the day's key developments.