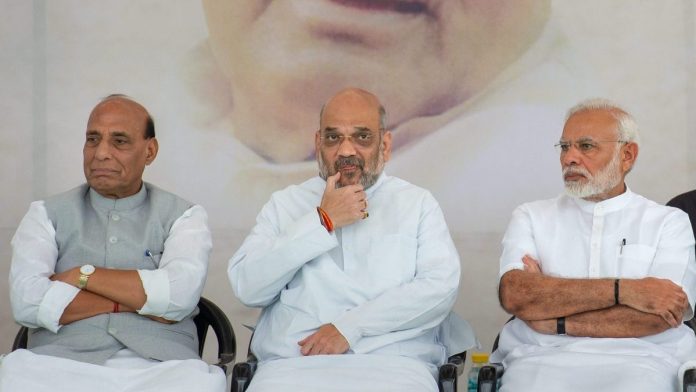 Text Size:
BJP is organising a two-day event on 11 & 12 January, at which its bigwigs will interact with nearly 15,000 public representatives and grassroots leaders.
New Delhi: Exactly a month after the Bharatiya Janata Party lost power in three states, its president Amit Shah has decided to put up a grand show of strength. Just about three months before the Lok Sabha elections, the party will hold a national convention (rashtriya adhiveshan) at the Ramlila Maidan in Delhi on 11 and 12 January, on a scale that hasn't been seen since 2010.
The convention will host all of the BJP's public representatives, district presidents and district general secretary-rank leaders, taking the number of attendees to about 15,000, instead of the usual 4,000.
"Earlier, we did not invite councillors and general secretaries of districts. This is the party's way to officially sound the poll bugle for 2019," said a senior party leader involved in the preparations.
The leader said this grand scale was last seen at the national convention organised in Indore in 2010, when Nitin Gadkari was party president.
---
Also read: BJP has lost the plot, things are slipping out of Narendra Modi's hands: Zafar Sareshwala
---
Purpose of the large convention
BJP workers' morale may have suffered a blow after the BJP's poll reverses in Madhya Pradesh, Rajasthan and Chhattisgarh, and this show of strength is designed to get it back up.
Another purpose of the convention is to establish a dialogue between leaders and with grassroots workers, to make them redouble their efforts and get Narendra Modi re-elected as prime minister.
Apart from PM Modi and party president Shah, union ministers and senior BJP leaders like Rajnath Singh, Sushma Swaraj and Nitin Gadkari are expected to interact with party workers, and try to dispel any doubts they may have about various issues, before they go out to spread its message to the voters.
The workers will be asked to inform the public about the Modi government's people-centric policies and welfare measures.
---
Also read: 'Chastened' Amit Shah reaches out to BJP MPs, they say move is 4 years too late
---
Read Global Pulse for a sampler of the big international stories, and why they matter.