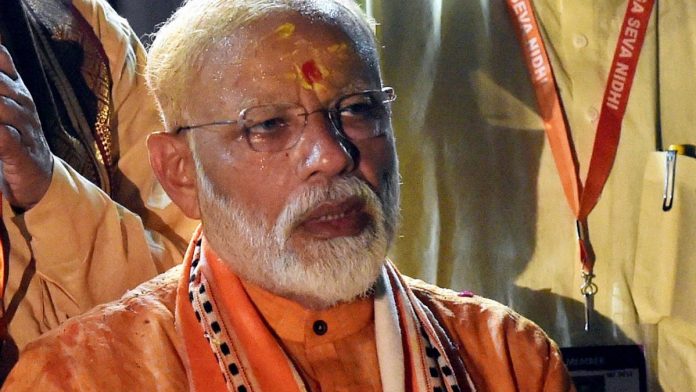 Text Size:
Front Page
Today's newspapers lead with the cyclone Fani hitting the Odisha coast and cover it in some detail.
However, it is The Economist (UK) with a scathing attack on Prime Minister Modi and an endorsement of Congress that is today's highlight.
In "Under Narendra Modi, India's ruling party poses a threat to democracy", The Economist writes, "Mr Modi has been neither as good for India as his cheerleaders foretold, nor as bad as his critics…imagined. But today the risks still outweigh the rewards."
His "strongman" image for the airstrikes in Pakistan was "not so much an act of strength as recklessness that could have ended in disaster", it adds.
It criticises Modi on J&K –"he has inflamed a separatist insurgency rather than quelling it''– demonetisation that "caused huge disruption to farmers and small businesses", the economy and unemployment. It adds that he has "cowed the press", "suborned respected government institutions… as well as loosing tax collectors on political opponents… and cocking a snook at rules meant to insulate the army from politics."
It is most severe on Modi's "biggest fault" – his "relentless stoking of Hindu-Muslim tensions." The paper says Congress is "hidebound and corrupt" but does "not set Indians at one another's throats." "It is a worthier recipient of Indians' votes than the BJP''.
It says if BJP is in power, it is preferable it governs in a coalition , "A degree of bickering and stasis would be a price worth paying to curb the BJP's excesses.
India Today's Rahul Gandhi interview
The other big exclusive is Rahul Gandhi on NYAY, nationalism, and the politics of hugs.
"…He (Narendra Modi) thinks foreign policy is about hugging as many world leaders as he can!" Gandhi tells India Today's Group Editorial Director Raj Chengappa.
Chengappa: You also hugged Mr Narendra Modi.
Gandhi: He's not a foreign leader.
Chengappa: So what's the difference between hugging Narendra Modi and another foreign leader?
Gandhi: My hug had love in it.
Chengappa: How can you say his hug didn't have love in it?
Gandhi: I can see, I can tell. His hugs are opportunistic…''.
Hugs aside, Gandhi alleged "Mr Modi uses national security to divert attention from the big issues India confronts," and lamented that in Kashmir, "Terrorism restarted when Mr Modi opportunistically allied with the PDP."
He confidently reiterates through the interview that "Mr Modi is not winning the election, the BJP is not winning the election. The Congress-led UPA is coming to power."
When asked if he was for or against public divestment, and whether Air India should shut down, Gandhi snaps, "This is not the kind of question you should be asking a national political leader, it's the kind of question you ask high school kids. Come at me with sophistication and I'll come back at you with sophistication."
Cyclone Fani
Hindustan Times and The Indian Express carry identical photographs of cyclone Fani.
"More than a million people are being moved to safety as a tense Odisha battens down the hatches to take on the might of the "extremely severe" cyclone Fani", writes the Times of India in "1m shifted as India's worst cyclone in 20 yrs hits today", which is today's lead.
"This could be the first time since the 1999 Super Cyclone that the state would bear the brunt of such a severe storm," it continues.
Masood Azahar
HT and Express choose to lead with Masood Azhar but differ in approach. HT, in "US bolsters India's stand on Pak link in Azhar ban", writes that the US says his blacklisting "reflects "international commitment to rooting out terrorism in Pakistan", quashing Islamabad's efforts to portray the absence of a reference to the Pulwama attack in the listing as a "diplomatic win".
Express focuses on how "India's silence on China's BRI helped seal Azhar deal". It finds that the decision to blacklist Azhar was "sealed about 10 days ago", and Paris, Washington, Islamabad, New Delhi, Beijing, London, and New York were "all kept in the loop".
"It was a multilateral game played at a subterranean level," a top source said, explaining the complex web of give-and-takes involved," it writes.
TOI's has a different spin: "India rejected China's terms for Azhar ban" reads its headline. TOI's says India "refused" China's offer to place Azhar on technical hold if it promised not to attack Pakistan, and de-escalate tensions.
EC
In other news, "EC gives another clean chit to PM, clears Rahul speech" (HT), marking the third for the PM — this time for his remarks on how "India hadn't kept a nuclear arsenal for use on Diwali, the festival of lights and fireworks". Gandhi was also cleared for calling Bharatiya Janata Party president Amit Shah a "murder accused".
An Express exclusive, however, finds that "In two clean chits to PM, EC's decision was not unanimous". In the two cases preceding this one, "one commissioner dissented, and the EC's final decision, in favour of the PM, was taken by a majority of 2-1".
The Hindu, in "Decide on Modi, Amit Shah 'hate speeches' by May 6, SC tells EC", details how Chief Justice of India Ranjan Gogoi virtually forces EC to consider Congress complaints against the two BJP leaders by next Monday: "The Commission repeatedly protested…" it writes. To this, Gogoi reportedly replied: "So you have today, then Friday and even Sunday… You can do it…"
The Hindu also prominently displays "SC to hear petition to debar Rahul from polls" but doesn't say when the court will hear the plea which alleges that Congress chief Rahul Gandhi should be debarred from the polls for "voluntarily" becoming a British citizen. This follows the home ministry notice to Gandhi on the issue.
Prime Time
First Priyanka Gandhi Vadra, now Rahul Gandhi. The Gandhi siblings have decided it's time to speak to television.
On Wednesday, Priyanka opened up to India Today's Rajdeep Sardesai, Thursday, Rahul Gandhi spoke to not one, but two news channels: NDTV and India Today.
NDTV 24×7's Sreenivasan Jain interviewed the Congress president in Chomu, Rajasthan during an election rally. Rahul claimed that according to party data, Congress was winning the elections: "No, we are not planning to win 2024 but this election. Narendra Modi is not going to be the Prime Minister, that is my guarantee."
Jain suggested Congress was cutting into the 'mahagathbandhan' votes in Uttar Pradesh. "I am sure a secular alliance is going to win in Uttar Pradesh, maybe Congress or maybe 'mahagathbandhan'. Wherever we do not have a strong candidate we are going to give help to BSP-SP," said Rahul.
Priyanka had told India Today that "it is the Congress which is going to win all the seats" in Uttar Pradesh.
Jain asked Rahul why alliance tie-ups failed in UP and Delhi. "The 'mahagathbandhan' did not want to align due to some strategic reasons while in Delhi we were ready to ally with Mr. Kejriwal but he brought in the topic of alliance in Punjab and Haryana as well. This was not feasible for us."
Prime Minister Narendra Modi's plank of nationalism seemed to be helping BJP, Jain observed. "The only issue in the country right now is jobs, jobs, jobs and jobs," retorted Rahul.
Jain also asked if there were any weakness in the Congress, to which he frankly replied, "We can be very disorganised".
Live: Rahul Gandhi speaks to NDTV while campaigning in Jaipur#ElectionsWithNDTV https://t.co/rv8muS8eFP

— NDTV (@ndtv) May 2, 2019
India Today conducted a "text" interview with the Congress president. Asked how NYAY would be funded, Rahul replied, "… from crony capitalists like Anil Ambani".
"So will you initiate an inquiry into the Rafale deal if Congress comes to power?" "Absolutely! The world's biggest defence contract has been handed to someone who has never built an aircraft. There has to be an enquiry."
Times Now anchor Padmaja Joshi managed to grab a small byte from Congress leader Priyanka Gandhi Vadra.
Joshi asked her if Congress was the B team of BJP as 'mahagatbandhan' leaders had claimed.
"I'd rather die than help BJP in any way," she replied.
MEGA EXCLUSIVE | I'd rather die than help BJP in any way. The people of Amethi know my brother Rahul very well, they don't need Smriti to tell them: @priyankagandhi, Congress General Secretary in conversation with @PadmajaJoshi. pic.twitter.com/6uynBTjuw3

— TIMES NOW (@TimesNow) May 2, 2019
With inputs from Shailaja Bajpai.
Get the PrintEssential to make sense of the day's key developments