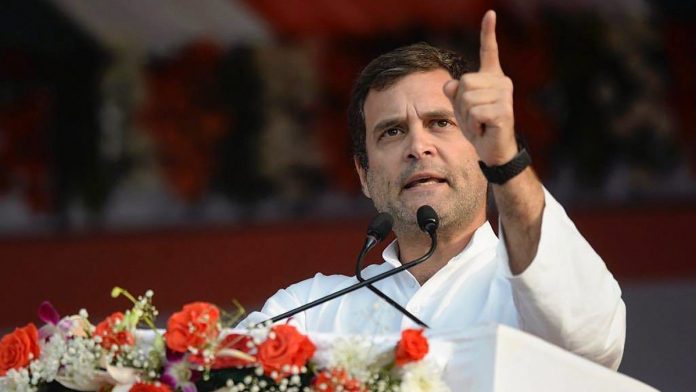 Text Size:
Front Page
Rahul Gandhi's plan for a minimum income guarantee receives less than maximum Page 1 coverage. H.D. Kumaraswamy's threat to quit finds favour but not Kapil Sibal's news TV channel being "blackout."
Newspapers differ on Gandhi's big announcement.
Economic Times ignores it but for a box item on page 1 – and cheekily places it next to a report on "Extreme poverty falling at fast pace under Modi" on page 2. However it does comment on it (Read Opinion). Business Standard pushes it to the anchor slot.
Hindustan Times calls it his "big poll promise" — he is "preemptively staking claim" to a welfare scheme that the Bharatiya Janata Party (BJP) might announce in its Union Budget.
The Indian Express in "Party idea radical, marks return to UPA social welfare politics," says Gandhi's proposal is a "powerful idea…but the biggest challenge will be to raise the money required."
The Times of India is less impressed in "Rahul ups populist ante, vows minimum income for the poor." Without mincing words, TOI calls it "latest populist gambit to woo voters" after its loan waiver move in Madhya Pradesh, Chhattisgarh and Rajasthan.
The Telegraph writes Gandhi made the right choice to not reveal the details of the scheme in, "Rahul beats Modi to the draw…" It says he is "keeping the option open for a better deal than the one the Modi government is set to unravel in a few days."
Karnataka chief minister H.D. Kumaraswamy makes it to front pages, too, with his threats to quit at CM. "Kumaraswamy upset by Cong. carping, threatens to step aside," writes The Hindu. It quotes him saying: "If my style of functioning is not acceptable to anybody, I am ready to quit."
TOI leads with a PIL demanding that shlokas in Kendriya Vidyalayas no longer be mandatory to recite, since it is derived from Hindu scriptures and "violates" the right to religion of minority communities. This is "setting the stage for a legal battle which could be an extension of the 'culture war' being waged in the public arena," observes TOI.
Express alone covers Kapil Sibal's claims that the "Govt shutting off channel I financed" (page 2). "'I'm talking about how dissent is stifled, how people are not allowed to speak,"' he said at the Jaipur Lit Fest.
Express writes that a devotional channel has challenged Sibal on using its name and logo. Its owner Bibi George Chako wrote that, "The adoption of this identical similar mark is considered to be inherently dishonest and aimed at riding on the good will and reputation of (our) Harvest TV."
Opinion
The Economic Times is the only paper to comment on Rahul Gandhi's minimum wage promise. In "Not by breaking the Bank, Rahul Gandhi," it asks if the move is a "bleeding heart commitment of a neophyte," "hard headed politics," or "fiscally profligate populism?" "One blurs into the other," ET writes in answer to its own question.
In Express, C. Raja Mohan, director, Institute of South Asian Studies, National University of Singapore, raises doubts over US-Taliban talks in "An Afghan Trifeca," primarily because "not many will vouch for Taliban's trustworthiness." On Pakistan, Mohan wonders if it really "wants peace". Mohan warns that for all the positive signs, "if you are a sceptic" getting the US, Pakistan and Taliban to abide by their promises "is near impossible".
Vivek Katju, former secretary, Ministry of External Affairs, in "Towards An Afghan Ceasefire" (TOI) says Pakistan is in the driver's seat as Taliban with its backing "has virtually dictated terms to the US". "With great fluidity in Afghan affairs," he adds, "India must not take its eye off the situation." Rather it must "intensify its engagement with all groups including Taliban."
News18 network boasts big today with full page 1 advertisements in TOI, ET and HT, claiming its "India's No.1 News Network" with 16 channels. It doesn't claim to have "India's No.1 channel", though.
Prime Time
Rahul Gandhi's "gamechanger" pitch for MIG received coverage through Monday afternoon and into the prime time belt.
Former finance minister P. Chidambaram was the most sought-after guest. He achieved the remarkable feat of appearing on three channels, simultaneously: ET Now, CNBC TV18 and India Ahead.
Since the exact amount that Congress will offer is still unclear, the TV discussions were speculative.
ET Now anchor Supriya Shrinate asked, "Has the time come for the Universal Basic Income to become reality?"
The channel's consulting editor Swaminathan Aiyar replied, "Universal Basic Income is wrong." If the amount is "Rs 1,000 per household per year… this is not what you call income," he argued.
Shrinate asked Chidambaram how, as a former minister who was mindful of financial rectitude, would he square a minimum income with prudent fiscal policy?
"We must agree that poor people have the first right on resources of the country. It is fiscally possible to roll out the Minimum Income Guarantee scheme given our GDP is big," replied Chidambaram. "Minimum Income Guarantee is being called populist; it is an obligation. It is to make sure that nobody goes to sleep hungry."
Monday night, NDTV India and Republic TV were more concerned about former Karnataka CM Siddaramaiah's rude behavior towards a woman.
TV news played video footage of Siddaramaiah at a function Monday in a wordy duel with a woman. He's seen snatching the microphone from her, dislodging her dupatta.
Republic TV's Arnab Goswami asked if his actions were accidental or deliberate?
Ravish Kumar of NDTV India had no doubt: he criticised Siddaramaiah for bullying the woman.
Savio Rodrigues, founder and editor-in-chief Goa Chronicle, said, "This is un-manly and unrepresentative of a person who holds an office."
Political analyst Nishant Verma defended Siddaramaiah, saying he had apologised: "I have seen the video. The dupatta, unfortunately, got pulled together along with the mike."
Tweet of the day
We cannot build a new India while millions of our brothers & sisters suffer the scourge of poverty.

If voted to power in 2019, the Congress is committed to a Minimum Income Guarantee for every poor person, to help eradicate poverty & hunger.

This is our vision & our promise.

— Rahul Gandhi (@RahulGandhi) January 28, 2019
Check out My543, our comprehensive report card of all Lok Sabha MPs.