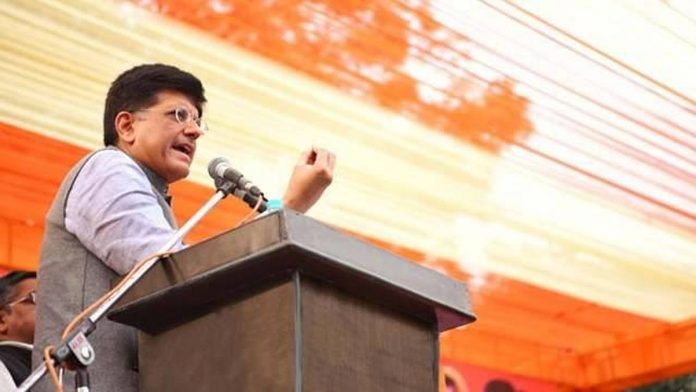 Text Size:
Front Page
Will the Finance Minister present an interim budget, a vote on account or a full budget on Friday? Nobody knows for sure, least of all the media.
This morning's mainstream and economic newspapers shed little or no light on the subject, key to understanding what budgetary measures the government can announce on February 1.
Television news Wednesday only added to the confusion.
India Today's Rajdeep Sardesai had tweeted early Wednesday morning, "Finance ministry has now clarified that it is an 'interim' budget …Earlier news stands withdrawn."
Hindu Businessline reported, "The government has maintained it has no plans to present a full budget and it will not break any conventions" ("Opposition may boycott session if govt present full budget").
But by midday, breaking news on Times Now, India Today and CNN News 18 said "sources" had "confirmed" Goyal would present a full budget.
In an afternoon twist, channels claimed government sources said it was sticking to the nomenclature of 'interim budget'. Journalist Puja Mehra's tweet said, "Union Finance ministry confirms that the budget will be called Interim Budget 2019-20."
Which brings us to this morning's newspapers.
The Indian Express, the only one to headline the confusion on Page 1, writes, "Budget is a budget, says Govt, Opp demands vote-on-account".
It writes, "The stage is set for a showdown between the government and the Opposition … with Finance Minister…declaring at an all-party meeting Wednesday that 'a budget is a budget'.
Goyal's reported comment is rather like the saying, "A rose is a rose is a rose".
Express adds that Friday's budget is, therefore, "not an interim budget or a vote on account which is the norm with just a few months to go for the general elections".
The Times of India writes in its front-page "Tax sops for middle class…" that the "interim budget is expected to have 'interesting features'… including tax concessions". However, it adds, "conventions involving the interim budget could come in the way".
So which is it?
The job question
The exclusive, even explosive, story of the day is "Unemployment rate at four-decade high: NSSO" in the Business Standard. "Unemployment rate stood at 6.1 per cent in 2017-18", according to the National Sample Survey Office, which is "at the centre of a controversy" after two of its members resigned. The resignations on Monday were reported Wednesday.
The unemployment rate quoted is the highest since 1972-73, BS reports, adding that urban unemployment (7.8 per cent) is higher than that in rural areas (5.3 per cent).
Kochhar sacking
Today leading story is the firing of Chanda Kochhar from ICICI Bank.
Express, with an almost giddy sense of righteousness, writes: "ICICI Bank finally admits: Boss is guilty, she's fired". Express had first broken the report on conflict of interest regarding Kochhar, last March.
"Not only did it (ICICI Bank) sack her," says the report, "it also decided to claw back all bonuses given to her since 2009 when she took charge of the top post".
Mint sees Kochhar as a tragic hero: Its report "Kochhar sacked after probe panel indictment" says that, over a year ago, she "couldn't have been faulted for feeling on top of the world" after Forbes named her one of the most powerful women in the world. Cut to the 2019 guilty verdict, it observes, "Perhaps, the fall was the consequence of using that power unwisely."
The Times of India is diplomatic: "Sacked with retrospective effect, Kochhar to lose ESOPs (employee stock ownership plan)".
Middlemen matters
Also making the front page is the extradition of businessman Rajiv Saxena, a "key accused in the Rs 3,600 crore AgustaWestland VVIP chopper case", Express explains.
"After Michel, another Agusta suspect brought in from UAE", Hindustan Times reports.
TOI presents its compliments to PM Narendra Modi for "…yet another breakthrough in the Centre's efforts to bring home 'fugitives'".
TOI also focuses on the simultaneous extradition of corporate lobbyist Deepak Talwar, reporting that he was allegedly involved in "controversial deals negotiated under UPA" related to aviation and the development of Aerocity near Delhi airport.
Parrikar- Rahul letter bombs
The showdown between Congress president Rahul Gandhi and the ailing Goa Chief Minister Manohar Parrikar is making waves as well. The Hindu makes it the lead in, "Rahul, Parrikar engage in an all-out letter war over Rafale".
Gandhi, after a brief visit to the minister, attended Wednesday's Youth Congress conclave and alleged that, on Rafale, Parrikar had admitted that "the Prime Minister did not ask the Defence Minister".
Upset, Parrikar wrote a public letter to Gandhi, saying they never discussed Rafale during their meeting.
Whereupon Rahul wrote back.
HT reports, "Rahul visit for petty gain, says Parrikar; Cong chief hits back".
Express and TOI leave the squabble to the inside pages.
Opinion
Rafale reprisal
N. Ram, chairman of Hindu Publishing Group, reprised his alleged expose of the Modi government's decisions in the Rafale deal, on the opinion page of The New York Times.
In "A murky arms deal haunts Modi", he writes, "As India heads toward its general election… Prime Minister Narendra Modi finds himself embroiled in controversy around… a murky 7.8 billion euro weapons deal to purchase 36 Rafale fighter planes…".
After outlining his findings, earlier published in The Hindu, he concludes, "…A credible corruption narrative, backed even with incomplete evidence, can bring focus and emotional power to the electoral campaign. It can be a catalyst for change."
Prime Time
Times Now devoted its entire prime-time belt Wednesday night to its Times Now-VMR opinion survey for the Lok Sabha elections. This gave the BJP-led NDA 252 seats and the Congress-led UPA 147 seats, leaving 144 for 'Others'.
The poll comes a week after "mood" surveys by India Today and Republic, which also predicted a hung house but gave the NDA fewer seats.
On Republic and India Today, meanwhile, Congress president Rahul Gandhi and MP Shashi Tharoor found themselves in the firing line.
Tharoor, who always gets Arnab Goswami's goat, irked the Republic chief this time with a tweet on Uttar Pradesh Chief Minister Yogi Adityanath's dip in the Sangam during the Kumbh mela: "You want to keep the Ganga clean and also wash sins there. Everyone is naked in this sangam. Jai Ganga Maiya Ki," the MP had tweeted.
Union Textiles Minister Smriti Irani held a press conference to object to the remarks, and later spoke to Goswami. She told him that the Gandhi-Vadra family went to Kumbh for politics. "The people go because of their belief," she added.
On India Today, anchor Shiv Aroor termed Rahul Gandhi "insensitive" — why "disturb an ailing man" over the Rafale deal, he asked, referring to former defence minister Manohar Parrikar.
Congress spokesperson Amiben Yagnik commented, "We do not disturb an ailing man, this is not in our culture. However, …Parrikar's office has not given any details about the Rafale deal."
BJP spokesperson Gaurav Bhatia called Rahul Gandhi a 'khandani chor' who is not believed by the public.
Check out My543, our comprehensive report card of all Lok Sabha MPs.