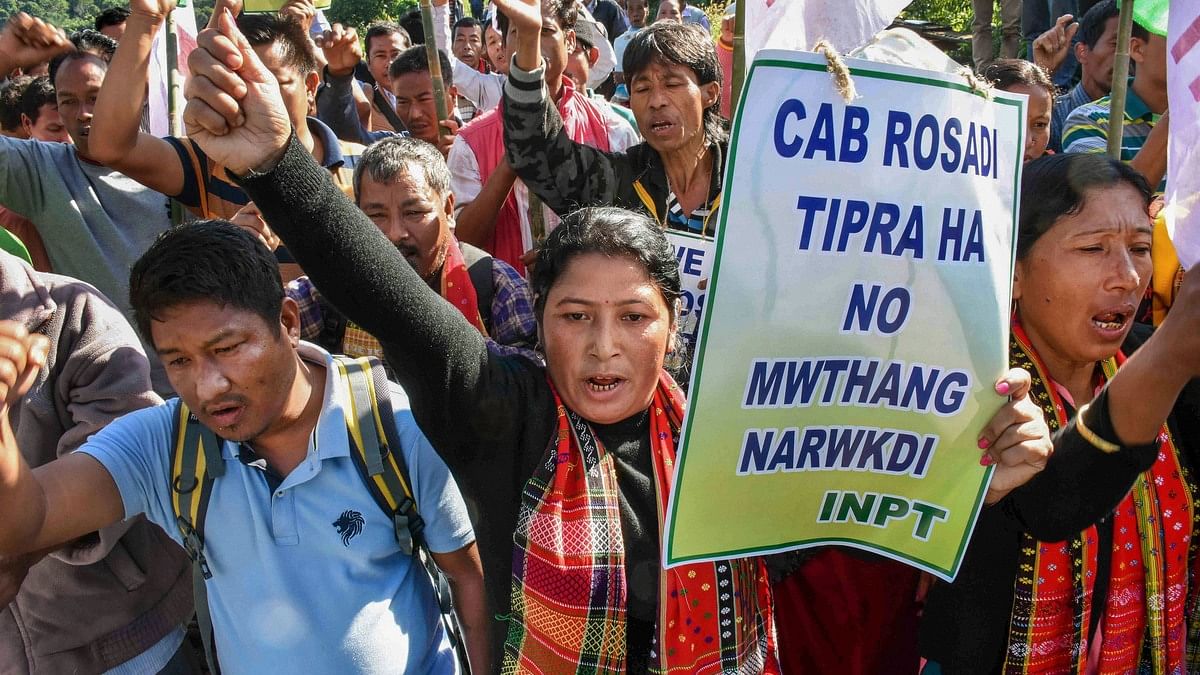 Tripura has allowed migrants to come post-Partition in 1948, 1955, 1965, 1971 and 1981. And that too, Hindu Bengali migrants. In a state where the indigenous people constituted over 80 per cent of the population, we have been reduced to only 30 per cent today.
When you pass a bill such as the Citizenship (Amendment) Bill, we are the worst affected because Tripura has a largely Hindu migrant population. We told Home Minister Amit Shah that we had done our bit to give shelter to refugees over the decades. We are the only state in the northeast to have accepted so many Hindus. In fact, it is the only tribal state to have accepted so many Hindus.
After the Citizenship Bill was passed, the ruling BJP's alliance partner, the Indigenous Peoples Front of Tripura (IFPT) called for a bandh. Today, civil society groups have called for a bandh. This has created a rift between communities, who now see each other as enemies.
I am visiting police stations to convince the police to come out and help control the situation. Section 144 and internet clampdowns have already been imposed.
If Tripura isn't exempted, we will have to respond in the way we know. Not every response is political.
---
Also read: What is 6th Schedule & why it allows parts of Northeast to be exempt from citizenship bill
---
Loss of Tripura
Tripura has a similar special status to the one Jammu and Kashmir had before the Narendra Modi government diluted it through Article 370. This is because we were an independent kingdom and not under British India. Tripura merged with India only in 1949.
We have a long boundary with Bangladesh. When the riots took place in the 1940s, the Maharaja of Tripura, being a Hindu, allowed Hindu Bengalis to come to India. They were being persecuted after the famine. The year 1946 witnessed the Noakhali riots. Even then, the refugees were allowed to come because Hindus were being killed. In 1948, after Partition, Tripura allowed them to come again. After that, we merged with India. But at that time, we were a tribal majority state.
Today, all jobs in the state are occupied not by Muslim Bengalis but by Hindu Bengalis, who have become part of the administration.
We have lost the character of Tripura. Our language is no longer recognised. There are no jobs. We are living in the jungles. There are no benefits. Several MLAs, bureaucrats, ministers and people holding constitutional posts are from Bangladesh. Most chief ministers are outsiders. We have had no indigenous CM barring Dasarath Deb, who was already in his late 70s when he took over. How long will this continue?
When the Citizenship (Amendment) Bill was being debated in Lok Sabha, they said that the states protected by the Sixth schedule will be kept out. It is where 30 per cent of Indians live.
We have no control over our land in Tripura. There is no control over people coming in. How do you expect us to be protected?
Meghalaya assembly has 60 seats, out of which 56 seats are reserved for Scheduled Tribes. Mizoram is controlled by Mizos. The entire administration in Arunachal Pradesh is looked after by Arunachalis. In Assam, the Ahoms have control.
However, in Tripura, we the indigenous people have no say. Now, we are just one-third of the population.
---
Also read: Will Citizenship Bill create havoc in northeast rife with ethnic violence for decades?
---
What I saw was shameful
We in Tripura are not against Hindus. But there is only so much a state can take. But when Amit Shah was talking about the CAB, nothing substantial was said about Tripura.
Manipur makes noises and so, at the last moment, the Modi government brought in the ILP – Inner Line Permit system – to exclude three states from the CAB. In Tripura, owing to our poor political leadership and politicians who only listen to New Delhi, we have just capitulated to the Centre.
What I saw Monday in Parliament is a shame. It is a shame that we elect these people.
There is unrest in the entire region and but our representatives in Parliament aren't that bothered. This bill will create more communal tension. It will help those who don't want the northeast to be stable.
I have told the people of Tripura that we will go to the Supreme Court. The instrument of accession that we had signed in 1949 says no future constitutional amendment will be applicable on the land of Tripura. This is similar to Article 371.
How come in Tripura this bill has been passed without the state government officially passing a resolution?
---
Also read: Protests erupt in Northeast, bandh declared as Amit Shah tables citizenship bill
---
Exemption from CAB
When I meet Amit Shah in Delhi, I will say that we are not anti-Hindus, but we want protection. We don't want the CAB to be applicable in the state of Tripura.
In 1948, my grandmother Kanchan Prabha Devi gave 300 square miles of land to Bengalis. Now, they are a majority in Tripura. So, you could say, we have been implementing the CAB much before it came into existence. And yet, after so many decades of accommodating persecuted Hindus, we have not been exempted.
The author is head of the royal house of Tripura, and former Congress president in the state. Views are personal.