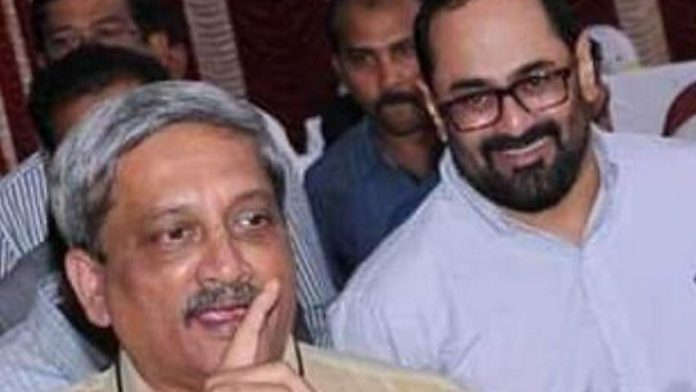 Text Size:
The news of Manohar Parrikar passing away – although I was expecting it – is deeply saddening. He had been ill for some months now, but through it all, he remained gritty and dignified.
Just a few weeks ago, in February, I met Manohar Parrikar for the last time. And the memory of our meeting will remain with me for as long as I live.
I knew him since 2012, when he was among the first BJP leaders to propose Narendra Modi's name for the position of India's Prime Minister. I still remember how my first meeting with him in Delhi left a strong impression on me. He instantly struck me as a politician shorn of any arrogance and possessing a simple but blunt and straightforward personality. His intellect and sharp mind were clearly evident.
---
Also read: Manohar Parrikar, IIT-B graduate & RSS worker who helped fortify BJP in Goa
---
For me – a son of an Air Force veteran – the cause of the veterans and welfare of the armed forces were a big focus from the time I became a Rajya Sabha MP in 2006. The issues that I picked and pursued included the One Rank One Pension, the National War Memorial, and those related to the veterans, war widows and disabled soldiers. But these issues often met a bureaucratic or political dead-end throughout the tenure of the Congress-led UPA government.
When Manohar Parrikar became the defence minister (Raksha Mantri), he was like a breath of fresh air in the defence ministry. He was deeply concerned about the welfare of our men and women in uniform and their families. It was immediately apparent to me that I didn't need to persuade him at all.
He too was looking for ways to get around the insensitive and apathetic bureaucracy that had flourished under the UPA. Manohar Parrikar unhesitatingly and directly interacted with veterans and their families to listen to their problems and suggestions without having bureaucrats around him. On their vexed issues, he readily accepted the suggestion to set up expert committees, which included veterans themselves, to work out the solutions.
One Rank One Pension, or OROP, was a long-standing issue for armed forces' veterans. I started fighting for this almost immediately after I became an MP in 2006. It was an emotive issue for those who had served in our armed forces – many gave up their medals in protest in those eight years before Narendra Modi became the Prime Minister and Manohar Parrikar his defence minister. It was a 42-year-old pending issue that was stuck due to mind-numbing bureaucratic opposition.
But Manohar Parrikar spent hours and hours wading through detailed numbers and files and single-handedly pushed it through. It helped, of course, that PM Modi was steadfast in his support to this issue – the government has disbursed around Rs 35,000 crore for OROP.
---
Also read: One of the fastest spreading cancers that ails 2 of India's top politicians
---
On another occasion, I was pleasantly surprised by Manohar Parrikar's commitment and working style when I had submitted a National Armed Forces Covenant Bill as a private member's bill. It was a bill that ensured that the government would have a legal obligation to take care of the veterans and families of those who had been killed in combat. Private members' bills usually have the junior minister show up in Parliament when they are discussed. But on all the three occasions that my bill was listed, Manohar Parrikar was himself present in the House because he told me that he agreed with my bill.
I followed the news of his illness with concern and prayers. I spoke to him to wish him the best.
Then, in February, I felt the need to go and meet him for what turned out to be the last time. I wanted to tell him that many of the things he had initiated as the defence minister were becoming a reality. I wanted to tell him that the recommendation of the committee he had set up to address the issues of veterans and disabled soldiers was finally being implemented; that the National War Memorial that India had waited 70 years for and that he and PM Modi had envisioned was being inaugurated; and that his vision of creating an ecosystem of small and medium companies in the defence sector was also slowly and surely becoming a reality as was obvious to all in this year's Aero India. I wanted to tell him all this and also that I admired the grit and determination with which he fought his illness.
---
Also read: Are you looking for someone you lost, Ma'am? They asked my mother at National War Memorial
---
I did all that. He nodded and spoke a few words in return. He was ill, but he was still the same old tough, gritty and determined Manohar Parrikar. The last thing I did was to salute him on behalf of all those men in uniform and veterans whose lives he had touched. I will cherish the memory of his life and the brief period for which I came to know and admire him.
Om Shanthi, RIP Sir.
The author is a BJP MP and tech entrepreneur.
Get the PrintEssential to make sense of the day's key developments