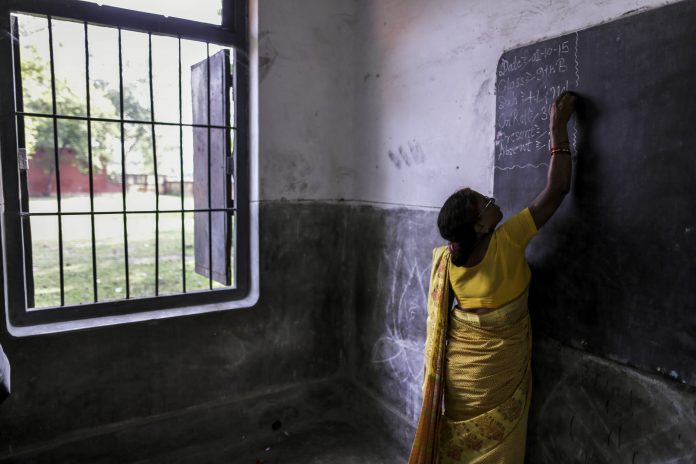 Text Size:
Teachers have let India down.
We have all had that one great teacher who shaped our lives. Yet for every great teacher, India is full of many others who do not deserve the obeisance. Here are five reasons why Teachers' Day should be abolished.
Don't deify teachers: Across India, Teachers' Day is celebrated with children being forced to respect teachers as if they are incarnations of Saraswati, the goddess of knowledge. Such deification of our teachers, such unnecessary placement of them on a pedestal, affects our ability to question them and hold them accountable. Teachers should be judged as professionals – by their students, by their schools and by the education system. Like any other profession, there are good and bad apples in teaching too – let's not celebrate them all. Good teachers do a great service to society, but bad teachers do a great disservice.
Poor teaching quality: Teachers were the big hope of India but they have let the country down. Countless studies show how poor the quality of teaching in India is. In many schools, not just government-run but private ones too, actual teaching is altogether absent. Students don't know how to add and subtract after many years of schooling. There are teachers who ask students to learn the steps of solving a math problem by rote! Warning of a learning crisis in India, a recent World Bank study found that only half of Class 5 students in rural India could fluently read sentences like 'It was the month of rains' and 'There were black clouds in the sky' in their local language. It's easy to blame the lack of teacher training, the poor salaries, and the high teacher-student ratio for low learning skills among children (added a few words here). But how does a teacher's conscience allow ruining the lives of students by knowingly not teaching them? If we don't want to abolish Teachers' Day, the least we should do is to turn it into a 'Teacher Training Day'. Training may not be enough. Teachers need to be subjected to accountability. Singapore has one of the world's best schooling systems. It pays teachers well, invests heavily in education research, and puts teachers through a rigorous annual assessment.
Social equality and critical thinking: Teachers' Day formalises the relationship of power and authority between teachers and students. Poor in their quality of teaching, and lacking interest in their jobs, India's teachers usually see questions by students as an affront to their authority. To foster critical thinking and improve the quality of education, India's schoolchildren need to stop fearing their teachers and feel free to ask them questions. Unfortunately, Teachers' Day takes them in the opposite direction. Teachers are to be given tributes and respects, greeting cards and flowers. You don't ask teachers questions, you only plead for their blessings.
Sexual abuse: Forcing students to celebrate Teachers' Day also forces them to pay respect to those teachers who abuse them physically or sexually. This is not to say all teachers do so. But some teachers do, and Teachers' Day celebrates all teachers. The ritualistic reinforcement of the power dynamic between students and teachers that happens in schools every 5 September leads to a relationship that allows teachers to abuse and hit students and get away with it. Here are just a few examples. In Kolkata earlier this year, a teacher was arrested for allegedly sexually harassing a girl child. In the same city, a four-year-old was allegedly sexually assaulted in a toilet. In Indore, three women teachers were arrested in December 2017 for allegedly molesting a girl child.
Corporal punishment: Despite being outlawed, corporal punishment continues in India's schools. Unable to command respect except out of fear, unable to teach students and improve learning outcomes, teachers take to beating them as punishment. Unable to pay school fees? Punish the child. Not paying attention in class? The alleged caning leaves bruises all over a five-year-old's body. Unable to recite a poem? Allegedly slapped several times. In Manipur, a Class 1 student was allegedly beaten so badly for not bringing textbooks that he ended up in a hospital.
In Ludhiana last year, an eight-year-old died after the teacher allegedly thrashed him for stammering. Yes, most Indian parents still beat their children, but the education system is supposed to show the way.
For these grave reasons, India's teaching profession needs introspection, not celebration.
Also read: Teachers' Day: Professors who teach to question are the first ones to go
Read Global Pulse for a sampler of the big international stories, and why they matter.